A lawyer defending a Vincentian veteran of the British and US armies, who was denied a licence to hold a fire firearm in St. Vincent and the Grenadines (SVG), says applying for firearm licence in SVG is "a quagmire".
Grant Connell made the claim at the Kingstown Magistrate's Court on Friday while mitigating on behalf of his client, Hermus Patrick, 84, of Layou, who pleaded guilty to possession of a .38 revolver and 115 rounds of ammunition without a licence.
Police discovered the firearm and ammunition at Patrick's homes in Layou, when they conducted a raid.
The veteran of the British Army and the United States Army told the lawmen that he had the firearm and the ammunition since the 1970s.
Connell told the court that his client was denied a permit multiple times when Keith Miller was Commissioner of Police.
"And the point of applying for a firearm, that is a quagmire," he told the court.
The lawyer said he was passing by the area of the geothermal energy project in North Windward recently, and he saw a woman "no more than 21, 22 years old come out the pond and put a firearm in her waist.
"… Little girl, … who have these firearms and big men, Financial Comptroller of Mustique Company can't get," Connell said.
Stephen Joachim, the financial comptroller of Mustique Company, has said on radio that he was denied permission to hold a firearm.
Connell added: "I know some journalists who can't get [a firearm licence] — and people who are in positions and need protection."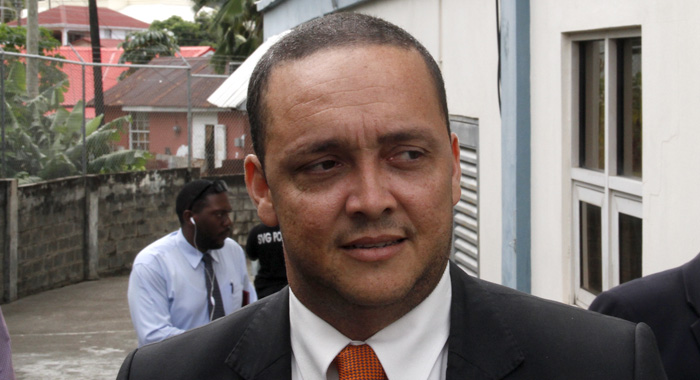 Speaking specifically about his client, Connell said:
"What does this man do? His place has been burglarised six times. What does a man do, of his calibre, when a criminal comes in and points a 9 mm at his face? What does a farmer do when a man comes in and points a shotgun? Put a plantain in your pocket and pretend you have a gun?"
Connell said that, by no stretch of the imagination, is his client a threat to the society.
"You will also be aware of the society in which we live, in which the moral fabric is almost totally destroyed…
"Where do elders such as this man stand? I will tell you, there is absolutely no respect for them. I would say that Mr. Patrick is not a threat to the society. This society that borders on a Hobbesian society –brutish — is a threat to him."
He said that Patrick had the gun and ammunition in "the bosom" of his house and police may have acted on information provided by someone with whom Patrick is involved in a civil matter in another jurisdiction.
Senior Magistrate Rickie Burnett adjourned Patrick's sentencing to this Friday.
Patrick's EC$10,000 bail continues.
The power to grant firearm licences used to be vested solely in the Commissioner of Police.
However, the Unity Labour Party has changed this, granting that power to a board, members of which include the police chief and the Permanent Secretary in the Ministry of National Security.
iWitness News understands that some applicants who are denied firearm permits are simply told that their application is denied.
A senior national security official has told iWitness News that applicants who feel that the board was "capricious" in denying such a permit can appeal to the Cabinet.