The bar employee who stole a French soldier's pouch containing his passport, wallet, identity cards, EC$500 in cash and other items, was, on Wednesday, escorted to jail after failing to pay the compensation amount.
On Monday, at the Kingstown Magistrate's Court, Sheffield Blucher, 39 of Greiggs, pleaded guilty to a charge that on June 7, at Arnos Vale, he stole one light brown pouch value, 25 euro, containing one French passport, value 90 euros; one French civilian ID card, value, 25 euros; one leather wallet, value 40 euros; one French driver's licence, value 30 euros and EC$500 in cash, total value 210 euros and EC$500, the property of Frederic Archambault, of France.
Archambault, a lieutenant in the French Army, was in St. Vincent for the Tradewinds Exercise, and had gone to Chill Sport Bar and Grill, at Arnos Vale, where Blucher worked.
When he left, the soldier forgot his bag on a seat but returned shortly after, only to find the pouch gone.
The CCTV footage at the business place later revealed Blucher picking up the bag.
In mitigation, Blucher told the court he did not know what came over him that day, adding that he had previously returned other items that customers had left at the restaurant.
Senior Magistrate Rickie Burnett ordered him to compensate Archambault in the sum of EC$1,137.65 by last Wednesday or spend three months in jail.
Blucher was further ordered to pay the court EC$1,500 by Sept. 30 or spend six months in prison.
The magistrate also issued a summons for Archambault to attend court so Blucher could apologise to him.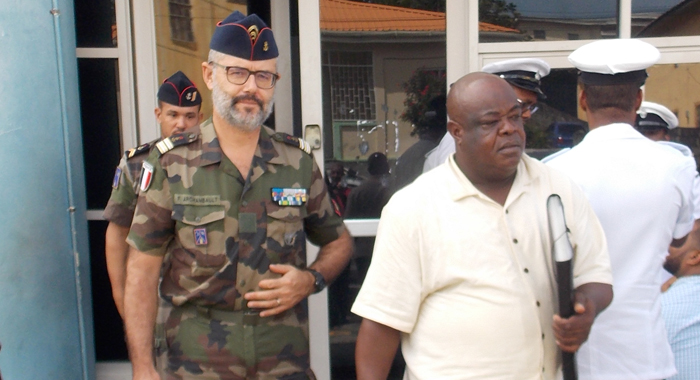 When Blucher turned up in court on Wednesday, he said he had failed to come up with the money and asked the court to allow him one hour more to try to get it.
However, the magistrate said that, having passed his sentence, Blucher's request was a matter between him and the police.
Blucher was later escorted to prison.
On Monday, Blucher had asked the court to give him a chance to pay for the items.
However, Burnett said it is always the request when thieves are brought to court.
"The same old story all the time. They come to court and they are charged for an offence and they want to pay compensation.
"My position on that remains the same. It is not good for the legal system when defendants can reason before they come to court that look, if I do X, the court is likely to do Y.
"When that starts to happen, that's the end of society. Would-be defendants ought not to be able to reason how the court is thinking before they come to court. And that's what they attempt to do," Burnett said.