Consequent upon the successful culmination of Exercise Tradewinds 2019 – Phase Two, the Royal St. Vincent and the Grenadines Police Force (RSVGPF) received a donation made body armour covers, helmets and shields from the Royal Bermuda Regiment (RBR).
Major Wayne Wright of RBR handed over the items to RSVG Commissioner, Colin John, on Wednesday, at the Old Montrose Police Lecture Hall.
John said he was very elated to have established a new-found partnership with the RBR. The commissioner thanked Wright on behalf of the government and people of St. Vincent and the Grenadines (SVG) and more specifically the members of the RSVGPF.
The police chief expressed the view that it is his wish that the police force will never have to the equipment and that he is hopeful that the level of peace and tranquillity that is currently being exhibited in the country continues perpetually.
He went on to say that events can happen unexpectedly, and, therefore, the constabulary has to be prepared for any eventuality.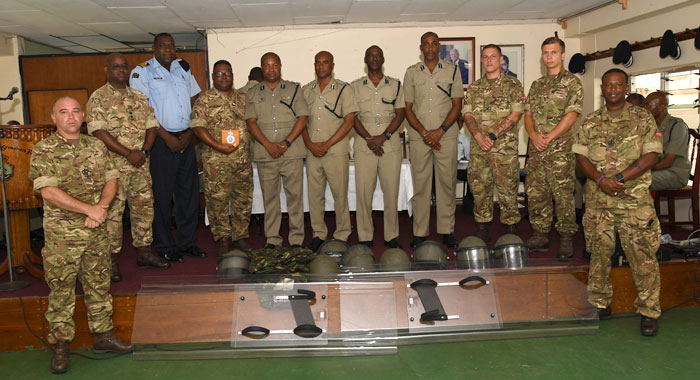 Meanwhile, Wright disclosed that the relationship between the RBR and the RSVGPF began in November 2018 when he met a contingent of Vincentian police officers in the Dominican Republic during a planning conference for Tradewinds.
Since then, the relationship between both organisations has blossomed into a special relationship.
Wright emphasised that the RBR's visit to SVG to participate in Tradewinds has been an enjoyable and rewarding one.
He said his delegation totally enjoyed working alongside their Vincentian counterparts, hence the reason why it was so easy for the RBR to make the donation to assist the RSVGPF in carrying out its mandate.
As a token of appreciation, John presented the RBR with a plaque from the RSVGPF.