After winning the Ragga Soca Monarch crown in 2017, Hance John, last year, sang "Déjà vu", a song in which he sang, "It's like I been here before and I did this before — déjà vu."
But he was not to have in 2018, a repeat of this 2017 victory as Fimber "Fimba" Jardine, a first-time artiste, forced him into second place with his wildly popular "Funky Business".
But this year, Hance, a seasoned veteran who came to the art form through the junior soca competition, proved that while an artiste can have a good hit one year, it is better to be consistent.
Results at a Glance
Ragga Soca Monarch 2019 — Hance John
2nd — Fireman
3rd — Chewalee
"It's a blessing. I am very humbled. It's a lot of work but we are grateful," he told reporters after his win at the Ragga Soca competition last Saturday night.
"It's really a blessing to be here once again. It feels like I've been here before but it took a lot of work, more than last year and the year before, so we are very happy, very proud," he said, punning on his 2018 song.
Hance won with "Uptown Party". He said that in obtaining the idea for the song, "we looked at the different social classes in St. Vincent and the Grenadines in terms of the upper class, the middle class and the lower class.
"And if you look at the high-end parties, in terms of the all-inclusive and those other reasonable fetes, so to speak, that will cater for patrons, and I decided to capture the best of both worlds."
He said that the quadrille rhythm, which was produced by Mark Cyrus and Darron Andrews, "exemplified such".
The artiste said his performance was a "great one from the get-go", adding that he and his team sat down together, wanting to do "not only a performance, but a production".
"And we executed such. That's very important and critical to obtaining this title too."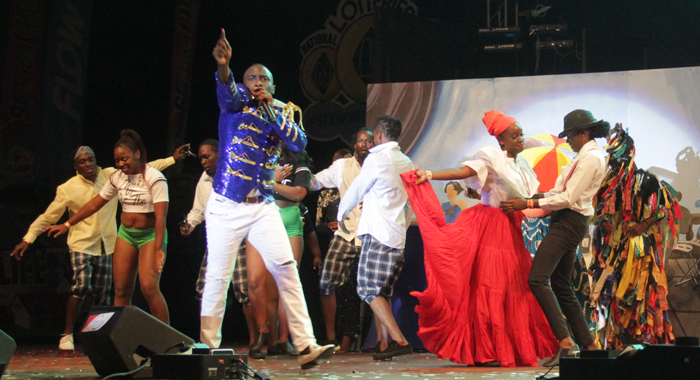 He sent a "big up" to Sean Frederick, Team Global, his dancers, Aaron and Kevin, Island Network, Heric Horne, Angenella Young, Mrs Johnny, and, among others, his mother and daughter.
"They were behind me in terms of practice and we spent a lot of late nights preparing for this into morning," he said, adding that they left the park, at times, after 4 a.m. after their rehearsals.
"So, it was a lot of late nights and pumping and we got it right."
Hance said that after winning in 2017 with "Sugar Mommy" and placing second last year with "Déjà vu", "I knew I was very close in terms of recapturing the crown…
"It's just a matter of coming back again, because sometimes you get defeated and you lose, so to speak, and you would want to give up. But this is not the case with Hance John and the team around me. We are very focused in terms of obtaining titles and this will not only be the two that I have under my belt.
"We are going for more and I want to take this music, we want to take this full production to the rest of the world. We want to showcase ragga soca music to the world. I want to be out there flying the flag for St. Vincent, and that's the mission right now."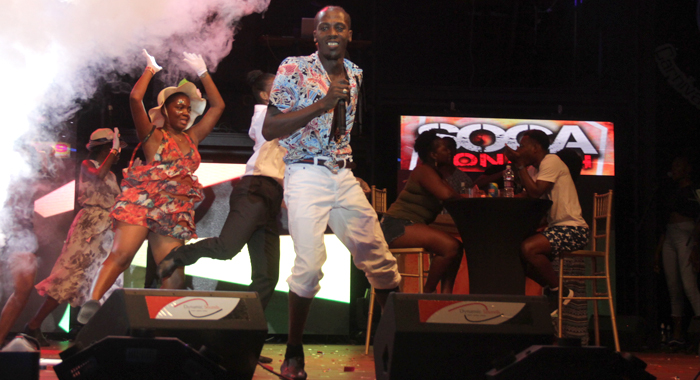 He said that he and his manager, Heric Horne, come up with ideas and write together and "we shop them around and get the various feedback from our family, friends – honest feedback, so to speak from our fans and such like that.
"And uptown parties, it ha' downtown vibes, and if you really want to look at the different aspects of Vincy Mas, in terms of uptown, you remember Ricky Hillocks, he run uptown and we had to do a lot of research behind these types of topics and get our facts together and we pen it together because we are very creative in terms of doing that, but we are very honest with ourselves as well, in terms of capturing the best of both worlds and try our very best to be fair, in terms of our writing, equally. The upper class must be respected, as well as the lower class."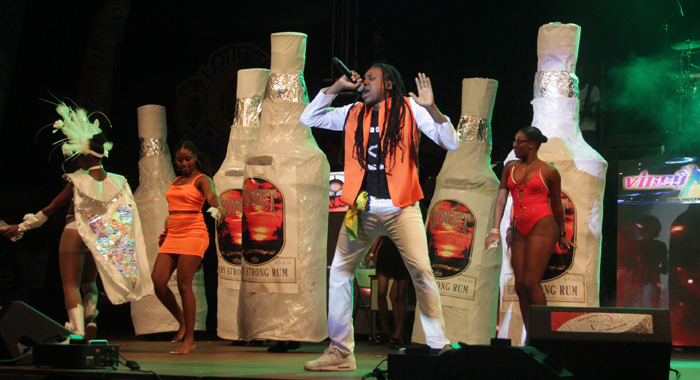 Asked about the vibe he got from the crowd during his performance, Hance said, "I wasn't even studying the crowd, to be honest. I was studying more execution, delivery, pronunciation, and getting it right, in terms of the time."
He said that last year, they mentioned that time was a factor that contributed to him losing the crowd.
"But we went out there and we stuck within the time period and we delivered. So, I was more focused on the delivery and the presentation and clarity."
The 27-year-old artiste has been singing since 2003.
He secured the Junior Soca Monarch title several times, including a beaver trick.
As a songwriter, he has produced tracks for Shaunelle McKenzie and Delroy "Fireman" Hooper — the 10-time Soca Monarch – and former Ragga Soca Monarch, who placed second in Saturday's competition with his song, "GPS", a song in which he suggested that women put trackers on their philandering men.
Third was "The Rummist", Chewalee Johnson, a former Ragga Soca Monarch, who sang "Rum Cheaper than Woman".
Hance said: "I've written various songs and hits locally and regionally as well."
He said that saying he did not pay attention to the crowd is "not to be boasting or full of myself, but when we go out here to perform, our only competitor is ourselves.
"We respect every artiste and we appreciate what they are doing and we respect talent. But when it comes on the night of competition or competition as a whole, we really focus on what we are doing and not any other artiste or who is competing with us. … If we drop the ball, we respect that and we try again, we are back in the ring and we try and punch harder, we look over and see where we went wrong, but our only competition right now is ourselves because if you defeat yourself, naturally, automatically, in any competition, you are defeated."