A 21-year-old artiste dethroned 20-year veteran Delroy "Fireman" Hooper to be crowned soca Monarch 2019, around 5 a.m. Sunday, at the end of an 8-hour show.
"To be honest, I feel great cause it was my main goal of winning this soca monarch," Magikal said after his win, which sent Fireman into second place.
Magikal, whose real name is Derron Rouse, scored 425 points, 7 more than Fireman, who was after his 11thcrown.
Magikal's song, "Bloody Hell Crazy", was about his British 'cousin' describing Vincentian revellers as "bloody hell crazy" in terms of the intensity of their partying.
His presentation at the Victoria Park Sunday morning included dancers bringing various items, including an old stove, on stage as they partied.
Fireman — whose 10 previous crowns includes two hat tricks — and Magikal put a comfortable lead between themselves and the third and fourth place winners.
Vilroy "Tuffa" Jack's performance of "Liver", earned him 399 points to take third place.
He was five points ahead of the fourth place winner, Zavique "Caspa G" Morris, who made it to the finals for the first time since he began competing in 2016.
Magikal told iWitness News that he has been writing soca for about eight years. 
Some of his songs include "Crazy Wine", "Mad and Cray", "Can't Stop We" and "Running".
"I did a lot before," he told iWitness News after his crowning.
He said that he and his producer, Super K, began planning for the 2019 Soca Monarch competition the morning after last year's event.
He got the idea for the song as he was leaving Victoria Park after the all-night show, the biggest on the Vincy Mas calendar, which attracts close to 10,000 patrons. 
"Basically, I was here on a night like this at Victoria Park. Fireman, Skinny Fabulous were performing. Everybody was behaving wild, as normal. And one my friends turn to me and said, 'When [am] I going spend my money [to] come Soca Monarch to watch you perform?'"
Magikal told iWitness News that he felt embarrassed by what his friend had said.
"Where I was there, although I [was] jumping up (dancing), I [was] saying [to myself] 'What I could build to take the crown?'
"And when I was going out the gate, I heard one the foreigners say, 'these people bloody hell crazy.''
The Campden Park resident said he kept repeating the line "these people bloody hell crazy" from Kingstown to his home.
He said that when he got home he recorded the sentence, "These people bloody hell crazy", in the tune that would turn out to be a winning song.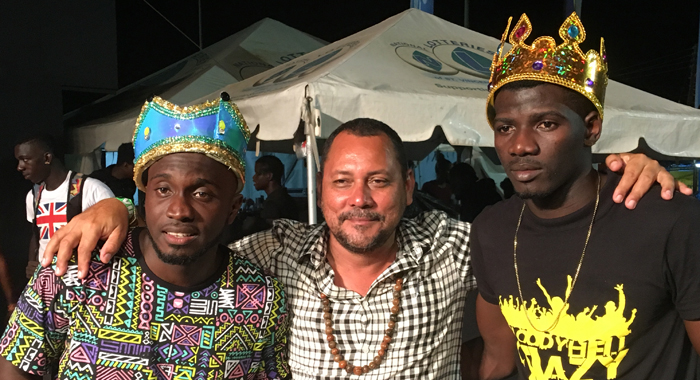 In the Ragga Soca segment of the show, Hance John won the crown, moving up from second place last year.
In winning, he defeated Fimber "Fimba" Jardine, who won on his first attempt in 2018, but who gave a dismal performance this year, which some patrons said must have placed him last among the 10 competitors.
Second place went to Fireman, while Chewallee was third.
(Full story on the Ragga Soca Monarch to follow)