Atiron Lockhart of Xtreme FM 104.3 GT Enterprises Lynx Mas Band won the King of the Bands competition, held as part of Dimanche Gras at Victoria Park Sunday night.
Lockhart portrayed "Airlines Serving Argyle International Airport", from the band's presentation, "Come Fly With Us".
The costume, which depicted the terminal building of Argyle International Airport, as well as some of the airlines that service the destination, wowed judges and patrons alike.
The costume included models of SVG Air and Mustique Airways aircraft, which had rotating propellers, much to the amusement of mas' lovers.
An LED light under the front of the depiction of the American Airlines aircraft, created the impression of an aircraft coming in for landing.
More observant patrons noted that the LIAT aircraft had no wings or engines, while some of the jets were missing similar important elements.
The 374-point win was a 15-point victory over the second placed, BMC Amerijet Magic 103.7 FM Blondie Bird and Friends' "Man and Earth Living in Harmony".
Jelani Niles showcased the costume from the Band's presentation, "Climate Change – The Evolution" and gathered 359 points.
Third place went to Melbourne Artisans, with its presentation, "It looks like something we saw before", which scored 347 point.
The costume was worn by veteran mas' man, Gordon "Tarya" Boucher and was from the band's presentation, "Rumble in the Jungle".
Players wins Queen of the Bands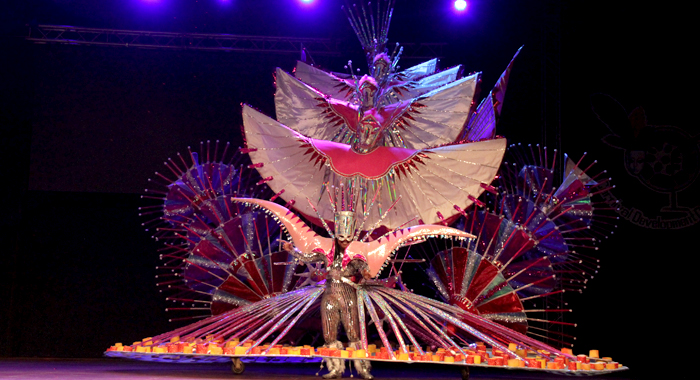 Meanwhile, Jennilee Glasgow, another veteran masquerader, scored a four-point victory in the Queen of the Bands competition.
Glasgow's "Spirobranchus Giganteus" from SVG Players International Mas Band's "Wonders of Nature", amassed 393 points.
Spirobranchus giganteus, commonly known as Christmas tree worms, are tube-building marine worms.
Semone Richardson, another experienced masquerader, scored 389 points portraying "Mother Earth Is Crying", from the band's presentation, "Climate Change — The Evolution".
Owen Ralph and the Professionals took third place with 365 points from its presentation "Take Another Look".
Ateisha Lockhart portrayed "The Natives of Yuremein – A Tribute to Doc Adams".
Eight bands took part in each of the categories of the competition.