Arnhim Eustace — former prime minister, leader of the opposition and president of the main opposition New Democratic Party (NDP) — has made it clear that he will not contest the next general elections.
Eustace, 74, who has been representing East Kingstown since 1998, made the announcement at the NDP's 41st convention rally in Arnos Vale on Sunday.
He used his speech to thank constituents for remaining faithful to the NDP, including between 2001 and 2010, when East Kingstown was the only seat in St. Vincent – coupled with the two in the Grenadines — which the NDP retained in the 15-member parliament.
Eustace told the convention that his daughter had told him that it seems that he had a love affair with East Kingstown.
"Well, that's true. A real love affair because there is no other constituency like East Kingstown…" said Eustace, who has been having knee problems in recent times.
"When everybody buckled, East Kingstown stays strong and stands and continues for the New Democratic Party. So all I want to do this evening is to thank you, and I will do it again on other occasions, to thank the people of East Kingstown for what they have done for me and for the New Democratic Party. I really mean it. I am not making any joke about that. There is no politics in that," said Eustace who used a cane as he walked from his seat to the podium.
"And now, we will go into a new period, but in that new period, I will not be there," he said.
"I will not be there. I have already told them that I will not run again but I will continue to work for the New Democratic Party. On the radio programme, I will still be there and everything, but I will not be a candidate in the next election but I am confident that whoever you put there, they will do the same job and even better than I.  So East Kingstown, I thank, you, I thank east Kingstown for what you have done for the New Democratic party."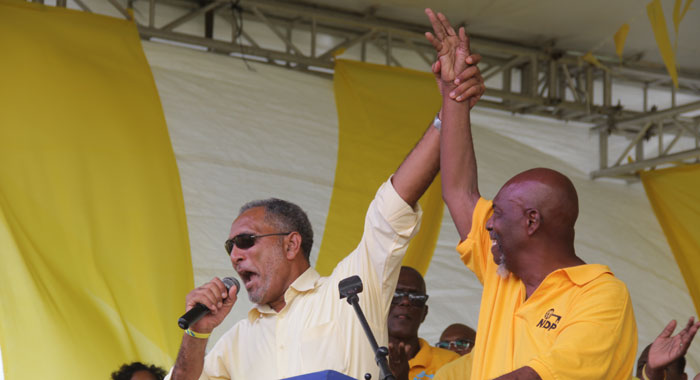 Eustace makes a weekly appearance — on Tuesdays — on the NDP's radio programme, "New Times" on NICE Radio.
While Eustace led the NDP to four consecutive electoral defeats, he has been credited for rebuilding the shambolic party that he inherited in October 2000 from its founder, former prime minister Sir James Mitchell.
Sir James quit electoral politics in October 2000, some 16 years after the NDP was voted into office, and after having agreed to early general election after political pressure, in 2000, by the then opposition Unity Labour Party.
The NDP, which went into the March 2001 general election with a one-seat majority, lost five of those seats to see the ULP voted into office by a 12-3 margin.
There was a carbon copy of those results in 2005, but in 2010, the NDP was able to wrest four seats from the ULP, which held on to its one-seat majority in the 2015 election, the results of which the NDP is challenging in court.
In 2017, Godwin Friday, who has been representing the Northern Grenadines since 2001, emerged as head of the NDP and Leader of the Opposition, after Eustace gave up the posts.
Since he demitted office as NDP president and leader of the opposition, Eustace equivocated about his future as a candidate for the NDP, but clarified that on Sunday.
He charged the new NDP leader to take care of his constituency.
"And, Dr. Friday, leh me tell you something. Look after East Kingstown you know. Look after East Kingstown. I am serious about it. Serious about it. They have you here, so look after them," Eustace told Friday.
As Friday held Eustace's hand high, the older politician's fingers appeared to be trembling.
Earlier in his speech, Eustace said he felt it important "to say to the people of East Kingstown, my people, I say to you that to me, you are very dear, very important, I love the people of East Kingstown. They have demonstrated to me, commitment."
He said that East Kingstown represented all of St. Vincent when that was the only constituency retained by the NDP on the mainland.
He noted that at one stage, only three NDP candidates won their seats, the two from the Grenadines and East Kingstown."
"We have to thank the people of East Kingstown for their faith in the New Democratic Party, their support for the New Democratic Party… They were always there. East Kingstown was always there," Eustace said.
"I owe them everything as far as politics is concerned. Everything. Because without them, the New Democratic Party would not have been what it is today. We may have lost much more than we did lose. But they kept backing us up, kept coming forward and making sure that NDP always had a seat besides the Grenadines in the Parliament of St. Vincent and the Grenadines," Eustace said.
General elections are constitutionally due by March 2021, but are widely expected by December 2020.
Prime Minister Ralph Gonsalves, who had said in 2015 that he would not seek another term as prime minister and would have used the current term to groom a successor, has since announced that he will lead the ULP into those polls.