Leader of the Opposition Godwin Friday says that agriculture is important to St. Vincent and the Grenadines (SVG) and that there can be no economy without agriculture.
"It is our position, fundamentally that you can't have a country and an economy without taking care of agriculture," he said at a town hall meeting with Vincentians in New York, on Sunday.
"You have to be able to produce and feed yourself. You can't live just on in-flows from tourism or from the people who go out and sail, or the remittances you send out here and then take that money and buy canned peas and canned mackerel and stuff like that," the opposition leader said.
"You have to be able to take care of agriculture," Friday told the event, organised by the New York arm of his New Democratic Party.
Friday said it is, therefore, the position of the NDP that it will "treat agriculture as not a thing of the past but as an essential pillar to the future of St. Vincent and the Grenadines".
The opposition leader said agriculture used to be one of the main sectors of the Vincentian economy but it has declined significantly under the Unity Labour Party government (ULP) and now represents less than 10% of GDP.
He said that the loss and decline is more evident in the banana industry, adding that in its heyday, the crop contributed over EC$100 million annually.
"There were challenges in the European market but the intervention by the NDP administration and other governments of the Windward Islands, they negotiated with supermarkets to try and maintain the market for our producers."
The opposition leader said that in 2001, when the ULP came to office, SVG earned EC$37 million from the sale of banana.
"In 2012, in a question that was posed to the minister of agriculture at the time, he said in that year that we earned a mere $1.5 million from the sale of bananas. Today, we don't export any bananas to the UK."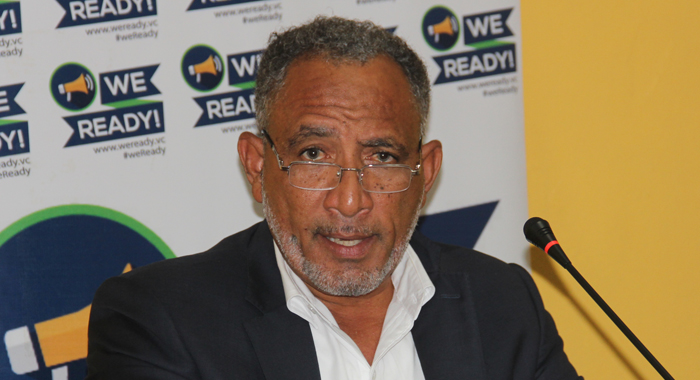 Friday said that in 2015, the NDP, recognising the importance of agriculture, said there was still some market for bananas, if produced properly and efficiently and if the basic requirements of credit and the spraying needed to keep the crop healthy are done.
He said the NDP said it would cultivate 1,000 acres of bananas, if elected to office.
"I guess they (ULP administration) thought it was like a bid because we say 1,000 they say they going do 2,000. So it was like an auction…"
Friday said that in response to a question in Parliament last month, Minister of Agriculture Saboto Caesar said there was 600 acres of bananas cultivated in SVG.
The opposition leader said that some of this is what the cocoa company planted as shade for younger cocoa plants, thereby making them one of the largest bananas farmers in St. Vincent.
"But they are really in the business of planting cocoa," Friday said.
He said that farmers rely primarily on the local and regional market in Trinidad but there have been problems with currency exchange, which have made it very difficult for the farmers and traders to conduct business efficiently.
The central bank and the governments got involved but the traders say that the problem persists and they simply cannot trade properly when they are paid in TT currency but cannot convert it to Eastern Caribbean dollars to bring to SVG, the opposition leader told the gathering.
"The challenge, it seems to me, in agriculture and one we have taken on as a party, is to transform the agricultural economy from one of subsistence agriculture to an agri-business model," he said, adding that this is recommended by the World Bank.
"For this, it means credit has to be provided back to the industry. One thing the ULP did was to take that away from the banana farmers."
Friday said that the government must also assist in finding and maintaining markets.
"When I say maintain, I don't mean you to say you are going to sell to St. Lucia or you are going to sell to the UK. It is the price at which you sell as well. So maintaining a market so that the farmers can make a decent living from it as well.
"So credit, market and appropriate technical support must be made available to farmers.
"Farmers don't need a hand-out. What they need is a hand to help them up and when they demean the work they do by simply saying they go put you on NIS non-contributory pension and they give you a $300 a month for somebody who used to be able to pay his mortgage and buy a truck and sent his children to school.
"That is, in a sense, a slap in the face, as far as I am concerned. We have to look for new solutions to be able to make our agricultural sector viable and productive once more," Friday said.
The opposition leader said that farmers cannot do it on their own.
"And that is what it feels like now: that they are on their own. If the market prices for dasheen and ginger were to fall, the farmer is left holding the bag. Always, the farmer is the one who suffers. No wonder so many of them have abandoned their land to elephant grass or move to Kingstown to find work as security guards or to sell on the streets of Kingstown.
"They add to the joblessness and misery that continues in the country," Friday said, adding that unemployment remains the number one concern for Vincentians, especially young people.