A prominent activist on behalf of marijuana farmers says he believes police officers were trying to make political mischief when they destroyed a first-time marijuana grower's crop in Richmond Vale on Tuesday.
The activist, Junior "Spirit" Cottle, who is head of the Cannabis Revival Committee (CRC) said he believes that the farmer, Cecil Hamilton Edwards, of Fitz Hughes, should be compensated.
Cottle, however, noted some of the legal challenges to the state offering such compensation.
Edwards, 69, told iWitness News, on Thursday, that police destroyed his field Tuesday morning, although he is awaiting the processing of his traditional grower's licence application.
He speculated that the police might have done so out of political spite as his son provided an electricity connection for an opposition village meeting in Fitz Hughes the previous night.
But Cottle told iWitness News separately, on Thursday, that some police officers are not pleased with the changes to the nation's drug law — which are yet to come into effect — and might be trying to derail the process.
Cottle said Edwards is a member of the recently-formed and registered North Leeward Medical Cannabis Growers Cooperative.
He said that he personally encouraged Edwards — who has traditionally grown root crops and fruits — to plant cannabis for the medical cannabis industry.
Cottle said that when he got the call about Edwards' marijuana plants being destroyed, he "called some people in the higher authority and when I called them, they were annoyed and they immediately called other people and the two gentlemen who were taken up were released".
Two of Edwards' employees were arrested and taken to Kingstown when officers from the Rapid Response Unit destroyed the marijuana.
"So I was here when they were released, so due to our effort from the cooperative and my personal standpoint, but we knew before that the people were threatening to eradicate certain guys in the area," Cottle said.
"From my information, there is clique of policemen who are bent on hindering the process," he said, adding that police officers have said, "Alyo ah get wah alyo want? Them a fool alyo' and word to the effect"…
Cottle said that some police officers do not support the government's move to liberalise the marijuana laws.
"So that has been going on down there for one reason or the other," Cottle said.
Edwards said that the police destroyed his marijuana and left those on another farm next to his standing.
Asked why he thought that was done, Cottle said that is a good question.
"So you think — and these are some of my arguments — a government who is supposed to be calling election soon, you think any government, whether NDP, would be so stupid to go in an area where there is a slim margin, where they themselves just have a one-seat majority, do your own calculation. Why one field?"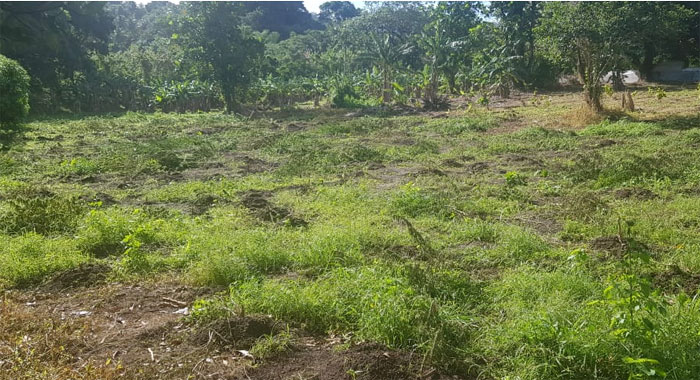 Cottle said that Edwards visited him Wednesday and told him there is a field next to him, owned by a member of the cooperative, who Cottle encouraged to plant marijuana.
"And the idea was also to eradicate Deane them field," Cottle said, adding that the field also belongs to known supporters of the NDP.
"So I think it was orchestrated, I don't know where, but it was deliberately done to get at the government and the MCA (Medical Cannabis Authority) and derail the process. It is sad," Cottle said.
"But I am saying to the politicians. Oh gaard, alyo keep traditional growers out of their political war when comes to the medicinal cannabis industry. It has been going on all the time, it happened under potato, it happened under tannia, it happened under arrowroot, it happened in all areas of the economy…"
Cottle said he felt badly hurt, knowing that he had encouraged Edwards to get into the industry and his crop was later destroyed.
"I think he should be compensated for what he had lost – some form of compensation," Cottle said, adding, "I know it cannot be a legal compensation because it's a policy, government policy position, it's an amnesty, it is not legal, it is a pardon that is being extended, like you have amnesty on guns…
"So legally, you can't challenge it. You can't go in the court and challenge it. I think it should be raised at the level of Parliament and look at what caused it and those traditional growers should be given some kind of compensation because it is not right to know that different entities involved, there are different stakeholders, the police, the state and traditional growers and traditional growers are the one who end up the most victimised, or the main sufferers.
"So from that perspective, from the perspective of CRC, which I lead, from the perspective of the traditional growers, of whom I am one, and from the perspective of the North Leeward Medical Cannabis Growers Cooperative, of which the guy is a member, I think he should be compensated," Cottle told iWitness News.
Commissioner of Police Colin John told iWitness News that when he received word that the officers were destroying the marijuana plants he called and "told them about the government's policy as regards the amnesty and everything like that and told them they should desist from doing that".