During the first week of February, Black History Month (US and Canada), music lovers will be treated to a bold juxtaposition of Beethoven and Haitian Classical Music. 
The event, Un Voyage Audacieux, French for "An Audacious Voyage", is the brainchild of Vincentian-Canadian pianist, Sean Sutherland. 
Last year during Black History Month, Jessye Norman, African American opera primadonna, was awarded the Glen Gould Prize, Canada's biennial international award celebrating extraordinary artistic and humanitarian contribution to the arts.
It was at an event at the Toronto International Film Festival (TIFF) held as part of the celebration that Sutherland had the opportunity to not only meet Norman, but also hear her speak poignantly about the circumstances that led her to opera, share her opinions on classical music, and offer wise counsel on a diverse set of matters.  
As a classical pianist, Sutherland thought that it is a pity that more Black classical musicians are not seen on stage and thought, too, of his musician friends who struggle to find opportunities to perform, let alone perform on the world's most prominent stages.
After Norman's death late last year, Sutherland was inspired to produce concerts that celebrate Black excellence in classical music. To this end, he founded ÉBÈNE with pianists Eldred Marshall (USA) and David Bontemps (Haiti/Canada).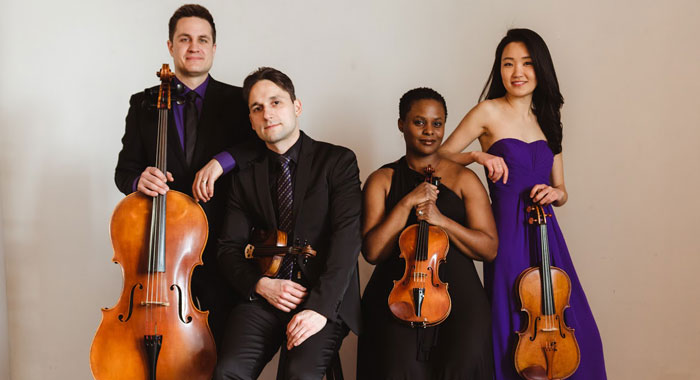 Enter Un Voyage Audacieux, a collaborative recital between Ébène and Odin (String) Quartet. This recital will feature two piano concertos of Beethoven: Piano Concerto No 1 in C major played by Sutherland and Piano Concerto No 4 in G major played by Marshall. Both of these concertos will be accompanied by the Odin Quartet.
What makes these recitals more audacious is that two pieces by Haitian composers will complement the Beethoven concertos:
1) A string quartet by composer Werner Jaegerhuber called "Suite Folklorique", which will be performed by Odin.
2) The First Piano Sonata in E-flat minor called "Marron inconnu", French for "The Unknown Maroon", composed and performed by David Bontemps.
This event is the debut concert of Ébène and epitomizes what the group hopes to achieve as a collective: to bring vast musical diversity to hearts and ears everywhere. This event will be an opportunity for music lovers in Toronto to hear both Beethoven and Haitian classical music live, a rarity there.