Dec. 17, 2019 was an extremely happy day for Percival Thomas as he prepared to leave the medical facility at St. Augustine's Medical Services (SAMS) to return home to St. Vincent.
He was able to walk away from the premises to begin his homeward journey.
Thomas, 53, who has spent the majority of his adult life fishing, fell ill on Oct.1, 2019, after rising to the water's surface too quickly after diving for lobster.
Eight days in the local hospital in St Vincent, and a subsequent two months at home, saw him bedridden, exhibiting classic symptoms of decompression sickness (DCI), also known as "the bends".
This illness is caused by rapid changes in pressure, with the formation of gas bubbles (mainly nitrogen) in the bloodstream. The most common signs and symptoms of the bends include joint pains, fatigue, low back pain, paralysis or numbness of the legs, and weakness or numbness in the arms. Other associated signs and symptoms can include dizziness, confusion, vomiting, ringing in the ears, head or neck pain, and loss of consciousness.
The information about the hyperbaric chamber at SAMS was given to Thomas by one of his local nurses and saw him, with the support of his family, travelling to Grenada for the restorative treatment.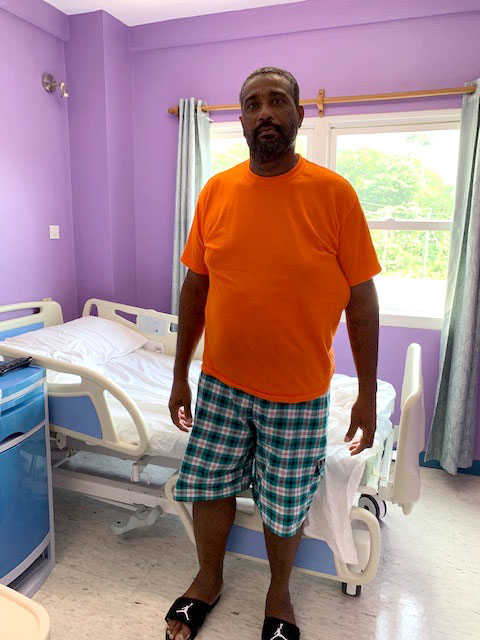 He arrived in a wheelchair, without the use of his legs, but after less than two weeks of treatment, Thomas is able to stand up without assistance and walk with minimal support.
Commenting on the treatment received: he stated: "If I had known of the existence of the hyperbaric chamber at SAMS earlier, I would have been here sooner. I have no hesitation in sharing my experience with my fellow fishermen. Don't wait to get treatment; I don't believe I would have been so badly affected if I had come here sooner."
Thomas said that while he is not fully recovered, he is 75% there and plans to return to Grenada soon so he can complete his treatment,
Dr. Lutz Amechi, owner and resident physician at SAMS reiterated the value of the hyperbaric chamber saying: "An emergency dive protocol was established for Grenada, back in 2017, at which time I was pleased to be certified as a hyperbaric physician.
"This means we have both the equipment and the expertise to treat decompression sickness, which can occur in scuba divers and fishermen, within minutes right here on island."
It is also noteworthy that the treatments available from the hyperbaric chamber include a number of common medical ailments. The pure oxygen it provides can effectively be used as a medical drug in the treatment of diabetic foot ulcers, burn infections, compromised grafts and chronic infections such as gangrene.
The team at SAMS said it wishes Thomas well and looks forward to working along with him towards his full recovery.