The 22-year-old Park Hill man who police shot in December 2019 had two months earlier escaped being shot when he pointed a gun at the wife of a licensed firearm holder.
This information was revealed at the Colonarie Magistrate's Court, sitting at Georgetown, last week Thursday, Jan. 30, as Aldon Thomas was tried for indecent language and criminal trespass on the property of Saville and Lennox Dabreo of Park Hill.
It was the second time in just over a week that the man — who would, at the end of the trial, rack up his 19th conviction — was being tried on similar charges before Magistrate Bertie Pompey.
Complainant Saville Dabreo told the court that at about 3 p.m. on Oct. 26, 2019, she was at home when she heard someone call her three times.
When she responded, Thomas, who was in her driveway, told her, "Way alyo ah call up me name in alyo f**ing thief phone fah?"
Dabreo said she asked the man, "How you're so disrespectful?"
Thomas responded, "Me nah nice ah nuh. Me nah m***er c**t nice!"
Dabreo said that Thomas then removed a bag that he had on his back, opened it and pointed a gun at her.
"I get so frighten; then I heard a gunshot fire," she told the court.
The woman further said that it was her husband who had fired the gunshot in the air, with his licensed firearm.
When her husband did so, Thomas was still pointing the gun at her, the complainant said.
Thomas ran away from her property after a second shot was fired.
Asked by prosecutor Police Sergeant Renrick Cato if she gave the accused permission to enter the premises, Dabreo responded "No".
The prosecution witness, Lennox Dabreo who is the complainant's husband, told the court he was sleeping when his granddaughter woke him.
According to what the granddaughter told him, he grabbed his licensed firearm and shouted at the defendant from his bedroom's porch, "What you want to do? Shoot my wife?"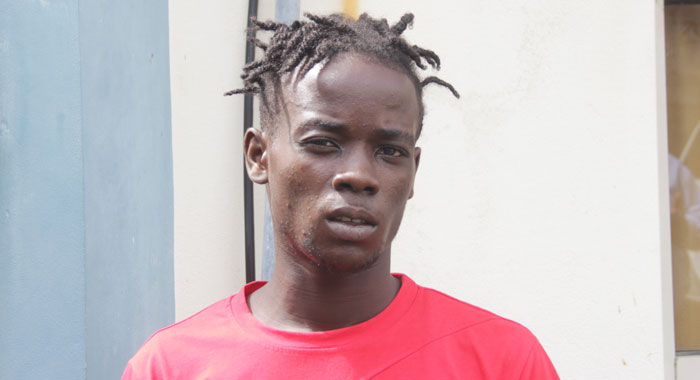 Dabreo said the defendant didn't answer but " was fiddling in a bag and I recognised something like a gun and so I pelt one shot in the air. I could have shot him but I fired a second shot and he ran."
Dabreo told the court he didn't give Thomas permission to enter the premises.
Thomas cross-examined Dabreo, asking, "At the time you saw me, who else was there?"
"I wasn't looking to see, my aim was to protect my wife," Dabreo responded.
Police Constable 591 Joshua Robinson also gave evidence, telling the court that Thomas didn't give a written statement but verbally stated, "That's lies".
Robinson further said that a search warrant was executed at the defendant's home but nothing was found.
In his defence, Thomas told the court he went to confront one "Coolie Man" who was calling up his name regarding a stolen phone, but "Coolie Man" told him it was Saville who was calling up his name.
Thomas further said he got vexed and cursed a bad word on Coolie Man.
Thomas said Mrs Dabreo called out to him saying, "You can't come up here and make noise."
I told her, "Is me name I come clear, Alyo say I tek phone and gone ah mountain. I don't like people calling me name wrongfully."
Thomas, who seemingly wanted to answer questions posed by Cato before they were completed, was told by the prosecutor, "You reading my mind?"
"No," Thomas responded, "Me nah read yo mind but me ah watch yo lips."
After the magistrate handed down the guilty verdict, Thomas said, "But I didn't curse bad word on her!"
Pompey commented: "You curse bad word nonetheless. Don't tempt me. By your own admission, you curse bad word. A liar has no memory. You keep referring to 'them' all the time. One 'Coolie Man' couldn't be "them'.
"You don't feel, you don't hear" Pompey told Thomas as he remanded him in custody until Monday for sentencing.
On Monday, Pompey fined Thomas EC$300 and ordered him to pay it forthwith or spend two months in prison.
Thomas paid the fine.
On Jan. 20, Thomas was found guilty and fined EC$600 for using indecent language against Agnes "Massy" Collis and criminal trespass on the property of Linston "Germs" Seaton.
In December, Thomas told iWitness News he was trying to figure out why police shot him in the back at his home around 3 a.m. on Dec. 4.