The corporal of police who led the operation, last Tuesday, to confiscate an illegal AR-15 firearm has been commended for his bravery and professionalism during the operation. 
Corporal Nigel John of the Rapid Response Unit was commended at the Serious Offences Court, on Friday, by the prosecution, defence and Senior Magistrate Rechanne Browne.
Senior Prosecutor Adolphus Delplesche commended John on "an excellent piece of work", adding that John is one of those officers who continue to do tremendous work.
"And the initiative he used to recover this firearm … shows a lot of professionalism," Delplesche said, adding that the officer was able to confiscate the firearm without any undue alarm.
"And bravery," commented defence counsel, Ronald Marks.
"And bravery," Delplesche echoed, adding that John displayed great bravery.
"So, Corporal John, congratulations, tremendous work, as usual," Delplesche said.
At his arraignment at the Serious Offences Court, on Friday, Vermont resident, Evander Myers, 28, pleaded guilty to possession of the prohibited weapon without a licence in Barrouallie last Tuesday.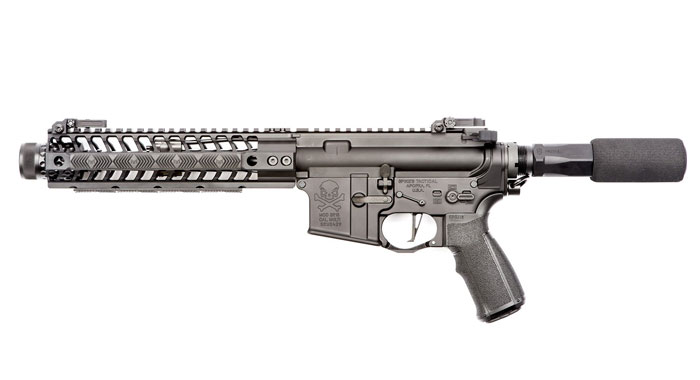 According to the facts, read by Corporal Atnel Ash, about 10 p.m. on Tuesday, Feb. 14, John was at the Layou Rapid Response Unit base when he received certain information regarding a white Nissan Ultima, registration number PW750.
The information indicated that the vehicle was heading towards Layou from Kingstown.
John and his team boarded an unmarked vehicle and went to the area of the Layou beach.
About 10:30 p.m., the said white car passed along the Layou Beachfront, travelling in the direction of Barrouallie.
John and his men boarded their vehicle and followed the car until it got to the area of the Barrouallie Primary School, where the car pulled off to the right side of the road and stopped.
John used the opportunity to pull in front of the car, preventing it from driving forward.
John and his party quickly alighted from their vehicle and surrounded the car.
They observed that Myers was sitting in the front passenger side of the car and another person in the driver's seat.
Myers appeared to be fiddling with something near his feet and John shouted, "Police! Keep your hands where I can see them!"
Myers complied and John went to the passenger said of the car and identified himself and the other police officers, using their police identification cards.
The officers found the rifle wrapped in a t-shirt and garbage bag, protruding from the backpack.
John immediately cautioned the men and the driver responded, "Skull, own yo' thing."
The defendant responded, "Is my own."
Myers was arrested and charged.
He was sentenced to five years and six months in prison for his crime, his first offence.