Former Unity Labour Party member Jomo Thomas has rubbished the statement by party leader Prime Minister Ralph Gonsalves that the party is a family and anyone who leaves is "dead – politically".
Thomas who was the ULP's candidate for South Leeward in the December 2015 election quit the party last October amidst a continued onslaught against him on the ULP's radio station.
He will also demit the post of Speaker of the House of Assembly this week, in keeping with his announcement last year to leave that office by the first quarter of 2020.
Thomas, a lawyer, social commentator and journalist who writes a weekly commentary, said that he plans to complete two books that he is working on.
"I have a number of things that I'm doing, apart from those things which are announced," Thomas told iWitness News but said he did not want to speak about those things just this minute.
"I know that a lot of people are hoping to hear answers to that precise question. A lot of people are wondering.
"But I know that the governing party has said that it is a family and if you leave the family — a rather mafioso thought, that characterisation — … you are dead politically," Thomas said.
Speaking last November at a rally to celebrate the ULP's 25th anniversary, Gonsalves said:
"And I tell you this further: anytime anybody within this Unity Labour Party, which is a national movement, the heart of the labour movement and which is a family, and any renegade, any traitor, and any castaway who leave the labour family, they are dead politically."
Gonsalves continued:
"I tell you this: we have had one or two opportunists of different ideological shapes and sizes."
As the prime minister made his comment, someone close to the front of the stage shouted out "Jomo!"
Thomas told iWitness News on Monday that as recently as last week Tuesday, Minister of Transport and Works, Senator Julian Francis, who is also general secretary of the ULP, described him (Thomas) as a spent force, politically.
Thomas said that in the same breath, Francis said that if he (Thomas) should go on a platform, any place in South Leeward, people will stone him.
"I thought that was very, very suggestive and I said that in my column," Thomas said.
"Now, this politically dead person, this person who's a spent force seems to be generating a tremendous amount of coverage.
"Now, the way people deal with dead is to leave it alone. There's nothing to do with that; just let it be because it's a spent force, there is no currency there; can't do anything; just let it be — so I am a little — what is the word?"
Thomas said this seems contradictory to him.
He said that mass parties play to their base.
"Me, as an activist, all my life have played to the fringes. I'm going for thinking — that narrow sliver of people, those independent voices, who may make a difference, who would see reason who would think a little bit more, who're not so beholden to a government paycheque or would say, 'I have my children to take care of', 'I have my mortgage to pay', 'I have my school loan to pay' … all of those encumbrances that stop people from thinking, and acting in ways that they really should act.
"So I am not going for the mass. I know I can't influence the base in radical, destabilising ways, but I can certainly put my voice out there and hope that it contends with all of the noise. And through that noise, people would say, 'Well, I think this man is making some sense'," Thomas said.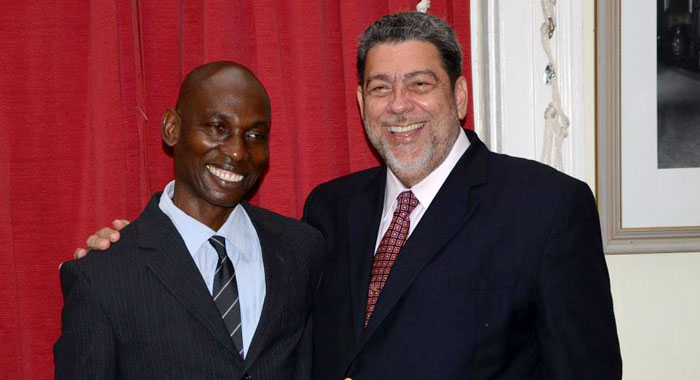 He said that in the 1970s as a young activist, he read an article that Cheddi Jagan, the leader of the Guyana's People's [Progressive] Party, wrote in the party's journal.
Thomas said that in the article Jagan laid out his battle against Burnham's corrupt practices.
However, Jagan also thought that in foreign policy, Burnham had a progressive position.
"And the position of the PPP then was that we would give critical support — we will support those positions, which we believe are in the interest of the country and we will be harshly critical of those [that are not]," Thomas told iWitness News.
He continued: "Ever since I read that article. I said, 'Wow! This is beautiful.' Because you no longer become married to any side simply because you are married to them."
Rather, people would ally themselves to positions that help to advance the country.
Thomas said:
"I don't know why, for example, people say in St. Vincent that I am this party 'til death. I don't understand that.
"We grew up in families. There are times when we do speak to our sister, would speak to our mothers; we are married, we don't speak to her (wife); we get divorced; we leave churches. All of these are fundamental and important institutions to us. But when it comes to politics, we say we do it for life.
"So irrespective, you may break up with your mom, because she did something wrong or because you perceive that you did something wrong — or your wife or your girlfriend or your sister or your brother or your pastor. But [you] ain't breaking up with that symbol for life. I mean, that is a monumental commitment. That stronghold needs to be broken if St. Vincent is to break the current tribalism and to go forward," Thomas told iWitness News.