Former MP for South Leeward Jeremiah "Jerry" Scott says he was and remains willing to accept an honour from the New Democratic Party (NDP), of which he is a member.
Scott told iWitness News on Wednesday that he was not snubbing the NDP when he did not attend an event, last Saturday, where he was supposed to be honoured.
"I was at a funeral in North Leeward. Actually, the funeral date was set long before and I was already committed to it and when they called me to inform me, I just couldn't cancel it," Scott told iWitness News.
He said the honouring event was organised by South Leeward MP, the NDP's Nigel "Nature" Stephenson, but he was not aware of it until the Monday before the event took place.
The conferral of the honour formed part of an event last Saturday to mark the opening of Stephenson's constituency office, located at Campden Park.
Scott said it was not a case of where he was snubbing the NDP, as some persons are suggesting.
"Don't jump to no conclusions. I just said it. I was invited to a meeting on Monday to inform me of this thing. I said to them I am already committed to something," Scott told iWitness News.
Told it would seem strange that he would tell the NDP that and they would still announce that he was going to be honoured at the event, Scott said:
"I think they had stopped the announcements after that."
Asked if he would be prepared to receive the honour, Scott said, "I didn't have a problem then and I don't have a problem now. I was committed to something else before."
Asked if his relationship with the NDP is intact, Scott said, "Come on! Come on! Come on! I don't have a public fiasco with anybody."
Asked if he had a private one, Scott said no.
Speaking at Saturday's event, Leader of the Opposition and President of the NDP, Godwin Friday said Stephenson "would be the first to tell you that he stands here on the platform that was built by Jeremiah Scott in all the years that he served the New Democratic Party and continues to do so.
"Well, Jerry was supposed to be on tonight, as you know, but he couldn't be here tonight. But there will be other occasions for that. There will be other opportunities to do that. And the work continues. And we will all work to make sure that this New Democratic Party remains the hope of the people of St. Vincent and the Grenadines."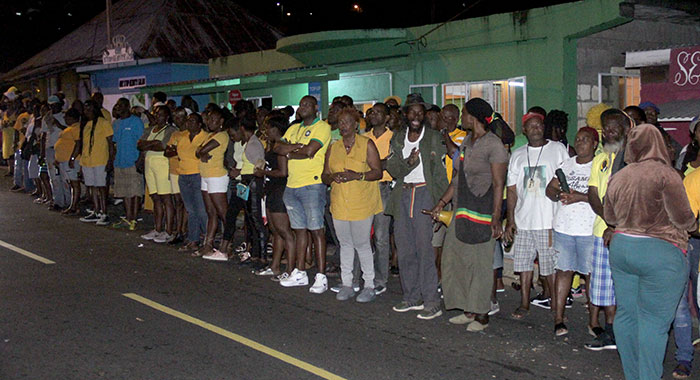 Speaking at the event, Stephenson said the Unity Labour Party administration has neglected South Leeward.
"Under the stewardship, the representation of the Honourable Jeremiah Scott, South Leeward was a constituency that was booming," he said, adding that the district was one where employment was created for many people – young and old; there were paved roads and the infrastructure was good.
"But since the advent of the Unity Labour Party, everything that Jerry Scott and the New Democratic Party would have done is left to rotten," he said, adding that what remains are only relics.
"So for those persons, who are interested in the field of archaeology, you will recognize precisely — or you can get back to when the New Democratic Party left office, because everything that was done by the NDP or started by the NDP, it is in the exact same position. So we don't want any government that has neglected us so badly," said Stephenson, who is seeking a third term in office.
On Monday, Prime Minister Ralph Gonsalves was asked, on WE FM, to comment on the development.
Gonsalves, whose Unity Labour Party government delayed the payment of Scott's gratuity after he was voted out of office in 2001, praised Scott as "an outstanding member of the NDP, the NDP government".
The prime minister, however, accused Stephenson of "opportunism" in the effort to honour the retired politician, who represented South Leeward from July 1984 to March 2001.
Asked to comment on the prime minister's statement, Scott said:
"To be quite honest, I didn't hear the prime minister said so I can't make any comments on what he said at all."