By Sharma London
Unfortunately, it is difficult to explain this question without the use of an example, which, unavoidably, has to include some calculations. Being a student of mathematics, I am well aware how numbers can easily be confusing, but let's hope we do not lose our readers in this.
Recently, I saw a completed Customs Entry Form, which contained the breakdown of charges for an imported item, which carried VAT. It prompted me to ask the question: are consumers paying at least 32% VAT on imported items that attract VAT?
I am by no means a tax or accounting expert, but from what we've learnt, VAT means VALUE-ADDED Tax. In other words, at the point where flour becomes bread, value is added — to the flour. Where wood becomes furniture, and where steel becomes a gate, value is added.
I visited the Customs website to perform some calculations myself, for the example that I wish to use.
Assume that you are a business operator who is importing a refrigerator for resale, at a cost of US$1,500 with freight/shipment to SVG at US$150. These are random numbers, for use as an example ONLY.
I've highlighted the numbers that I want you to focus on, as we develop the point in asking the question.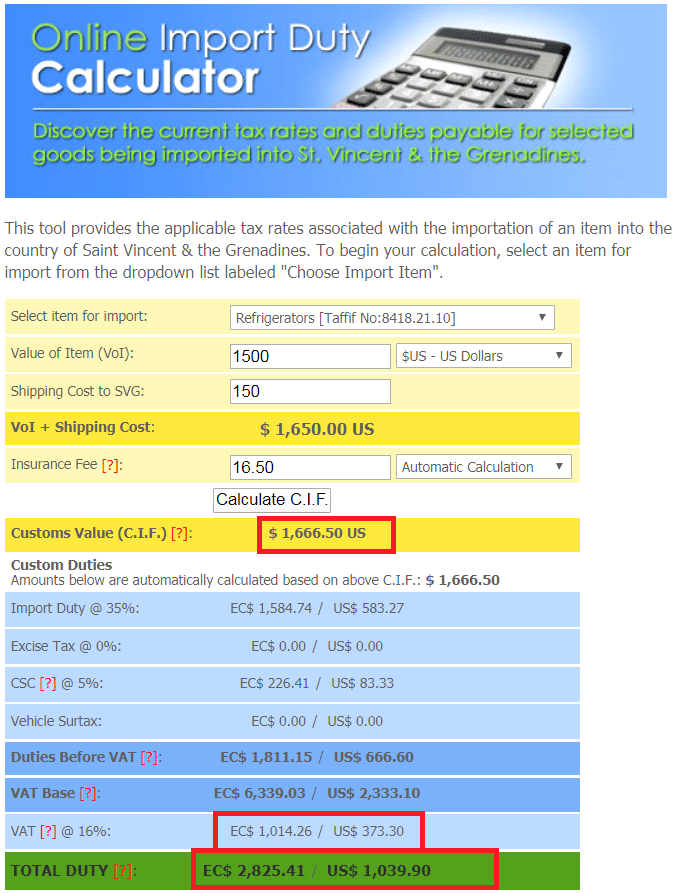 Let's look at our highlights:
You have the CIF (Cost, Insurance, and Freight) amount of US$ 1,666.50 (1,500 + 16.50 + 150). That's the total cost to land the refrigerator at Customs.
US$373.30. This is 16% VAT paid at Customs. You may wish to pay attention to how the VAT Base is determined. In other words, what is the 16% based on? This is based on the "Duties before VAT" plus the CIF; so 16% of (1,666.50 + 666.60) is US$373.30.
The total duty to clear this item from the Customs is US$1,039.90. This is how much you pay at Customs. Again, notice that it includes a 16% VAT.
Essentially, in our example after duty is paid, it costs US$2,700.40 (1,666.50 + 1,039.90) or EC$7,336.97~ to land our refrigerator at the dock or our showroom before it goes on sale.

To put this item on sale in our showroom, we need to add a markup and we also need to add 16% VAT (again?)

In our example, there's a VAT amount of EC$1,014.26 paid at Customs by the importer; and there is another VAT amount of EC$1,350 paid at the store, to an item that has not changed value between Customs and the showroom.
Consumers ultimately pay the price, whether directly or indirectly; so let's repeat the question: are consumers paying at least 32% VAT on imported items that attract VAT? 16% at Customs, indirectly, and another 16% at the store, both compounded? Is that the case or not? That is the only question that I wish to ask.
If this turns out to be true, it may also be noteworthy to point out that the total amount paid in VAT (EC$ 1,014.26 + 1,350.00) is about 52% of the CIF.