Minister of Health Senator Luke Browne says that his 10 p.m. Wednesday Facebook report was not an indication that there is another COVID-19 case, in additional to the 16 that the Coronavirus Task-Force reported at 6 p.m. that day.
In a post at 10 p.m., the minister published a graphic on his Facebook page with a 6 p.m. timestamp but with a layout and some information that were different from the Coronavirus Task-Force's update.
The Coronavirus Task-Force had said at 6 p.m. that three results were pending.
However, the minister's 10 p.m. Facebook post, had a graphic time-stamped 6 p.m. which put the number of pending cases at one.
In addition to the graphic, the minister wrote:
"Today's Report: 5 new results reported (one positive and 4 negative), one additional sample sent off for testing and an additional 14 persons entered quarantine."
iWitness News, therefore, published an article indicating that the minister had announced another case at 10 p.m.
However, in the post on Thursday morning, the minister said that he did not announce a 17th case of COVID-19.
Browne wrote:
"In light of recent article, I would like to make it clear that I did not announce a 17th confirmed case of COVID-19 in SVG last night.
"I published my daily COVID-19 report clearly showing the number of confirmed cases of that disease in this country as of 6pm yesterday being 16. The report I published on Tuesday which recorded the situation as of 6pm on that day (and which did not take account of the most recent case) stated the number of confirmed cases as being 15.
"In addition to publishing the report as a graphic, I provided a summary statement of the changes which took place between my Tuesday report and Wednesday report saying that we had the one additional positive case (which brought the number to 16), the return of 5 new test results (and the sending off of an additional sample for testing) and 14 more persons entering quarantine."
Below is the Coronavirus Task-Force's update: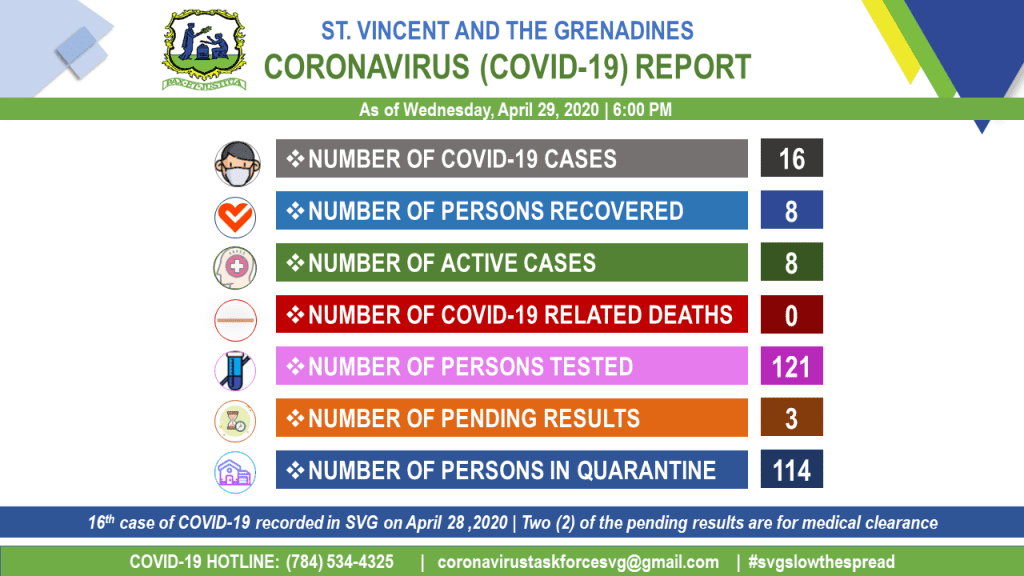 Below is a screencapture of Browne's post at 10 p.m. Wednesday.