Two Kingstown schools — one secondary and one primary — said, on Monday, that they were coping well despite the challenges of the COVID-19 pandemic, as school reopened for the first time since Easter.
"Everything went smoothly. Students came in; there is a hand wash station, they washed their hands in the way they should and then they went straight to their classrooms," Susan Jackson-Abraham, principal of the Kingstown Preparatory School (KPS) told iWitness News.
"We are going good. School is ready, we are sanitised, the government has put into place two extra hand washing stations," John Renton, principal of Thomas Saunders Secondary School (TSSS), which is located in the same vicinity in Richmond Hill, told iWitness News separately.
"Today, we don't have a heavy load of students, because we are running CXC exam timetable. So we have history and theatre arts today but tomorrow, it will be English so there will be all 93 students," he said.
KPS was eerily quiet for a primary school on the first day of the school term — as was also the case at TSSS.
That was partly due to the fact that only Grade 6 students –146 of them at Prep — and Form 5 students — 93 of them at TSSS — are expected to turn out to class.
The Ministry of Education has resumed in-person classes for school-leaving students and those taking exams in technical vocational institutions.
The four Grade 6 classes at KPS have been spread out across 14 classrooms to ensure the physical protocols intended to prevent the spread of COVID-19.
St. Vincent and the Grenadines has recorded 18 cases of the viral illness; 14 have since recovered from the viral illness.
Jackson-Abraham said that the classrooms at her school have between nine and 11 students each.
"More than 90% of our teachers turned up today, so we have, as you went around you would have seen there are two teachers per classroom and they are engaged, they are ready. It was smooth transitioning."
Only one student did not turn out to class and when their parents were contacted the school was told that the parent did not come into Kingstown today, hence the absence.
The principal said that students came wearing their masks.
"We didn't have to tell them to wear masks. Also, we ask the public and the parents, once they come on the compound, they must wear mask and they must adhere to the hand washing station, the protocol," she said.
When iWitness News arrived, there was a member of the school staff manning the hand washing station, dispensing liquid soap to visitors, and paper towels for the drying of hands.
Jackson-Abraham said that during the break time, the teachers went into the classroom, found out what the children wanted and went to collect it for them from the tuck shop.
Children go to the bathroom, but not in clusters.
"The place is quiet, teachers are working and we are settling in nicely; thank God," she said during the interview around 11:30 a.m.
The principal said that her deputy principal had gone around the school and checked each classroom to see what the children wanted for lunch.
Only one student came without breakfast, and that student was provided with a meal under the school feeding programme.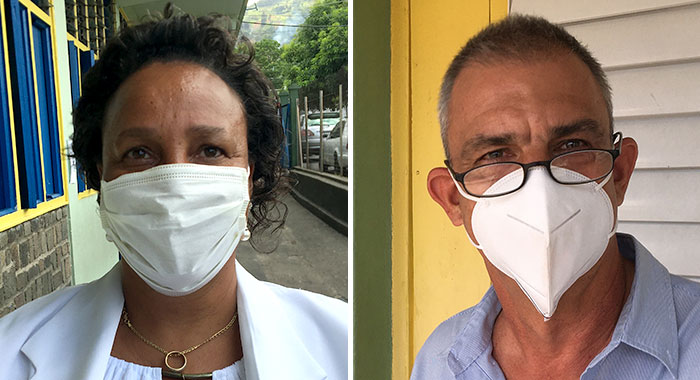 Meanwhile, across the street at TSSS, a small group of students were standing on marked spots on the ground as they queued to enter the office to sign up for lunch.
Renton told iWitness News that his school has a system where only certain subjects are taught on specific days, thereby reducing the number of students who are required to attend classes on any one day.
He said that just 20 students, 90% of those who were expected to attend, passed through the school on the opening day.
All of the teachers were present, the principal said.
The school is using a timetable that was designed by the school rather than by the Ministry of Education.
To ensure physical distancing, the school has a "COVID stick" with which it measures the suggested spacing for queuing and seating as recommendation by the Principals' Association
There are marks on the ground leading to the entrance at the school, in case children need to queue up while waiting to wash their hands, as required, before entering the compound.
Renton said that the school had a Zoom meeting with students and the teachers on Friday and that over half of them attended.
"The others will be briefed as we go along," he told iWitness News.
The principal said that students are also supposed to be wearing masks.
"That is something we have to get into the culture. It might take a couple of days. When we get a good supply of masks ourselves, we will ensure that they are wearing masks."
He said that students could wear any face covering that is suitable, adding that this is also a requirement for teachers.
"I have to say I am pretty proud of my teachers because most of them have taken quite well to the online delivery," he said, referring to what obtained before in-person classes resumed.
"We use the Edmodo platform because it is a simple platform and it is not one of the newer ones, but it is robust and easy to understand. And it seems to have worked for us. We have over 87% uptake of online classes."
Renton said that the other 13% of the students had issues of no device or no internet.
"But I have to thank parents too because parents were making extremely good efforts in many cases to make sure that their children got devices and internet. So they are going out their way; they understand the importance of education and many parents are making sacrifices to make sure that their children get what they need."
He said that at TSSS, physical distancing has to also be maintained during break and lunch periods.
"When I spoke to the children on Zoom, I recommended highly that the children pack their lunch. In addition to that, the Mustique Charitable Trust has set up a programme where 30 children at my school would be able to receive lunch," he said, adding that those meals are provided by a vendor located close to the school.