There is no law allowing scrutiny of voter registration, but the election chief, Dora James, is "a woman of democratic temper and good sense and would not take away the courtesy if she feels that in all the circumstances it is something to be continued," says Prime Minister Ralph Gonsalves.
Gonsalves, speaking on WE FM on Sunday, also defended Vibert Pierre, the registering officer for Central Leeward, who suspended voter registration in Barrouallie on July 8, when opposition candidate Ben Exeter refused to leave the room.
Gonsalves said that the nation's election law, the Representation of the People Act (RPA), gives permission for the appointment of scrutineers for enumeration, and not registration.
"Now, if the law intended you to have somebody … at the place of registration, that is to say for the preparation of the quarterly list, the law would have said so. It puts in the hands of the Supervisor of Elections, the authority of how to manage that process," the prime minister said.
Gonsalves described Pierre was "a man of honour and integrity," he said, adding that no one in the opposition outranks him in this regard.
"Notice, I am not saying they are stuffed with less, you know. I am just saying they are not stuffed with more integrity than Mr. Pierre. Neither are they stuffed with more integrity than the Supervisor of Elections," he said.
The prime minister said that when one goes to register, one tells the registering officer a number of private things in answer to questions.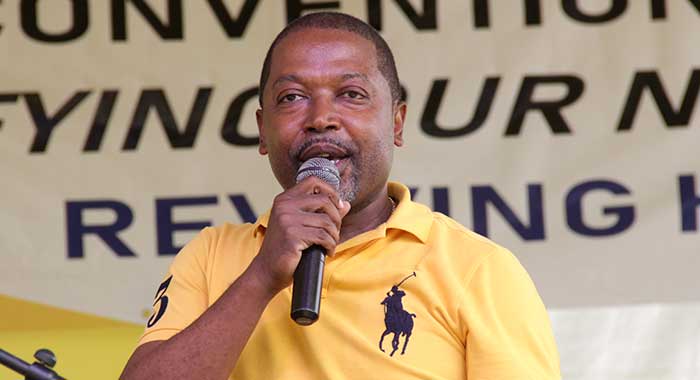 Exeter had raised questions about why he was allowed to observe the registration process in Layou but not in Barrouallie, the towns in Central Leeward.
Gonsalves said Pierre "is a completely reasonable man" but the "physical circumstances in Barrouallie are such that if anybody comes inside there, quote unquote to observe, they have to be so close and within hearing distance that they are obstructing the process of registration.
"But in Layou, they have more space so he had extended the courtesy to the same Mr. Exeter who, for these purposes, is in no better position than somebody walking off the street to say they want to stand up there. Because he is not nominated."
He said that even if Exeter is formally nominated as a candidate and there is any last-minute registration in the 15-day special registration period, he can only go to the registration centre "with the permission of the registering officer who would have received instruction from the Supervisor of Elections who has the constitutional duty in the conduct of these elections".
'somebody disturbed the process'
The prime minister said that when opposition senator, Kay Bacchus-Baptiste, who is also a lawyer, quoted Section 23 of the RPA to say that Pierre might be mindful of that provision and could be punished under it, "I thought, what kind of folly is this?"
Bacchus-Baptiste had quoted the section of the law, which speaks to the sanction that could be imposed on a registering officer who refuses to register a voter.
Gonsalves said that Pierre did not omit to register anyone.
"It's that somebody disturbed the process," he said, adding that Pierre showed himself a person of integrity by immediately reporting the development to the elections chief.
Gonsalves said he understands that on the next occasion, when there was registration in Layou — following the July 8 incident in Barrouallie — "they allowed Mr. Exeter, who was accompanied by one or two lawyers, because they were at a distance.
"That is a courtesy extended. You don't have a right to be there. But there is this narrative that they want to continue about elections in St. Vincent and the Grenadines not being free and fair," Gonsalves said, noting that the court ruled against the opposition in the two petitions it filed after the 2015 general election.
The prime minister further said that Opposition Leader Godwin Friday, in a letter in response to one from the elections chief, said there was no legal basis to exclude Exeter from the registration centre on grounds of privacy.
"It's not just privacy. By you being there, it is privacy but you disturbing me in my job and you coming closer to me and you want to film me in what I am doing? No. It is not acceptable. And that he is barefaced enough to say that Mr. Pierre without, quote-unquote, reasonable excuse for failing to continue in the registration on the 8th of July."
Exeter said that he used his phone to document what had happened after Pierre halted the registration process prematurely.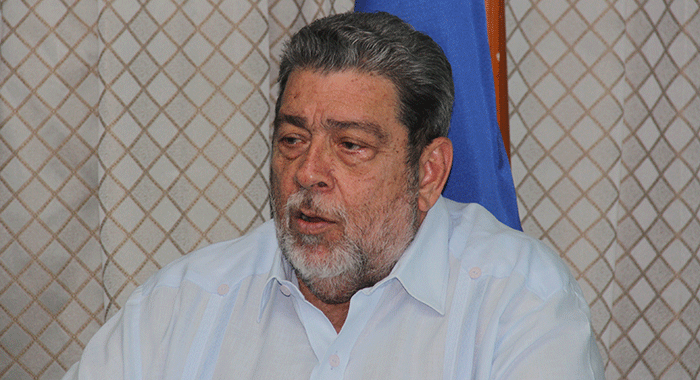 'a courtesy'
Gonsalves said that observation of the registration process "is, in fact, a courtesy".
"There is no misapprehension there and I am not going to allow the opposition or anybody to bully the registering officer and seeking their own way for their own purposes to undermine free and fair elections and to seek to suppress voter registration. I will not allow it," he further said in response to a point Friday made in his letter.
In his communiqué, Friday had said that James, who became supervisor of elections in 2018, should be keen to restore the reputation of the officer after the 2015 vote and legal proceeding arising therefrom.
Gonsalves said that Sylvia Findlay, who presided over the 2015 polls, "is stuffed with integrity".
"The reputation of Sylvia Findlay was reaffirmed — if it needed to be reaffirmed — by Justice John. I want to repeat that. And wherever, her evidence was not — anytime anybody else said anything that was contrary to what she say, the judge preferred her evidence, believed her.
"So Friday is embarking still on a partisan witch-hunt against a decent woman who was supervisor of elections," Gonsalves said, adding that the opposition leader was "now taking it out on another decent woman".
He continued:
"I don't know where the integrity of the Vincentian electoral process was in question. There was a victor in the polls, you say you are not satisfied, you went to court and you lost. There was a judgement. You can challenge it at the Court of Appeal."
In the same judgement cited by Gonsalves, the judge said:
"This case has highlighted the need for proper training of persons who perform official duties in elections. That, the Court believes will alleviate the many irregularities which have arisen in this case."
The prime minister said that threat of legal action contained in Friday's letter does not frighten anyone.
"Anybody can go to the court if they want to go to court, but if you go to the court with folly, the court will treat it as folly. The Supervisor of Elections is clearly a woman of democratic temper and good sense and would not take away the courtesy if she feels that in all the circumstances it is something to be continued. But Exeter doesn't have special role or place or anybody to give a privileged or preferential position," Gonsalves said.
He continued:
"So any busybody can walk off the street. And if Exeter can walk off the street, a fisherman in Layou or Barrouallie or the whaler man can go, too. So anybody here or there, but telling me Exeter was a candidate, his status now is Ben Exeter, simpliciter. That's all."
Gonsalves said he had never gone to any registering officer in North Central Windward, which he had been representing in Parliament since 1994, to sit down to see how the registration is going.
He said would push his head in the door and say hello, adding that he does not know the politics of the registering officer or photographer.
"But you know what, let them continue to do that," he said of the opposition.
"Let them waste time on that sideshow. I know what you have to organise to get people registered. I am not going to educate them. How you organise to get people to the registration centre and so on…. Not to gallivant and showboat," he said, adding that he will make the incident in Barrouallie an issue in the election.
Gonsalves has said that Vincentians will go to the polls by year-end, ahead of the March 2021 constitutional deadline.