Sandals, one of the biggest names in the hotel business in the Caribbean, on Wednesday, signed a deal with the Government of St. Vincent and the Grenadines for the acquisition of Buccament Bay Resort, which has been closed since December 2016 after months of financial problems.
Adam Stewart, deputy Chairman of Sandals Resort International, a Jamaican operator of all-inclusive resorts, and Prime Minister Ralph Gonsalves signed the contract at the resort, located on the south-western coast of St. Vincent.
Stewart said that the new entity will be operated under Sandals' "Beaches Resort" brand, which caters to families, and will have between 330-and 350 suites ranging from one to five bedrooms.
It is expected that Vincentians will make up 700 of the 1,000 persons that would be employed to work at the resort.
"Your island is beyond extraordinary. Our relationship with the team members that already work in our company, from your beautiful country is nothing short of world-class," Stewart said.
"We, as a company, feel and commit that we are going to be your best partner in tourism. We cannot help you in certain other industries but in hospitality we're going to bring something to this destination that's going to uplift, not Buccament Bay, not only Sandals Resorts International, specifically Beaches, but we expect every tide in tourism to rise with us as we play our part to bring accelerated airlift, training and development — non-bonded — for any and everyone who walks through the future of what we're going to build here," Stewart said.
He said that while SVG is Sandals' eighth Caribbean nation, the Buccament Bay property "will accelerate the love affair that we have had not just with the Caribbean, but specifically the Eastern Caribbean.
"We're going to build a product that is going to be designed for the multi-generational family experience. Family is timeless, it is infinite," Stewart said.
He noted the insecurity associated with the coronavirus pandemic, adding, "but never before in time has anything lasted forever.
"We are looking at this investment, and this partnership with your government and your country through a future lens, a lens that is bright, a lens that says that the curiosity of travel — travel is about energy, it's about how it makes you feel, it's about the richness of the culture of this country and about the Caribbean. It's about how we make one another feel welcome.
"My company right now believes that the safest thing that we can do for the existing 14,000 team members of Sandals Resorts International is to look to the future and to create a better tomorrow than the momentary pause that we're going through of insecurity today….
"I commit today to move swiftly to bring our team back down here as soon as we are able to spend the kind of time we need to imagine to create what we call a sandalisation process," Stewart, who flew in from Jamaica Wednesday morning, told the ceremony before leaving Buccament Bay via power boat to board a flight.
"What we are going to do here is going to look a lot different than what you're seeing today. It will be transformative; it will be inclusive. We will work with manufacturing, the taxi drivers, the entertainment industry, agriculture, the hardware stores, retail, and just about every sector within this country through a linkages programme, and ensuring that we play our rightful part," Stewart said.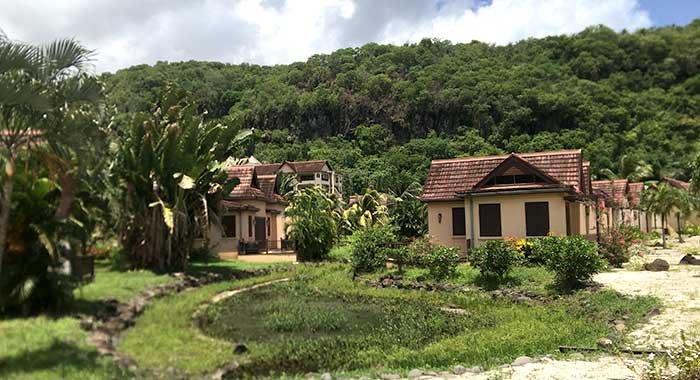 He said that the signing and other plans related to the resort were delayed as a result of the COVID-19 pandemic.
"But I want you all to put on your seat belts. You may have a minute or two to put them on, but put them on, get ready, because the next new hottest destination, not just in the Caribbean, but this side of the hemisphere is going to be the beautiful, amazing islands of St. Vincent and the Grenadines," Stewart said.
He said that Sandals has 14,000 team members and with the Beaches Resort in Buccament Bay, a further 1,000 will be added.
The company will be doing "something mind blowing" at the site, he said.
Stewart noted the impact of the coronavirus pandemic on global travel and the hospitality industry.
"We are living in a time that is like nothing any of us, any of our generations have ever seen before: a complex time, a time of uncertainty, a time where we may, in fact, start to lose hope."
He said that the deal between his company and SVG has been four years in the making, but for his father, Gordon "Butch" Stewart, founder and chairman of Sandals, and Prime Minister Ralph Gonsalves, it was "a flirtation that has gone on, I would dare say, well beyond the decade".
Stewart said that four years ago, he received a letter from then Minister of Economic Planning Camillo Gonsalves — who is now also minister of finance — inviting him to come to SVG to "have a look".
"'Have a look? What you mean?'" Stewart said, recounting the conversation.
The finance minister, who is the prime minister's son, told Stewart, "Well, you never really know. Come drink a beer with me and make we explore the options for the future."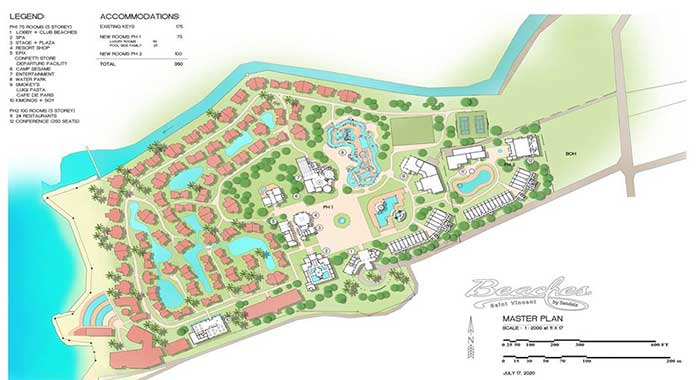 Stewart continued:
"Today, as I got on the plane, and as I thought about how frictionless this process has been — and we have done this a few times in the Caribbean, but honourable Prime Minister, it would be remiss of me not to highlight the professionalism, the way in which the government has approached dealing with our great company, how seamless, but hardworking."
Stewart said that in January 2020, he and his father and Camillo and Ralph met in Miami "and put this deal more or less together".
However, shortly after, there was the closure of the global aviation industry, and by extension, the borders of hospitality globally, Stewart said.
"I started to have doubt myself that this day would ever be," he said.
Stewart said that he is among the many people who took for granted the freedom of travel.
"We grew up in a generation with the airline industry being over 70 years old. We never thought twice about not having the opportunity to just book a ticket and travel.
"Right now, I'm on borrowed time to make sure I don't get put in quarantine back when I get home in Jamaica. That lack of privilege has brought into focus just how much and how important hospitality worldwide is to see new things, to experience new cultures.
"And I want to give the assurance today, firstly, to your government, and to your people, that we are going to make sure that the world knows everything that they need to know about St. Vincent and the Grenadines and the beauty of what it is that is your country," he said.