Fitzroy Douglas, a 27-year-old mechanic, was on Monday granted EC$60,000 bail while his co-accused, Yvonne Patterson, a 46-year-old bank clerk at the Bank of St. Vincent and the Grenadines (BoSVG), was denied bail and ordered to return to court on Thursday on charges that they stole EC$389,155.95 from the bank.
Douglas, of Murray's Village, pleaded guilty to the charges, while Patterson, a Green Hill resident, maintained her innocence.
Douglas stole EC$53,571.95 from the bank on June 18, 2020 and a further EC$335,584 on July 23, 2020.
The offences were committed in Kingstown.
At the arraignment at the Serious Offences Court, on Monday, Patterson also pleaded not guilty to charges that on June 18, 2020 and July 23, 2020, at Kingstown, that she dishonestly, with a view to causing loss to BoSVG in the sums of EC$53,571.95 and EC$335,584, falsified the record of deposit to the account of Fitzroy Jr. Izarus Marcus Douglas (her co-accused) in the sums mentioned above.
Senior Prosecutor Adolphus Delplesche objected to Patterson's bail, telling the court that investigators had discovered that evidence was being tampered with and destroyed.
The prosecutor said that the Crown feared that if Patterson is granted bail, tampering with evidence would was likely to continue.
Delplesche said that the prosecution was asking for time to get evidence, including documents, before they are destroyed.
He also asked that Douglas' sentencing be adjourned pending the outcome of the charges against Patterson.
However, counsel Jomo Thomas, who represented Patterson, objected strongly to Delplesche's application.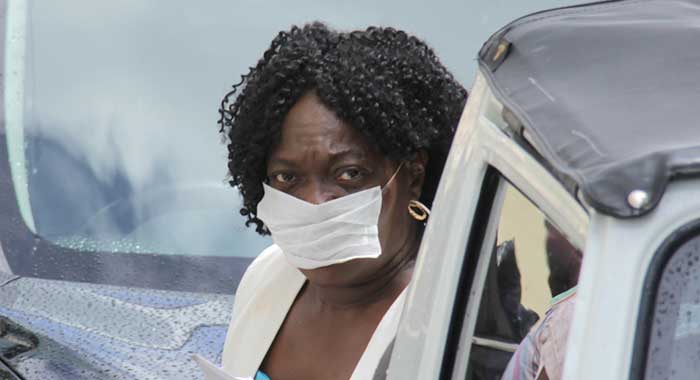 Thomas said he was aghast at the fact that the prosecution was asking that Patterson be denied bail on the grounds that the accused woman might tamper with evidence.
He said that case law is replete with sufficient cases that establish that seriousness of offences is not a basis for the denial of bail.
Thomas said that bail would be denied if there is a serious chance or possibility that a person is a serial offender, may fail to surrender to the court at the requisite time, or may interfere with witnesses.
The lawyer said that the charges point to "a certain conclusiveness" and, consequently, "it flies in the face of these charges" for the prosecution in a democratic society, where liberty is a fundamental right, to ask that Patterson, who he said evidently has "physical limitations would destroy evidence".
Patterson had to be assisted in walking as she arrived and left the court and to enter the dock.
Thomas said he assumed that there was sufficient evidence against the woman and, therefore, four charges were brought against her.
He said that nothing in the charges indicate any real further investigation with which Patterson would be able to interfere.
The lawyer said that the court should issue bail with conditions, including surrender of travel documents, and reporting conditions "that can be made more stringent".
He said that looking at the fact that Patterson has physical difficulties, he did not think that justice would be served by continuing her detention.
Thomas said that the accused woman has serious back problems and had been sitting on a bench at the Criminal Investigations Department in Kingstown since Friday.
He said this has aggravated her condition and that she sometimes has spasms.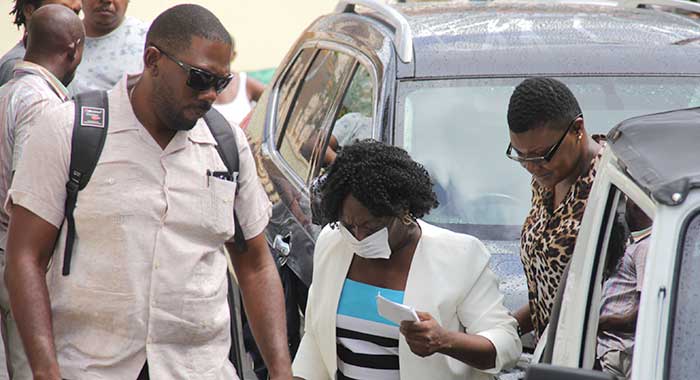 Chief Magistrate Rechanne Browne asked about Patterson's employment status and Delplesche said she had been suspended from work.
Browne then asked what access Patterson has to bank records.
Delplesche said that there were certain documents, including cheques, with which Patterson had dealt, that could not be accounted for.
The prosecutor said that the evidence was that some of these documents were destroyed and the investigators are trying to recover others.
But Thomas questioned how Patterson could have access to the bank's records after her suspension from work.
He said that if Patterson had electronic access to bank records, it would be "the most foolhardy thing in the world" for the bank to not lock the portal in light of the allegations against her.
"If the prosecution is saying she can use electronic codes to get access, it just doesn't make sense," Thomas said, adding that in the end, it might turn out that the prosecution is engaging in a fishing expedition.
Browne, however, remanded Patterson into custody and set bail review for Thursday.
Vynnette Frederick, along with Bayliss Frederick, is representing Douglas and applied for bail on his behalf.
In addition to the EC$60,000 bail bond, Douglas was ordered to surrender his travel documents and to report to the Central Police Station every day between 6 a.m. and 6 p.m.
iWitness News understands that police were able to recover all but some EC$10,000 of the money.
Detective Sergeant Biorn Duncan of the Major Crime Unit is leading the investigation.