A "rather small", 12-member Blue Marlins Swim Club  2020 team maintained its record of triumph  in the 10  and under age category in the Flow Swim Championship 2020.
Three of the club's our swimmers emerged as overall champions in their age category:
Hazen Da Briel won the boys 9–10 age category.  He won a total of 16 medals — 10 gold and 6 silvers. He also smashed three national records: the 200 back, the 800 free and the 200 fly.  Hazen was out of the pool and all competitive swimming for the past five months due to the COVID-19 pandemic.  Coming back after that break, he put on a stellar performance, making his club very proud of his achievement in this competition.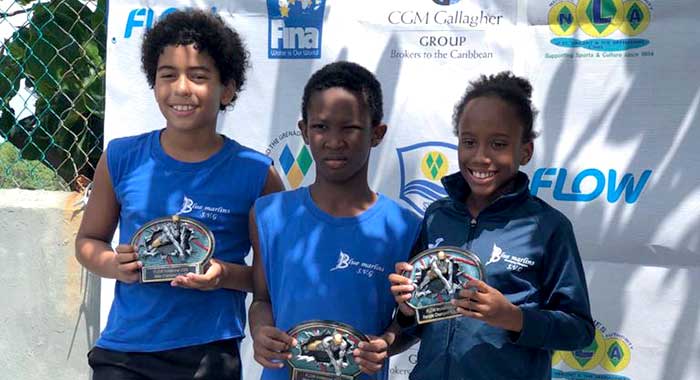 Jadon Hamilton took the boys 8 and under champion. He received 10 medals — four gold and six silver.
Belle Adams emerged as the winner of the girls 8 and under category.  She received 10 medals — nine 9 gold and 1 silver.
The other medal winners were as follows:
• Sylar Byron – 9 bronze, 1 gold
• Rolene Sam – 11 silvers, 1 gold
• Taeyah St Hillaire – 7 bronze, 1 silver
• Adiah Phillips – 1 silver, 2 bronze
• Caghry Williams – 7 bronze, 2 silvers and 1 gold
• Jodd Barker – 1 silver, 3 bronze
• Malique Mayers – 3 bronze, 1 gold
The other two swimmers in the team were Ty Yearwood and Adedryon Sam who both did personal best times in all the events in which they participated.