A popular bakery in St. Vincent and the Grenadines says it has "no comment" even as two customers complained about foreign objects in their bread over a one-week period.
Last Tuesday, iWitness News was invited to Allan Smith Family Bakery in Campden Park where the two customers spoke of their experiences.
A South Leeward woman said she is a frequent customer at the bakery, located at the Campden Park Industrial Estate.
She said that that morning she had bought a bag of burger bread for $3.50.
"When I went home, I cutting the bread them, I done cut two and make two burgers, I was cutting one for my daughter. When I cut it, I see this black thing in there," the woman told iWitness News.
She speculated about what the object was but told iWitness News that a staff member at the bakery had claimed that it was a currant.
The woman told iWitness News that she complained to the bakery manager, who invited her inside and offered her EC$200 in compensation.
She said she accepted the money, but had a change of mind as she said and contemplated while outside.
"I said this ain't worth $200. I bring back the money and I gave the lady there and I gave him. And I ain't see him since. All he do is send out a message and say do wha' yo' whar do," she said of the manager.
The woman said she was displeased.
"My child is 6 years old. I bite the bread before I cut it. I don't feel good about it at all. That is not good enough… They have to do something about that."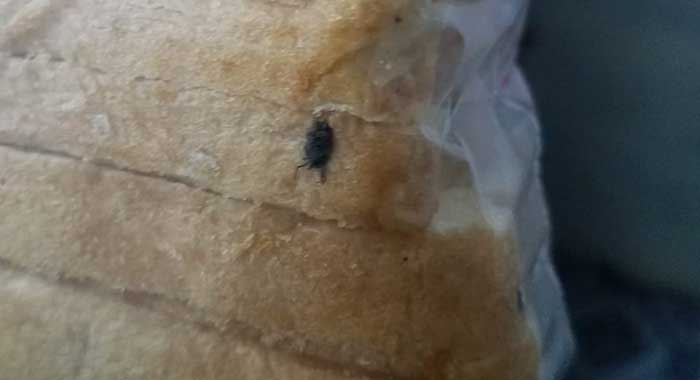 iWitness News also spoke to a man who had contacted us on Aug. 25 saying that he had found a fly in a bag of bread he bought at the bakery the previous day.
"When I carried home the bread, my lady told me the bread has to go back because she saw a fly in the bread. When I check, I saw the fly so I bring it back the next morning."
He said that Smith apologised and asked him if he wanted back his money or a bag of bread.
"I take nothing. I left everything there and walked out.
"I have had experiences with eggshells, pieces of hair within the bread pudding and stuff like that and it's the same thing they keep telling you, 'Sorry about that.'"
The man said that he had dismissed the eggshells, as he knows that eggs are used in bakery products.
He, however, said that after finding the fly in the bag of bread, he has stopped buying from the bakery.
IWitness News went inside the bakery and asked to speak to the manager.
The cashier was asked to tell Smith that the request to speak to him was in relation to claims by two of his customers that they had found foreign objects in his products.
However, the cashier returned and told iWitness News that Smith had said he had no comment to make about the incidents.