A Campden Park man, who said he was 43 years old but was unsure of his date of birth, has been jailed for three years for beating his 23-year-old girlfriend in a "Stone Age" attack.
Simeon Matthews left Zamicha Haywood with a right eye swollen shut three days after his assault.
The jealous boyfriend had beaten the woman, accusing her of drinking too much rum, even as he had accompanied her to the rum shop and had bought the liquor that they had consumed together last Friday.
Haywood told the Kingstown Magistrate's Court that she had been on the receiving end of violence at the hands of the man with whom she had had a relationship, the duration of which she was unsure.
They had been together for about one year, by Matthews' account.
But one thing Haywood was sure of was that she wanted Matthews jailed for his crime.
In handing down his sentence, Senior Magistrate Rickie Burnett told the defendant that while the court had granted a one-third discount on the three-year sentence for the early guilty plea, the aggravating features of the case had erased that discount.
And, in his submissions on sentencing, Senor Prosecutor Adolphus Delplesche described Matthews as a "beast" who had acted as if he was in the Stone Age.
Matthews pleaded guilty to a charge that on Sept. 11, at Campden Park, he wounded Haywood.
According to the facts, read by Corporal Atnel Ash, the duo have been in a relationship for over a year and Matthews is in the habit of beating Haywood.
The court heard that last Friday, the couple went together to Smithy's shop at Lower Questelles, where they were drinking strong rum.
Matthews accused Haywood of having another boyfriend and after they left the shop, on reaching the area of East Caribbean Mills, Matthews used a cutlass to beat Haywood, resulting in injuries to her right eyebrow and forehead.
The matter was reported to the police, who responded to the report and arrested Matthews.
In mitigation, Matthews denied beating Haywood with a cutlass, but Haywood said she was sure that it was a cutlass that was used.
The senior magistrate noted that the medical injury report had said that the woman had been beaten with an unknown object.
He further said that the report said that Haywood had a "jagged open wound" to her right eyebrow.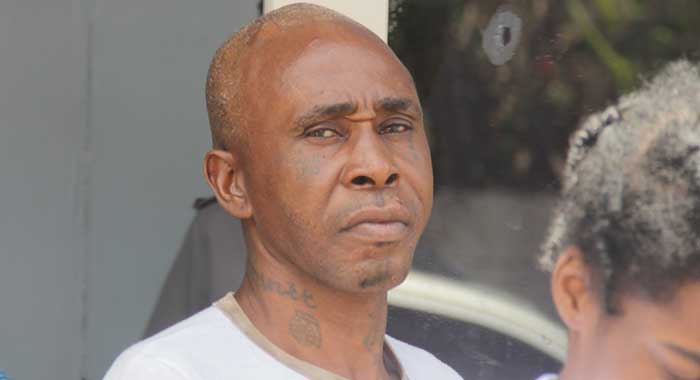 Haywood told the court that Matthews had beaten her more than once, adding that whenever she spoke to another man he got jealous and levelled accusations against her.
Burnett noted Haywood's comments, and pointed out that Matthews had told the court that he still visits the mother of his child from time to time.
"Look at her eye. This thing happened on the 11th. Today is the fourth day [after] and it can't open," Burnett observed.
Haywood told the court that Matthews had dragged her and pelted a bottle at her before be began to beat her.
"Me really sorry about that," Matthews told the court and asked to be allowed to pay compensation, adding that he did not want to lose his job.
But Delplesche noted that one cannot buy an eye.
Meanwhile, the senior magistrate noted one of the functions of sentencing.
"When I sentence you in this matter, it goes beyond you. Others are looking on and they are commenting as well," Burnett said.
He said the court has to send a message to would-be offenders as well as to Matthews.
Matthews then asked the court to place him on a bond.
The prosecution had noted that Matthews has a criminal record but it was not in court.
"Without seeing your record, this is not something you are going to be bonded for," Burnett told Matthews.
"Your record is important but right now, you will have to convince this court why you should not go to prison.
"Violence against women is a big issue. The women, they depend on the court; they depend on me to do something about it," the senior magistrate said.
He noted that Matthews could have been Haywood's father.
"If you want to set an example for her, be that example," Burnett said, adding that the case was one of "Satan correcting sin".
"Some of them treat the woman like dog and come court and want to offer compensation," Burnett said.
'You are a beast!'
Asked to address the court on sentencing, Delplesche said:
"Your honour, what manner of a man would ill-treat his girlfriend where she cannot see from one eye and want the court to give him a tap on the wrist. "
The prosecutor noted that if Matthews had been indicted, he could have been jailed for 14 years, but since the matter was a summary one, he was facing a maximum of seven years in jail.
Delplesche said that the aggravating features were the age disparity and that the beating was a habitual conduct.
"He bought the rum and say she drinking rum," the prosecutor said.
At this point, Matthews attempted to interrupt the prosecutor, who silenced him with a stern, "Quiet! Quiet!"
Delplesche continued:
"It's barbaric to be treating a human being like that. Back in the stone ages you are. You are a beast! Look at the child's face. She is a child!"
When Matthews' criminal record arrived in court, Delplesche noted that he had three convictions for violence against the person and two of which were in the same category — the use of an offensive weapon.
"It seems he has a propensity for violence," said the prosecutor who had earlier recommended a custodial sentence.
"I can glean that from his record," Burnett said.
The senior magistrate told the court he wanted to see if Haywood would surprise him and he asked her if she thought that Matthews should be jailed for wounding her.
The woman said yes.
"Look at her eye. One doesn't know what is going to happen to her eye. She doesn't even know," the magistrate said as he handed down the three-year sentence.