The Teachers Union is warning against what it suggests is a relaxing of the COVID-19 protocols at schools even as the campaign begins for the Nov. 5 general elections.
When students returned to the classroom in September after a six-month break because of the pandemic, the Ministry said that they should wear masks during their commute to and from school.
Each student's temperature is recorded daily and those found with elevated temperatures are referred for medical attention.
However, over the past few weeks, amidst an outbreak of the mosquito-borne viral illness, dengue, which has largely affected mostly students, many of the nation's students are not wearing masks during their commute to and from school.
President of the teachers' union, Oswald Robinson spoke to the issue as he fielded questions at a press conference in Kingstown, on Thursday.
Robinson said the union spoke about the government erecting tents outside of schools, to facilitate the daily temperature checks for COVID-19, a viral respiratory illness.
"But when the rain starts to fall now, what happens? Everybody gone. We gone back as usual; there is no social distancing taking place," he said, highlighting the Ministry of Education's failure to act on the union's suggestion.
"I think we are running a risk, a big risk. We are running a big risk because we don't know. Not because the lab hasn't produced any evidence yet, that doesn't mean that it's not around," Robinson said.
He was responding to a question regarding whether there was a lax attitude to COVID-19 in light of the fact that the country had not had any cases for one month.
On Thursday afternoon, the government announced that a U.S. national had tested positive for COVID-19 after arriving in SVG with a negative test result.
Robinson said schools are not adhering strongly to the protocols set out by the authorities.
"We are taking this thing for granted… in the minds of a lot of people, 'De ting ain't deh here', just because we checking people at the airport but we have seaports around."
Robinson said he had seen people disembark yachts in the Villa area and walk to the supermarket in Calliaqua.
"Some of these people, they have their bicycles. They come off their yachts and the pedal and they go. You think they're exercising? They're going into the shops and supermarkets and you don't see them wearing masks.
"So I think we need to be consistent. If we are going to observe the protocols, we need to do so."
It was noted to Robinson that as part of the campaign for the general elections, persons are gathering in large numbers, many of them not wearing a mask.
Robinson was asked if he was concerned that if there were to be an outbreak of COVID-19 it could result in a problem in schools.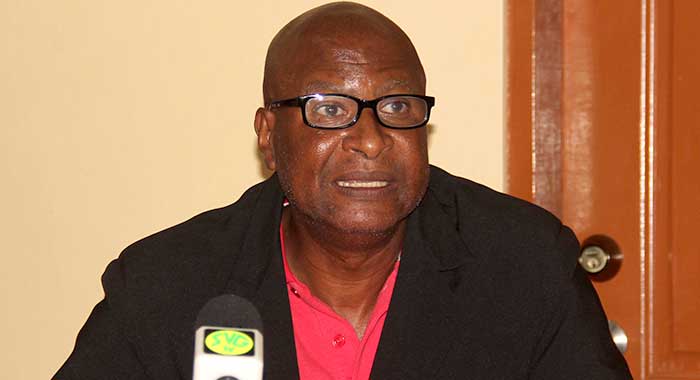 Robinson said:
"Yes. When I spoke about even the transportation, which could be a checkpoint. People laugh at me."
He was referring to a suggestion he made a union press conference ahead of the opening of schools in September.
"But I saw it happening in Jamaica and Guyana, where the conductor was putting some liquid on people's hands; sanitise your hand on entering buses."
He said he had seen in other countries where people are wearing masks in buses.
"But we here, we're taking things for granted."
Robinson said that while when the school year began student were arriving wearing masks, that is no longer the case.
"Hardly. We've gone back to square one; still not consistent."
The government has said that the home and school will each be treated as a safe bubble and therefore, students are only required to wear masks during their commute, and not in class.
"You see this thing about bubble, the school is a bubble, that's a bubble, but they fail to realise, when the students leave the school where do they go? They go back in the community out there, they go to the supermarket; they go to the beaches and bathe with everybody.
"So I am saying it is a risk to throw down arms, put away the protocols now. We're supposed to be beefing up. Because I believe that we're going to be reopening, having more flights coming in soon and so on because people are going to come home to vote and that sort of thing," Robinson said.
He continued:
"And I believe you might hear you're not going to quarantine again because you have to come home to vote. In the minds of some people that might be the mindset because when something is up, people feel you can dismiss everything else."
Persons arriving in SVG from certain destinations are required to undergo 14 days quarantine, the first five of which must be at a government-approved hotel, paid for by the traveller.
Robinson said: "I see political parties now having big gatherings but the quota was 300 for outdoors and 200 [for indoor] but that gone. They probably add it now….
"But the point is… I think we are taking this thing for granted, like what Trump said, it's a blessing; [that] he got it is a blessing. Some people probably want a blessing."