The woman who was, on Friday, freed of 55 dishonesty charges says that while she is not perfect, she only used the Star Garage credit card because Bertille "Silky" Da Silva, 90, one of the company's directors gave it to her.
"It's not easy to be a Nigerian and you know the thing about Nigerian. 'Oh, they are criminals.' I know I am not perfect. Yes. I never denied using that card for a day. I never. But I know he gave it to me. And that was the reason I used it. But thank God for everything. Thank God," Eunice Dowers told reporters.
On Friday, Chief Magistrate Rechanne Browne upheld a submission by defence counsel Grant Connell that the Crown had not made out a case for his client to answer.
The Crown was alleging that Dowers unlawfully used up EC$100,000 of Star Garage's money when she worked there from April 2018 to February 2019, first as Da Silva's secretary and then as the company's Customs broker.
But, after a trial spanning more than a year, Connell argued, on Feb. 18, that the prosecutor, Crown Counsel Rose-Ann Richardson had not make out a case for his client to answer on any of the 17 counts of theft, 14 counts of taking possession of Da Silva's credit card, 14 counts of fraud, and 10 counts of money laundering.
After Friday's ruling, Dowers knelt in the corridor of the court, as if praying.
When she exited, the 27-year-old woman, who is natural Vincentian, having married a national, cried during the interview in which she told reporters:
"All I will say, I just want to thank God. It's devastating during those period but my mommy prayed for me and I want to thank God. And I also want to thank my mother-in-law for bailing me."
Regarding her lawyer, Dowers said, "It's God that used him because even if — he is a man and he is not the one who made the judge to say no case to answer, but God.
"You won't understand because sometimes I would be standing in [Little] Tokyo and people would be calling me a thief and all that but I want to thank God," she said, referring to a bus terminal in Kingstown, named after the Asian capital that funded it.
Asked what next, Dowers said, "I feel joyful but you won't understand. You won't understand."
She said that people had been praying for her but others were harsh to her because of the allegations against her.
She said that sometimes when she is conducting business in Little Tokyo, "people would just see me and start to cuss me.
"But God gave me strength. Sometimes I would even see myself dreaming that I am in prison. The psychological effect was too hard, very, very hard on me.
"But if you are a mother you would know how it feels like, your girl child facing 55 [charges]. Fifty-five! They didn't even say, 'Ok, let's try one and see how it is.' Fifty-five! It's like if my world was coming to an end.
"I came in as a student and then I am facing these criminal charges," Dowers said.
She also thanked those Vincentians "who would see me on the road and hug me and be like, 'Stop crying.'
"Some people I don't even know. Parents I don't even know, they would see me on the road and tell me to be well, everything would be OK. And I want to tell you all thank you for that prayer. I don't know you. Thank you very much."
Dowers was arrested at Argyle International Airport in February 2019 as she was about to leave the country for Nigeria.
She told reporters that she would stay in St. Vincent.
Dowers said that she had told Da Silva back in 2019 that she was not being paid well and, therefore, wanted to go home for six months.
"I wasn't running away. I actually was going to come back, because I love St. Vincent."
Regarding her relationship with her husband, she said that because of the case "things are not working out.
"But I want to thank God that he gave me someone else who has been taking care of me very well. And he started off the business for me. And just God has been blessing me."
Dowers said that she is still legally married in St. Vincent and the Grenadines.
"Marriage is a union. You see marriage as your court marriage but we see marriage traditional. So your marriage and my marriage — in Nigeria, men are entitled to have five women — wives, so it's marriage to me.
"So marriage is whoever you are committed to. Sometimes, yes, I flirt with you. That doesn't mean that — everybody is a sinner. I am not perfect; you are not perfect. So everybody is a sinner and as a woman, I need a man to shield me. Without a man in my life I am nobody."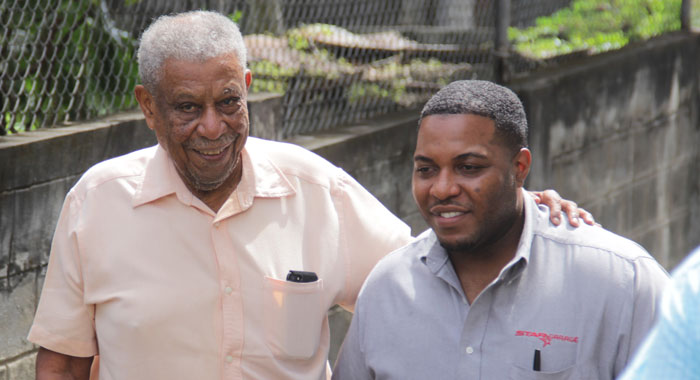 She said that she is still legally married in SVG "because that is your marriage in St. Vincent".
Dowers said that she has registered to set up her own Customs brokerage and she also sells vehicle oils and parts in Little Tokyo.
She said she also does Nigerian food if people order it.
"I could cook well and he like my food," she said of Da Silva.
"If I cook for you, you would like my food. If I want to do something for people, I do it with my heart that when you are paying me you won't hesitate to pay me what I want.
"Whatever I do for people, I do it all my heart, like I would give you all my time. You can ask about me, like people who have dealt with me, even clear things for them. I will give you all my time, whether it is not comfortable enough."
Asked if she was concerned that people might not want to hire her as a Customs broker because of the trial, Dowers said:
"I've never seen that. Even when this thing has been going on, even when people in Tokyo would cuss me, like mentally good and sane people never said, 'Eunice, you can't do this for them.'
Dowers said she has no resentment toward Star Garage.
"I won't be upset. Why would I be? Everything worked out for good. It's actually for God to see if I am strong and I am strong. So why would I be upset with Star Garage? It's the devil that used Joshua. So why would I be upset? Everything is past, so let them go their way and I have gone my way so everybody should go their way," she said.
If Dowers were convicted on a charge of taking a card without consent, the magistrate could have imposed a fine of up to EC$30,000 or two years imprisonment or both.
The High Court, on the other hand, could have imposed a fine of up to EC$50,000, or a two-year jail term, or both.