The lawyer for the Diamond Estate man who was shot at his home on April 13 and then slapped, last Thursday, with charges that he used threatening language says she is prepared to go all the way to the Court of Appeal to find out the identity of the third person present when the shooting occurred.
"We are not going to rest until we know who the third person is," Kay Bacchus-Baptiste told reporters on Friday.
She was speaking outside the Serious Offences Court in Kingstown, moments after her client, Cornelius John, pleaded not guilty to a charge that he threatened Ashelle Morgan, of Diamond, one of his alleged assailants.
John also pleaded not guilty to two counts that he threatened his wife, Nicole John, also of Diamond, also on April 13.
Also on Friday, Karim Nelson, an assistant director of public prosecution (DPP) pleaded not guilty and was granted bail on charges of unlawfully wounding John and discharging a firearm at him.
Morgan, a lawyer, government senator and deputy speaker of the House of Assembly, also pleaded not guilty to a charge that she assaulted John with intent to commit an offence to wit, wounding.
John has alleged that Morgan pointed a gun at him after the shooting and threatened to shoot him if he called her name.
The three accused were each granted bail, and Chief Magistrate Rechanne Browne ordered them to appear before the Calliaqua Magistrate's Court on July 5.
Morgan, Nelson, and a third person, whose identity is yet to be disclosed, are alleged to have been present when John was shot.
Bacchus-Baptiste, who has lobbied for weeks for charges to be brought against her client's assailants, told reporters:
"The absence of the third person being charged is a serious indictment on the administration of justice."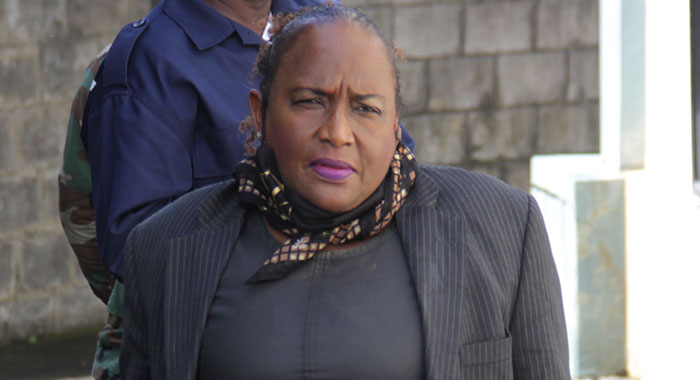 Bacchus-Baptiste also decried the absence of a joint enterprise charge.
"The fact that there has been no joint enterprise charge cries out for justice because if you don't charge Ashelle with the initial trespass and the other two, where are we going?
"That is what started everything. I am accustomed to the prosecution laying out all the possible charges. Sometimes, nine, eight, seven charges for incidents… every single charge that can be conceived.
"I would like to know what they are alleging Ashelle assaulted my client with… There are lots more to be discovered in this matter."
Bacchus-Baptiste did not ask the magistrate to order disclosure, but told reporters that she normally requests disclosure in writing.
The lawyer, however, said that the way that the charges are laid out, disclosure would not reveal the identity of the third person.
"I am going to write for it, in any event, ask for that to be revealed. There is case law to back it up and if I have to take this matter all the way to the high court, court of appeal, wherever, we will get the identity of that third person."
Speaking Thursday night, hours after news broke that the Director of Public Prosecution had ordered that charges be laid against the trio, Bacchus-Baptiste questioned why the third person remains unknown.
"That person can confirm whether or not Ashelle Morgan had a gun, which she [allegedly] pushed into the face of Cornelius John, if that person is telling the truth," Bacchus-Baptiste said on the main opposition New Democratic Party's programme on NICE Radio.
"And if that person is of a mind to withdraw from the more serious charges, as he appears to have done on that night, then, hopefully, he would be of the mind to tell the truth," she said.
"Now, they, to my mind, are trying to hide who this third person is, to protect Ashelle Morgan. That's the way I see it. Because he would certainly have to tell his story and he would have to tell the truth — or most likely, should, let me put it that way.
"And maybe they cannot rely on what he might say, and if he does say that she had a gun, which confirms what Mr. John said, how could they not charge her with a very, very serious offence of having an unlicensed firearm?
"Because, as I said, it was confirmed to me by the police that she does not have a firearm licence, whereas Karim Nelson does have a firearm licence," the lawyer said.