The hearing of charges surrounding the shooting of Diamond Estate resident Cornelius John has been adjourned to Aug. 17.
The charges against John as well as government Senator Ashelle Morgan and Assistant Director of Public Prosecution Karim Nelson were scheduled to be heard at the Calliaqua Magistrate's Court today, Monday.
However, people with matters before the court, including Morgan and John, were told that their matters have been adjourned.
Neither Nelson nor John's counsel, Kay Bacchus-Baptiste or any representative of the office of the Director of Public Prosecutions (DPP) were at the court during the time that iWitness News was there — from around 8:45 to 9:20 a.m.
The court was scheduled to commence at 9 a.m.
iWitness News was reliably informed that District 3 magistrate, Zoila Ellis-Browne's contract has ended.
However, it is highly unlikely that the trials would have proceeded even if the court had sat on Monday.
iWitness News understands that Bacchus-Baptiste is yet to receive disclosure for which she had said she would apply in writing.
She is yet to receive the statements of evidence in connection to the charges against her client, as well as those against Morgan and Nelson, in which she has a watching brief.
A watching brief is a brief held by a lawyer to follow a case on behalf of a client who is not directly involved in the case.
Another unanswered question is in regard to who is prosecuting the matters. In announcing the charges on June 24, Director of Public Prosecution, Sejilla Mc Dowall suggested she was considering appointing a special prosecutor.
Prime Minister Ralph Gonsalves, who is also Minister of Legal Affairs, later said that the chief prosecutor would first consider her options locally before looking further afield.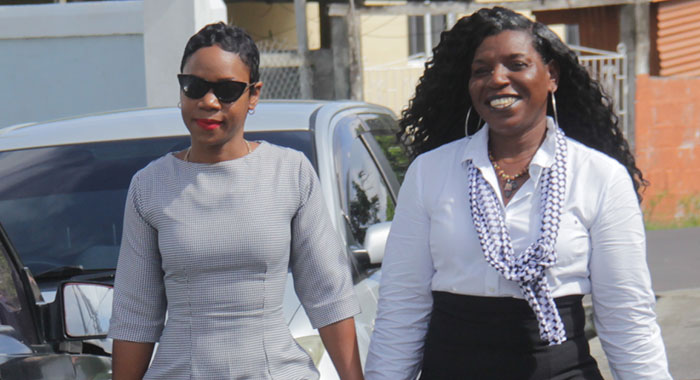 The adjournment raises questions about whether Morgan may have to apply for an extension to her leave of absence from Parliament.
On June 28, the senator requested and received from House Speaker Rochelle Forde one month's leave of absence from Parliament in light of the charge against her.
Morgan is charged that on April 13, at Diamond, she assaulted John, with intent to wound him.
In applying for leave of absence, Morgan, a lawyer, told the speaker that she has no moral or legal obligation to do so and was making the request so as to not distract from the work of the Parliament.
She has been granted EC$2,000 bail on the charge.
Morgan and Nelson are alleged to have been among three people who were at John's home when he was shot in the left leg on April 13.
Neither the police nor prosecution has disclosed the identity of the third person, against whom no charges have been brought.
Nelson is charged with wounding John and unlawfully discharging a firearm at him.
Meanwhile, John is charged with one count of using threatening language to Morgan and two counts of using threatening language to Nicole John, his wife.
Like Morgan, Nelson and John pleaded not guilty to the charges when they were arraigned before Chief Magistrate Rechanne Browne at the Serious Offences Court on June 25.
Nelson was granted EC$10,000 bail with one surety and John EC$2,500 bail in his own recognisance.
The case has generated much public discussion and some street protest because of the length of time between the shooting and the laying of charges on June 24.
Further protests are planned for Kingstown when Parliament meets tomorrow, Tuesday.