Opposition lawmaker St. Clair Leacock has condemned an alleged order by a senior police officer to junior ranks to shoot any protester who threw down police barricades at Tuesday's protest in Kingstown.
On Tuesday, iWitness News was present when a number of protesters complained to Superintendent of Police Trevor "Buju" Bailey, that another senior police officer had ordered his junior to shoot protesters.
Bailey, who at various times in the protest used persuasion to placate and defuse tensions between police and protesters, assured the protesters that the police had no intention to shoot them.
Leacock, speaking on his New Democratic Party's radio programme on NICE Radio on Wednesday said a message must go out to police officers who, he said, are generally respected, "once a police, twice a civilian".
Leacock noted that four persons have occupied the police chief post since the Unity Labour Party came to office in 2001, adding that like his predecessor, Commissioner of Police Colin John will one day leave the post.
"And people have to be comfortable with their own conscience. I saw policemen who were on duty yesterday, senior officers, too, and their mother across the road protesting," the Central Kingstown MP said on New Times.
"Let me put it this way: it is for a lot of reasons why police should not even attempt to shoot anybody.
"… not a single Vincentian life is worth that of a politician or a political process. So do nothing to cause yourself to have to be shot on the roads or streets of St. Vincent and the Grenadines, and I don't think that is the intention.
"But I don't think that the life of any civilian who is in a process will be lost without a serious judgement being passed by the people who are in the protest on the policemen.
"And I don't think any policeman deserves to lose his life as a consequence of a protest. So, do so, nah like so."
Leacock, who attained the ranks of major in the St. Vincent and the Grenadines Cadet Force and is a former Commandant of the Auxiliary Police Force, condemned what he said was some police officers "making sure everybody see that you have a gun, whether it is a side arm or you have a rifle".
He applauded the police chief for not coming to the protest as he did when there was a protest outside Parliament in May.
"And he has some other senior officers who did a good job. His own deputy, ACPs and Buju and so forth," Leacock said of the officers who were on duty at the protest.
"Buju took away the [bulletproof] vest from a guy yesterday. I don't agree with him with it, but it is a little might is right."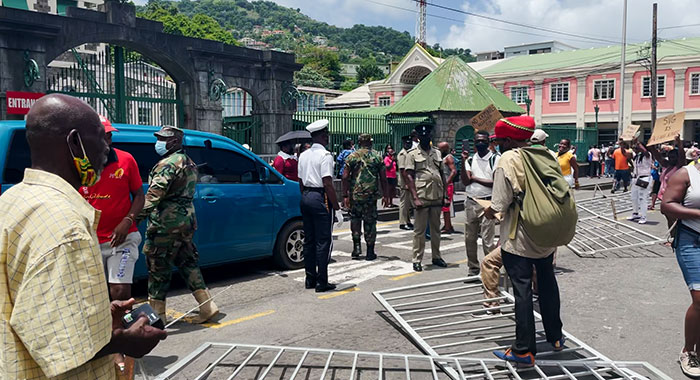 The opposition politician said it's easy to identify "the political elements in the police force.
"Generally, we have to give them some marks, because, to be balanced, they does put up with a lot too, eh," Leacock said and laughed.
"They does put up with a lot, too, because some people really does perform. But all that is the protest."
He said that Prime Minister Ralph Gonsalves, who is also Minister of National Security, told Parliament on Tuesday that while he expects the police to do their work, he does not support police abusing citizens.
On Tuesday, Leacock told iWitness News that he would have liked to see a larger crowd at the protest.
"But I think it is still sufficient to draw attention to the situation at hand and it is robust. The important thing is for us to sustain it."
On the matter of protesters throwing down the police barricades, Leacock told iWitness News:
"Well, we have taken away the word peaceful from the process. People must protest and they must attract attention on the things that they are protesting."
He said he had no objection to the throwing down the barricade.
Regarding the response of the police, Leacock said that the police "have been measured, they have done well".
Leacock was, at the time, having a cordial exchange with some senior officers including assistant Commissioner of Police Christopher Benjamin, who said he "wouldn't comment" on the protest.
Asked if he thought that the protester acted within the confines of the law and what he considered reasonable, Benjamin also offered no comment, telling iWitness News, "You be the judge of that, please".
The protest is expected to continue today (Thursday) as Parliament resumes.