By Patrick Ferrari
Llow me to stick in two snippets that have nothing to do with what I have come here for. One, I recently passed through the AIA, and I can feel that Ralph and co have been getting Vinlec bills. Two, headline in a news piece from The Guardian, "Director of opening ceremony (Tokyo Olympics) sacked over 1998 Holocaust joke." Not if he worked for Ralph, he wouldn't. Not even if he was involved in a shooting incident the day before let alone a 23 years ago. He would not even get a "step aside until". In politics, power and ethics conflict, one must be benched.
Back in the 60s, Indian Bay beach as far as beaches go was one to be reckoned with. It was fat. Then it suffered two consequential attacks, both from mankind. Who would have guessed that? The first was the ignorant and insane dynamiting of Long Island. What was the … how to put this?… thinking behind such an act of deep unenlightenment? Other than none, I suppose it was because the dynamiter had some dynamite laying around, and, shucks, the island was there, so, let's have a go. There could be no higher motive outside of that.
Long Island is a natural wonder and the artwork of God. Less of a wonder now after the dynamiter re-arranged it. It is the slimish, longish, tallish rock formation just outside Indian Bay. Not Greatehead Bay as the uninformed and unacquainted La Vue people misnamed "Indian Bay". But more on that in a while.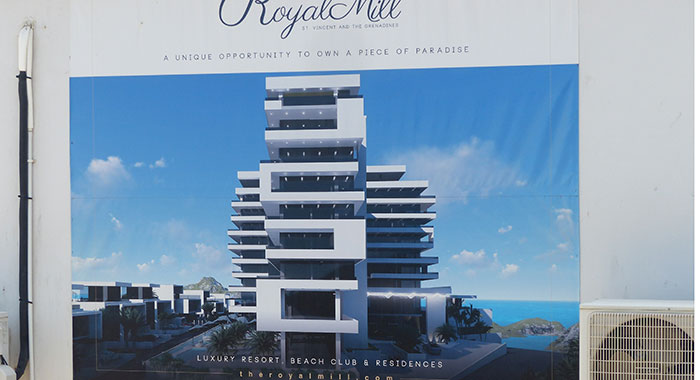 The second attack came when an individual decided to make Dove Island his personal graveyard and lay down a road — just like that — from the beach to the island so that the people after him could get his coffin to his tomb — the white albatross of a gravestone. Dove Island is the small round rock between Long Island and the beach.
In the first case, the damage to the beach was not from the primary attack, it is collateral damage from that. The debris, the broken shards of rock fell in the path of the current flow and restricted it to a trickle, chocking off the natural feed to Indian Bay beach as nature intended. So began its demise.
In the second case, the road cut the flow to nought.
When it comes to thorny issues such as La Vue's plan to replace the natural coral with grotesque synthetic pieces, I will have to put my respect for the Prime Minister's take on this on hold. I see Ralph as the curator of foreign investors missteps. They can do no wrong … until they do very wrong — a few times. Regardless of the misstep — or the foreigner — he would excuse them away in manageable pieces, curate them in a pretty box and place a red bow on top. Then he would turn on us to make us the villain. His nauseating display of support for crooked Dave Ames was too much. It still irks me — because he came here crooked. So too, was his fawning upon Gerald Gouveia, the Guyanese shithead, who made it to the red carpet at AIA opening, just because he promised "planeloads of (rich) Cuban shoppers" who would come in droves to clean out Vincy shops.
My problem with La Vue's grand plan for the coral reef at Indian Bay has to do with the gap between what they say they will do and what they will do. Talk is cheap especially when you know a glib curator has your back. But things have a way of going wrong and we have had more than our share of that — but we do not seem to learn.
What is the state of the Black Sands project?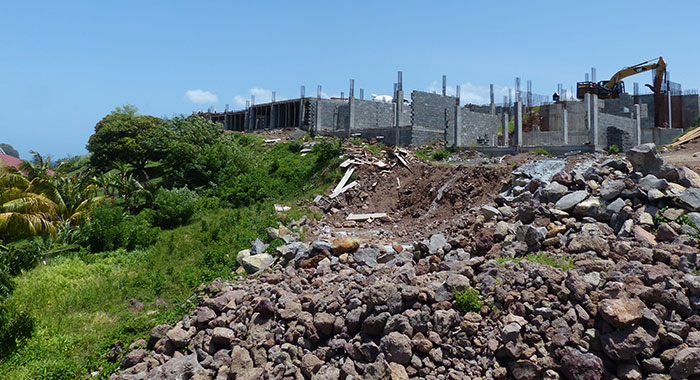 The owner of La Vue is intimately involved with, and inseparable from, the 10-storey hotel project at Ratho Mill and they promised that it would have been finished by the end of last year. It was not. And it would not be finished this year. And it will not be finished next year. A 10-storey "Luxury Resort, Beach Club & Residences"? Not so much. We are in St. Vincent, people, ask the curator what he learned about finishing projects from his stint at Argyle. So, please, do not try to make me feel guilty for not lapping up La Vue's plan for the coral. La Vue has more money than sentient and all they want is something for foreign tourists. Period.
To be fair, the pandemic put a dent in their schedule at Ratho Mill.  And to be equally fair, the pandemic fell into their laps.  Not a body has the imagination that is up to the task of believing the flagrantly improbable by-the-end-of-the-year deadline — last year.  They said it clear, though.  But, as I said, the pandemic fell into their laps as a workable excuse.  It was like serendipity.  Ah, but it did not remove the lie.  (The pictures of Royal Mill were taken on 16 July 2021.)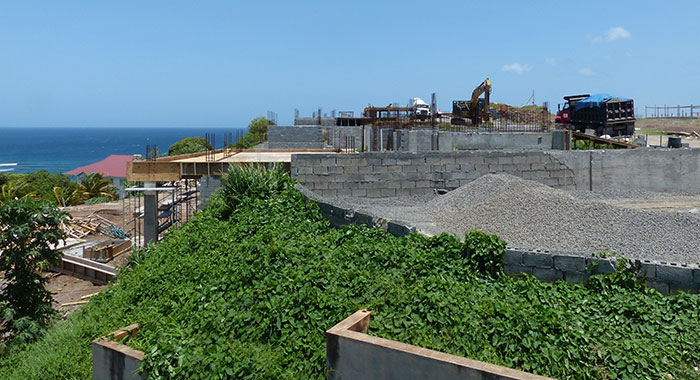 That is why I have a problem with their utterances; I still hear the lie. Ralph made a sideways reference to them being responsible investors, which is how they sold us slimy Dave Ames. Davey was convenient, he fit the situation sweet. What he offered went hand in hand with the international airport. Now La Vue — and Royal Mill — is money in the time of COVID. People would do funny things, say funny things for it.
Bomb Long Island, or part thereof, put a road in the sea, re-design a natural coral reef and you will learn what responsible people have learnt: nature will fight back.
Sadly, I do not think that the coral reef — the whole of it — will survive La Vue's assault. (Louise Mitchell piece is a must read.) Once they get their permission, that will be that and crapaud go smoke we pipe. What would be done cannot be undone. The curator would then learn that cleaning up citizen Dave's mess was a walk in the park compared to what messing with a natural reef would present.
There is a catch, though.  One wee occurrence will get Comrade off the hook: he would not be around to see how nature is going to fight back.  Nor would I, praise Jah.  It will not be my problem and he will have no fixing to do.  And the two of we knows it, good.