Carlie John, opposition senator Shevorn John's husband, has been ordered to report to police at 10 a.m. today (Friday).
Mr. John was released from custody without charge around 8:30 p.m. Thursday, about five hours after police placed him in a chokehold as they took him into custody during the protest in Kingstown.
Mr. John had to seek medical attention after his encounter with the police, his lawyer, Israel Bruce, told iWitness News Thursday night, shortly after his release from custody.
"He has not been charged. He's required to return to the central police station tomorrow, God willing at 10 a.m. But based on what has been said so far, it appears that the accusation is that Mr. John … struck a police officer on her hand," Bruce told iWitness News.
"He was detained from about three o'clock today. And he has just left the police station so you could calculate the hours on your own, the lawyer said in the interview around 8:40 p.m.
"In fact, I had to require of the police authorities to have Mr. John taken to the Milton Cato Memorial Hospital because during the process of the arrest of Mr. John, the husband of Senator the Honorable Shevorn John was physically assaulted in the process.
"He was manhandled; he was held by the throat. And that strangulation resulted in him having difficulties to breathe. And as a result, I had to request that he be taken for medical attention at the Milton Cato Memorial Hospital.
"He was taken, I can say, thanks to the cooperation of Sergeant Timm and others, and he was accompanied by his beautiful, honorable wife and he's here with us but we return tomorrow to see what they are going to ultimately do as it regards, Mr. John on whatever charge they will prefer. We can't speak on that any further. We shall wait and see what happens tomorrow," Bruce said.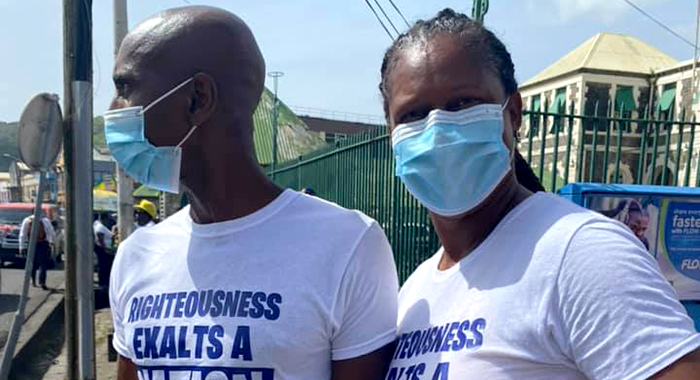 In a Facebook post Thrusday night, the senator said:
We went out today to peacefully protest, moments later I had to accompany my husband to the hospital after he was choked. I weep for my country. I wish to thank everyone for their concerns, please keep us in your prayers."
Mr. John was among four people arrested during the protest, the other three of whom were charged.
Police arrested activist and teacher Adriana King, and charged her with hindering Prime Minister Ralph Gonsalves' access to Parliament on Aug. 5.
They also charged calypsonian and activist, Robert "Patches" Knights/King and John Mofford with organizing protests in Kingstown in July and August without informing the commissioner, and taking part in those protests.
Adriana and five other people have been slapped with those same charges.