A local Christian church has written to the Prime Minister Ralph Gonsalves saying resistance to rollout of COVID-19 vaccine is anti-Christian.
Gonsalves did not disclose the name of the church when he read their letter on WE FM, on Sunday.
The letter was sent to "strengthen" him and the prime minister contrasted it to one that he said a church that owns a preschool sent about not permitting face masks at a graduation ceremony.
Gonsalves did not disclose the name of the churches, saying that the one that wrote to him might speak publicly on the issue.
"We write to strengthen you in relation to current challenges regarding the rollout of the vaccines in St. Vincent. We feel the current events in St. Vincent represent an uprising against authority and against government," the letter said.
The church said this is an issue that is affecting governance globally in relation to the rollout of COVID vaccines and governments need to be strengthened and supported "in what is clearly a right thing to do.
"The uprising is clearly lawless, and is anti-Christian and anti-government in character," the church said, adding that it is praying for Gonsalves and his Cabinet in this difficult time "and asking God, that angelic service may be provided to meet and restrain these anarchist elements that are really anti-God and anti-man.
"We trust and pray for wisdom for you and the authorities in general. And that peace and security and prosperity might be maintained and the nation may be sustained in these difficult times," the church said.
Gonsalves said that the second letter was from a pastor of a church that has a preschool.
He did not say to whom the letter was sent, but the content suggested that it was sent to parents and guardians of preschoolers preparing to graduate.
"This is a church which has attached to it a preschool. What I read here'll be self-evident relating to the school but also the church," the prime minister said.
In the letter, the pastor reminded parents that at the graduation, "we do not want anyone wearing of mask, as our school is a part of the church and we do not follow the demonic advice from WHO"
They further said:
"We will not allow anyone to be wearing the mask inside or the child will collect their package and leave. Please let those whom you will be inviting be aware what we stand for, and their dress code and parents' dress code as well."
Gonsalves commented:
"Now, when you have a church, a pastor saying to people that they mustn't even wear a mask, you see the extent to which some of this anti-vax, the extremes that some people would want to go to — to injure children's health and injure public health."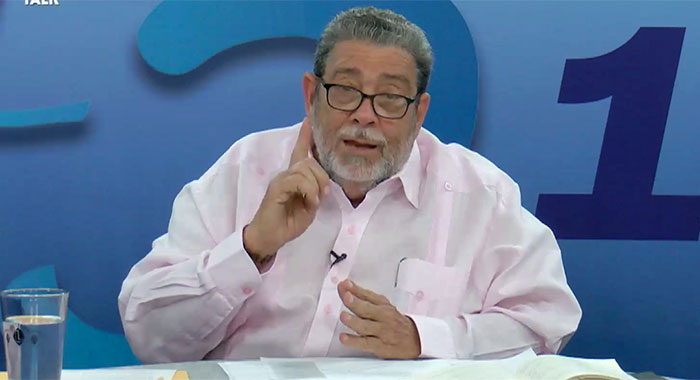 The government of St. Vincent and the Grenadines, like many across the region, is battling vaccine hesitancy, even as global health officials say that it is the safest way to end the pandemic.
Vaccine skeptics have cited the speed at which the COVID-19 jabs were developed, the fact that unvaccinated and vaccinated people are just as likely to contract and spread COVID-19.
Most recently, they have noted that talks about booster shots, with Israel, which was once hailed as an example of the positive impact of vaccination on its population, now saying that people would only be considered vaccinated if they have taken three doses of a COVID-19 vaccine.
However, health officers in SVG have noted that vaccinated people are more likely to have a better outcome if they contract COVID-19.
On Aug. 5, the Gonsalves government passed legislation that will make COVID-19 vaccination mandatory for certain categories of public sector workers.
The changes to the law would only allow exemption on medical grounds for persons for whom vaccination is required, if they get the final approval of doctors specially selected by the state, regardless of what the individual's personal physician recommends.
The prime minister said that more and more movements across the region are moving toward mandating COVID-19 vaccines.
"And some have already moved like the government of Guyana has moved further–," Gonsalves said, noting that in Antigua and Barbuda, Prime Minister Gaston Brown has said that his government is not afraid of moving in that direction.
"In the Jamaican newspaper today, there are articles on the question of mandates of vaccines and that the issue would have to be discussed in a rational way and come to the forefront.
"The private sector is talking about it, just like the private sector here is taking very strong steps to make sure that their workers who are interacting with the public and the frontline workers and public workers [are vaccinated].
"Generally, we see what President Biden has just done. President Biden has said that all health services, all employees in health services in the United States must be vaccinated and most federal employees and he has said that the time for discussion is gone past that. And that in America, he says he's no longer giving any exemption based on religion — religious belief."
As of Sept. 14, 32,577 doses of vaccine had been administered in St. Vincent and the Grenadines, representing 19,702 first dose and 12,875 second dose.
Last Thursday, the country recorded its first COVID-19 death since May, bringing to 13 the total number of deaths attributed to COVID-19.
Since March 2020, the country has recorded 2,559 cases, 2,325 of which have received, leaving 177 cases.
In addition to the original strain, the country has confirmed the Delta, and Gamma, and Mu variants.
Over the last week, there has been an uptick in cases locally.
On Tuesday, Sept. 13, 38 new cases were recorded, eight on Sept. 12; 26 on Sept. 11; 41 on Sept. 10; 25 on Sept. 9; 30 on Sept 8, and 2 on Sept. 7.