Former House Speaker, Jomo Thomas says that the leaking of his COVID-19 positive result speaks volumes about privacy and confidentiality in St. Vincent and the Grenadines. 
"That's the point I was making about people's medical records because when you now have somebody who is supposed to be commander-in-chief of all your medical records because here, I presented to a medical facility and I was playing in my mind whether I must make the disclosure this morning or wait until Thursday morning to make the disclosure and you made the disclosure for me," Thomas said to Dwight "Bing" Joseph, on Boom FM, on Tuesday.
"And it tells us about this whole thing about privacy and confidentiality in St. Vincent and the Grenadines. If you are not alarmed by that, you ought to be because today, it's Jomo's medical records and tomorrow it's yours or somebody else's, or your wife, or your children," Thomas said to Joseph, who at the beginning of Thomas' daily segment, suggested that he knew something about Thomas' COVID-19 status.
Thomas, who is also a journalist and activist, went on to speak openly about testing positive for COVID-19 on Monday.
He said it was rather alarming to him that within 12 hours of presenting himself for test, there were comments on public radio about his status.
"… and if you got it Bing, I could imagine all the angels know it as well."
Joseph said, "No. I may have received it because they know of our relationship."
"That's what I said. If you got it, all of the angels would have gotten it."
"Not necessarily," Joseph said.
"You think you are more sacred than the angels?" Thomas responded.
"No, I think I would have received it because they know that you are my colleague on air and they wanted to share: 'Are you aware?' Did you reach out?'"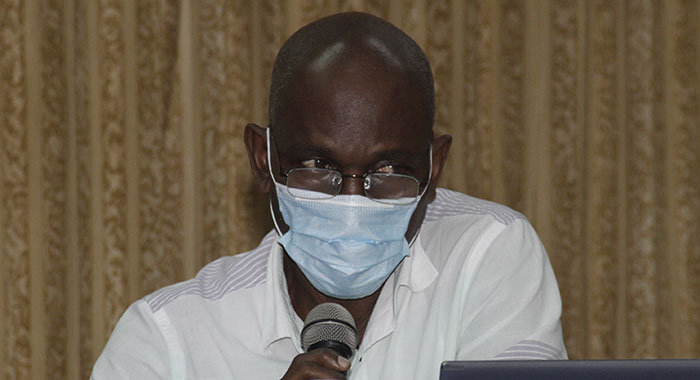 Thomas said:
"The question that we need to pay attention to is the question of confidentiality and privacy with medical records and it goes to the point we were talking about earlier based on the government's protocol as to how it intends to go forward with these things.
"And you may recall that at one of the press conferences, the one in April and the one that we had subsequently, I raised that precise point and I remember the prime minister throwing cold water on the whole idea of a super doctor and what happens when you have a super doctor that has total and complete control over the records of all of the citizens of St. Vincent and the Grenadines. And I didn't think you understood or appreciated the point I was making then. But, hopefully, you get a chance to see it now."
Thomas' law chambers represents the Public Service Union and the St. Vincent and the Grenadines Teachers' Union, both of which are opposed to mandatory vaccination.
The unions have also objected to a change in the law that allows doctors specially appointed by the state, rather than a person's personal physician, to decide who is exempted, on medical grounds, from a treatment prescribed in the context of a public health emergency.
Joseph said that COVID-19 is not a death sentence.
Thomas responded:
"I feel really good. I have a regimen that has been serving me really well over the years and I would continue to keep that regimen and I feel very confident that I would get past this. I have had a slight loss in appetite but nothing untoward. I am not a big eater anyway."
Thomas said that his chambers will remain closed for the next seven days or so.
He said there was a slight cough on Sunday, which prompted him to get tested.
"There was a sniffle as well, but nothing untoward."
Responding to a question, he said there is a plan in place if he does not start to get better, Thomas said,
"But I will start getting better."