Was the trial of Ashelle Morgan and Karim Nelson in connection with the April 13 shooting of Cornelius John merely about law, or did truth matter?
That is one of the questions that iWitness News put to defence lawyers in the case, on Thursday, after Morgan, a lawyer, government senator and deputy speaker of the House of Assembly, and Nelson, an assistant director of public prosecution, were acquitted.
Morgan was charged with assaulting John by pointing a gun at him, while Nelson was charged with unlawfully and maliciously wounding John and discharging a firearm at him.
The offences allegedly occurred at John's home in Diamond Estate on April 13.
After six days of evidence, none of the witnesses placed Nelson at the scene on the date in question and the court upheld a no case submission by his lawyer Ronald "Ronnie" Marks.
The court also upheld a no case submission by Morgan's lawyer, Duane Daniel, ruling that John's credibility was in question and, therefore, could not be believed.
After the acquittals, iWitness News asked Marks about a statement bearing what appeared to be Nelson's signature that began circulating on social media early last week.
The statement said that Nelson, his cousin and part-time driver, Veron Adams, as well as Morgan went to John's place on April 13, allegedly because he had been threatening his wife with a cutlass.
In the statement, Nelson said he discharged a round after he saw a man approaching them, carrying in his hand what appeared to be the outline of a cutlass.
iWitness News asked Marks about the authenticity of the statement.
"It looks very familiar to a document I saw on the bar table close to a certain person," Marks said.
"But I am very disappointed and, again, this is politics again. These are people who are being intellectually dishonest because of political motives. And we can understand. There are persons here, they have lost the election; they have lost their senatorship.
"They're trying to get back some relevance and using this domestic violence to do that is really sad. And it also came out in court that that same person represented somebody that Mr. John said that she claimed he ran her down with a cutlass but he was just trimming some plantains — some foolishness like that.
"And Ms Bacchus-Browne represented that woman. So, she knows his violence…"
Asked if he remembers all of his clients from 20 years ago, Marks said, "No. But, in a circumstance like this, I believe I would have remembered."
Lawyer Kay Bacchus-Baptiste, who is John's lawyer, held a watching brief in the trial of Morgan and Nelson.
She is expected to defend him when he is tried on a charge that he used threatening language to Morgan, at Diamond Estate, on April 13.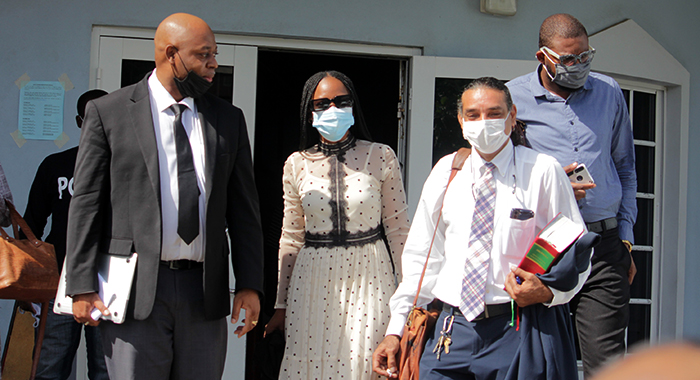 iWitness News asked Marks why the document bearing Nelson's signature was not a part of the case.
The lawyer responded:
"Because it was not a caution statement. The only way it could be admissible is if it was a caution statement. Otherwise than that, it is inadmissible; it is hearsay. "
iWitness News then asked the lawyer if the trial was merely about law or whether truth mattered.
Daniel said:
"There is a particular method. When somebody is called into the police and they are asked to give a statement, they can give a statement in two capacities. They can give their statement in the regular run-of-the-mill as a witness or they can be cautioned as a suspect."
He said that if someone is cautioned as suspect and gives a statement, that statement is admissible in evidence.
"However, if you just went to give an explanation as a regular witness and you give a statement, because you were not under caution and you have certain constitutional rights, that statement is not automatically admissible and that is what Mr. Marks is speaking about in relation to intellectual dishonesty."
Daniel said there are people who clearly know the difference "but it is being put out there to make it seem as though there is some miscarriage of justice here.
"Ultimately, this matter turned on credibility. And the greatest bit of evidence to show how incredulous the evidence of Mr. John was is the tissue of lies that he told in relation to being kicked and stomped to the point where one of the stomps in his stomach caused him to excrete stool."
Daniel noted that the medical report submitted in relation to John's visit to the Accident and Emergency Department of the Milton Cato Memorial Hospital did not support this claim.
"Despite his vicious and malicious lies, the medical report shows clearly there were no abdominal issues, there was no chest issue. He presented unremarkable in that regard, he was not diagnosed with any stomach or chest issues, he was not treated for any stomach or chest issues.
"That went squarely to his credibility with the other tissue of lies that he told which, thankfully, the magistrate was able to see, to show that in addition to the lies he told in relation to Ms. Morgan, that he was not to be treated as a witness of truth. And it is partly on that basis that justice truly prevailed here."
Marks said it was also clear from what was seen in the medical evidence that John was shot from a distance.
"It would not have been a close range shot and the bone not shatter — the type of calibre weapon"
John had alleged that his assailant held down his leg, then shot him at close range.
"So it was absolutely clear as well, from the medical evidence that he was shot from quite some distance, which accords with our case that he was attacking them with a cutlass when he was shot."
Asked if he thought, in light of the fact that none of the witnesses placed Nelson at the scene, the prosecution his client was malicious, Marks said:
"I would not say that. The charges were laid and the evidence should have been gathered to connect all the dots and the dots were not connected."