A Trinidadian man who, in 2014, was extradited back to St. Vincent after escaping from Belle Isle Correctional Facility and returning to his home country, will be tried tomorrow (Friday) for entering St. Vincent and the Grenadines (SVG) illegally last month.
Desmond "Cat" Pavy, 46, is getting an expedited trial after his lawyer, Grant Connell, told the Kingstown Magistrate's Court, on Wednesday, that his client needs urgent medical care, if he is to save his injured left hand, and, possibly, his life.
Pavy pleaded not guilty to charges that, on Nov. 30, at Chateaubelair, he:
being a prohibited immigrant, entered SVG by boat without a passport;
entered SVG by boat other than a port of entry;
being the master of a vessel, knowingly allowed a prohibited immigrant who arrived in such vessel to be landed; and
knowingly or wilfully allowed himself to be landed as a prohibited immigrant.
After Pavy pleaded to the charges, his lawyer told the court that the defence was ready to proceed, adding that all the documents are before the court.
"Mr. Pavy has been in hospital from the date of the charge. We humbly submit this is more than time for the prosecution to put their house in order," Connel told the court.
The lawyer said that Pavy's appearance "is one that shows he has suffered some injury, significant injury. Injury that I humble submit is not more than the talent of our doctors or nurses but suffered from an injury that our health authorities, understandably, clearly, are unable to address."
iWitness News understands that police shot Pavy in the left arm when they apprehended him.
The lawyer said that Pavy's need to return to Trinidad and Tobago to address these medical issues is "extremely urgent".
"He is in excruciating pain, his sugar levels are extremely high. He is diabetic and presently has no movement in his left hand, and, according to my instructions, significant damage to his elbow.
"The institution where he presently is, has, in the past, shown its capabilities to deal with diabetics and injuries to their limbs. Mr. Pavy is humbly asking that this court address this matter with a degree of urgency so that he can save his limb, and, may I humbly submit, possibly his life," Connell said.
In response, the prosecutor, Corporal of Police Corlene Samuel told the court that while she understood what Connel was saying, "in the same way that the defence needs to be briefed, prosecution needs to be briefed as well.
"When a matter comes before the court, it comes from the police [or from immigration], in this case."
Samuel said that she had never seen the file before it appeared in court and did not know the circumstances of the case.
"He came from the hospital and has to return there because his treatment is not complete," the prosecutor said.
She further noted that Pavy is not a Vincentian national and the Crown was objecting to his bail and was seeking an adjournment.
"The matter should be straightforward and whenever he is released, the prosecution would be ready," Samuel told the court.
Senior Magistrate Rickie Burntett, who was presiding, asked Connell if he had word on when his client was likely to be released from hospital.
However, Connell said that the prosecutor's application was "harsh, unconscionable and borders on being inhumane".
He said that Samuel has said that the case is a very straightforward one. "What the prosecutor did not tell you is that other occupants of the boat have come before the court."
The magistrate, however, said that Samuel may not know about that.
Samuel also asked which court these people had reportedly come before.
But Connel contended that Samuel had been in the courtroom for about 20 minutes after the arrival of documents relating to Pavy's charges.
He said it is in the interest of justice that when documents arrive in the court that the prosecutor reads them.
The lawyer argued that there are four charges before the court and suggested that the prosecutor read the alleged facts.
"… I know my friend has extreme competence. Reading three pages and making a phone call to the office that these documents should have gone to prior to coming here, they would have taken a certain course, as others have in other courts". Connel said that there are four charges "that cannot stand".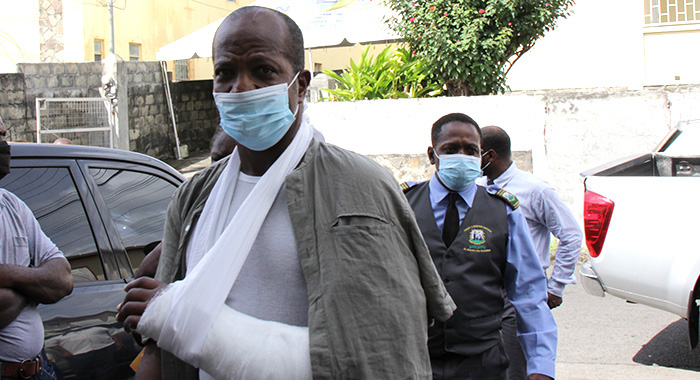 The magistrate, however, said that he was addressing the issue of whether Pavy was still a patient at the Milton Cato Memorial Hospital, and, if so, his likely release date.
The lawyer told the court that Pavy is still a patient but cannot even get the proper medication to address his issue.
He asked the court if it wished to hear from his client. "I thought the prosecutor would tell you that according to the medical director, the doctor, the estimated time of release is X."
Connell said that he is not a doctor nor does he "live in utopia".
"I am well in tune with the reality in St. Vincent and the Grenadines. If this man remains there, he will either lose his limb or his life. He needs to get back to Trinidad to have that addressed."
The lawyer said that Pavy had had surgery and none of his fingers could move.
"How could the prosecutor, in the interest of justice, stand before this honourable court, say that it is a simple matter and then ask for an adjournment in these circumstances?"
He asked the court to "extend some level of humanity to this man. There is a boat. He can take the boat and go back to Trinidad and be there in 10 hours."
The lawyer said that the prosecutor expects cases of that nature to take a certain course, "hence they don't even read the files".
He said that the prosecutor could read the file in 10 minutes or call the director of public prosecution (DPP).
"I have faith in the learned DPP. If the DPP reads these documents, I guarantee at least two [of these charges] are gone. And if they do, I may revisit my advice in light of my client's present medical position. He is 10 hours away from saving his limb, and, possibly, his life. You could be looking at a live man now, send him down there and when you seek an adjournment, you have no defendant. Whose conscience would that be on? Not mine."
However, the prosecutor said that there was a document signed by Dr. Charles Woods, giving Pavy permission to attend court and to return to the MCMH after the hearing.
Connell, in response, asked that Woods be summoned, but the magistrate said that Woods' report was before the court and there was no need to summon the doctor.
Connell noted that the document said nothing about Pavy's medical condition. He went on to detail what he said the challenges were in treating Pavy.
"He is a diabetics and the diabetics at the hospital have a history. The doctors and nurses cannot be blamed. They are talented, they are capable but they do not have the resources. I am dealing with reality this morning."
After hearing further arguments, the magistrate denied bail and said he would make Friday available for the trial.
Connell, however, asked if the prosecutor could be given 10 minutes to call her superiors, saying it is irresponsible for a prosecution to make such a decision without calling her superiors.
The magistrate, however, said that he could not order the prosecutor to call her superiors.