The approval in Parliament on Friday, without opposition presence or support, of the 2022 Budget, realised Prime Minister Ralph Gonsalves's promise four days earlier, to "do what I have to do to get the bill passed".
However, the political points scored came at the expense of the nation not hearing from its ministers of Health and Education, the government's plan to respond amidst the current COVID-19 wave, which has overwhelmed testing facilities and disrupted classes at several schools — just under a month after vaccination became mandatory for teachers to remain in the classroom.
"It has been a long journey and, I think in coming to an end and having here now tonight, this evening, nine persons to vote out of the 14, I think we're doing splendid, given how we started," Gonsalves said around 8:30 p.m. as he neared the end of his 2.5-hour contribution to the budget.
"You see my statement on Monday evening — that I give the assurance that we will pass the bill by Friday — I gave that assurance, because I know that God's grace will come upon us because we are doing God's work," he said.
On Monday, even before the budget was presented, the prime minister had threatened to bring COVID-positive MPs to the assembly chamber to vote in support of the EC$1.3 billion fiscal package.
He later attempted to walk back that statement, saying he was speaking "rhetorically" and that he had had a "foreboding".
In his contribution to the debate, the prime minister could have spoken for four hours, but spoke for 1.5 hours less than that. This is uncharacteristically short as Gonsalves is noted for his verbosity, and he had pitched his speech as being on behalf of several of his ministers silenced by their COVID-19 infections.
Gonsalves began to wind up the debate at 5:51 p.m. and 80 minutes later noted the arrival of Minister of Education Curtis King in the assembly chamber.
"The Honourable Minister of Education has arrived. Clearly he has been cleared. He is COVID free," the prime minister said.
He further told Parliament that about three hours earlier, the minister of finance — who is also his son — had telephoned to say that his family were all negative.
"And though it was not the fifth day, he got tested on the rapid and was negative. And he took a PCR. I don't know, but because tomorrow would be the fifth day, he wouldn't come because he has to stay out, because that's what the protocol says," the prime minister said.
He said that the finance minister had taken a booster the day before.
"So I think that helps him. It helps, eh, when you take the booster and it helps if you have the vaccine very much in your system," the prime minister said.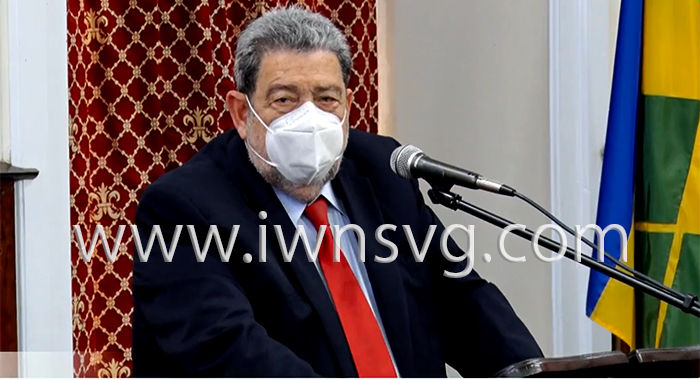 Later in his presentation, as he discussed monies his government intends to spend in the education sector this year, the prime minister contextualised his education minister's presence in Parliament in the closing moments in the debate.
"I want to talk a little bit about education because I know the Minister of Education has come here but because I am winding up, he's here to lend his vote. He's not talking after me because I already said I winding up. I can't wind up and you come after me because it means that you will be winding up," the prime minister said.
"I don't want to go through a lot of stats," he said but read into the record of the house a three-page "informal note" entitled "Partners in Education: Students, Parents, Teachers, the Community, the State, Regional and International Entities and God", that he wrote on June 23, 2013.
Under the health protocols in place last week, a vaccinated person can return to work five days after testing positive for COVID-19, provided that they do not have any symptoms.
They must, however, wear an N95/KN95 mask for five subsequent days.
In order to ensure that passage of the bill even as eight of 14 his MPs had tested positive for COVID-19, the prime minister revoked the appointment of one of two COVID-infected senators and appointed a temporary one.
Last Tuesday, one day after presenting his EC$1.3 million budget in a five-hour speech, Minister of Finance Camillo Gonsalves and Urban Development Minister, Senator Julian Francis tested positive for COVID-19.
On the weekend prior, King as well as Minister of Agriculture, Saboto Caesar had also been diagnosed with COVID-19.
Then, on Wednesday morning, one day after the budget debate was suspended because of  Gonsalves and Francis' positive tests, Deputy Prime Minister and Minister of Transport and Works, Montgomery Daniel and Senator Rochard "Pit bull" Ballah tested positive for COVID-19.
However, even with seven of his MPs having been confirmed as COVID-19 positive, the prime minister Wednesday morning rejected a suggestion by the opposition that the budget be postponed for five days — the quarantine period, according to the Ministry of Health.
Then, Wednesday afternoon, Minister of Health, St. Clair "Jimmy" Prince, who had tested negative that morning on rapid test, returned a positive result on PCR testing, forcing the government to suspend the debate until last Friday.
Later on Wednesday, the opposition announced its intention to take no further part in the debate.
This left the prime minister with the option of either postponing the debate — as the opposition had suggested — or replacing one or both of the two COVID-positive senators in a bid to muster a quorum so that Parliament could debate and pass the budget.
And, with Caesar having returned a negative COVID-19 result on retesting, on Friday, the prime minister opted to replace Ballah, a parliamentary secretary in his office, with Rene Baptiste, a former MP for West Kingstown.
The budget then continued on Friday and the bill was passed without further contribution from the opposition or from the ministers of health and education.
On the issue of the current wave of COVID-19 in the country, the prime minister spoke of the age distribution of people who suffered from COVID during the period Jan. 1 to 11.
"The persons who get in the COVID mainly are the persons who moving about," he said, adding that of the 1,197 cases, 17.6% were between ages 15 and 24 years old.
The 25 to 34 years age group accounted for 28% or 155 people; 35 to 44 years is 99 people or 18% of the cases; 45 to 54 — 62 cases or 11%.
"The numbers then start to fall," the prime minister said.
"But, interestingly, when you look at those who are dying, 15 to 24 — just 1%; 25 to 34 — 4.6%; 34 to 44 — 8%; 45 to 54 — 15%, then 55 To 64 — 20.93%; 65 to 74 — 20.93% 75 to 84 — 17.95%; 85 to 94 — 13.95%.
"So, what is happening, a lot of young people are getting it and taking it home and giving old people who not moving about."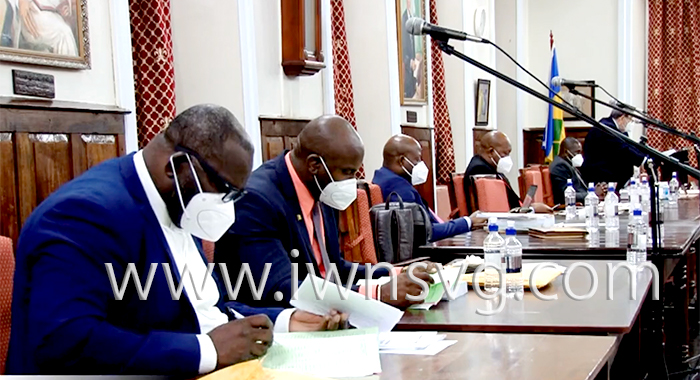 The prime minister said that of the 6,576 COVID-19 cases recorded in the court, 686 of them are among people who are either fully or partially vaccinated.
"So you have to make sure that you still follow the protocols and take your booster," Gonsalves said, adding, "the boosters work".
Speaking of the booster, he said he does not want to hear people say, "So, I got to put that thing in my body again?"
"It was never intended just to be the five or six months period. And you have the Omicron which acting as stealth not as deadly as Gamma and Delta but mashing up people's workplaces like this, you have with Parliament and all across the country."
The prime minister also gave the nation's vaccination data, saying that as of Jan. 12, 63,245 doses had been administered.
This includes 34,018 first doses and 27,252 second doses.
"But only 1,880 first dose booster and only 95 second dose booster. I will tell you I'm one of the 95. I ain't playing a fool with this thing. I mean I I could get it even that you know, but I'm trying as best as I possibly can to manage the risk in relation to me. It still can hit you by stealth," Gonsalves said.
He gave no indication of what actions his government will take to encourage people to take COVID-19 boosters shot, or even the initial first and second doses amid deep rooted vaccine hesitancy in the country.
Speaking at the beginning of his contribution to the debate, Gonsalves noted that his Unity Labour Party won nine of the 15 seats in the Nov. 5, 2020 general elections.
"… it was their duty — the opposition — to be here and even if they oppose the appropriation bill to be here. So, that they would be part of what would constitute a quorum for the business of the house to go on," the prime minister said.
He said that rather than attending Parliament, the opposition was about "gloating", calculating the number of government lawmakers available to pass the budget
"'We say that this thing must be postponed for seven days and it will happen," Gonsalves further said of opposition rhetoric.
"Well, there is a God and there is the large principle of democracy of representative government and it is a great cause. And great causes are never been won by doubtful men and women," he said. 
Correction (Jan. 19, 2022; 18:33) — An earlier version of this article erroneously stated that Deputy Prime Minister and Minister of Transport and Work, was the housing minister.