The Budget Debate, which began on Monday and was suspended on Tuesday because of COVID-19 cases among government lawmakers, was today (Wednesday) suspended until Friday after an eighth of the 14 government lawmakers tested positive for COVID-19.
Minister of Health, St. Clair "Jimmy" Prince tested positive on a PCR test, hours after a rapid test returned a negative result.
And with Prime Minister Ralph Gonsalves himself awaiting the results of a PCR test, he was forced to suspend the debate.
The development raises questions about whether the government has the numbers necessary to approve the Budget.
On Wednesday morning, the opposition had called for the suspension of the debate for five days because of the COVID-19 cases, but the prime minister rejected the proposal, citing urgency for approval of the fiscal package.
The budget was approved in February both last year and in 2020. 
The prime minister announced Prince's COVID-19 infection when Parliament reconvened around 5:30 p.m., after the two-hour lunch break.
The government has said that all of its MPs are vaccinated against the illness.
Opposition Leader Godwin Friday delivered his response to the budget Wednesday morning, and opposition lawmakers did not return to the chamber after lunch.
Three opposition lawmakers — Southern Grenadines and East Kingstown MPs, Terrance Ollivierre and Fitz Bramble, along with Senator Shevern John — who are either unvaccinated or have not disclosed their vaccination status, were ordered, on Wednesday, to isolate for five days, having been present in the chamber on Monday, when the finance minister delivered the budget.
Opposition lawmaker, St. Clair Leacock, told iWitness News on Wednesday that the Chief Medical Officer, Dr. Simone Keizer-Beache had ordered PCR tests for everyone who was in the assembly chamber.
"What happened is that after Parliament resumed at 5:30 p.m,. he (the prime minister) said that in the luncheon break, Jimmy Prince, who had tested negative this morning, out of an abundance of caution, went back and had a PCR test done.
"And the government fast forwarded the PCR process … which confirmed that Jimmy Prince was now positive," Leacock told iWitness News.
"And as a consequence, the chief medical officer is now advising all members who were in Parliament this morning when Jimmy Prince was present should now take PCR tests before our resumption," he said.
Leacock speculated that the PCR results would not become available Wednesday night or Thursday.
"And then he (the prime minister) went into all sorts of new configurations now about [how] by Friday, Curtis King and [Saboto Caesar] might have finished the initial five days [isolation] so they would be doing the second test so we will have to watch and see what is happening," said Leacock, a vice-president of the opposition New Democratic Party.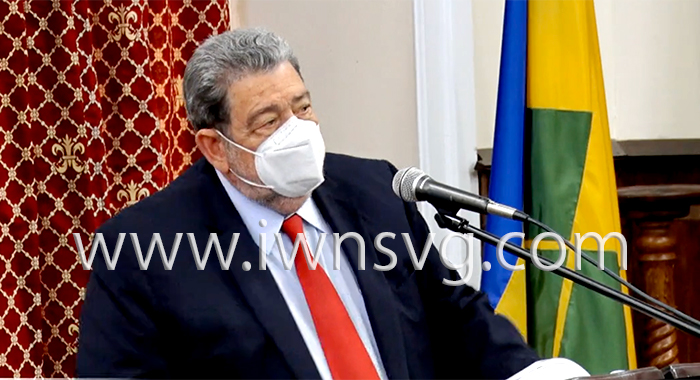 He said that the prime minister further indicated that by Monday, Francis and other lawmakers might be cleared after retesting and may be able to return to Parliament. 
"But Parliament, in any event, by his declaration would resume on Friday. So that's on Ralph's side of the story," Leacock said.
He, however, said that the opposition had already decided, "independent of that, which he was quite aware".
Leacock noted that health officials had decided that Bramble, Ollivierre and John could not sit in Parliament because they were compromised Monday night when the finance minister was speaking.
"For them to be compromised, it means that Camillo would have had to be positive, and, therefore, they want to deny those three members of ours from sitting in the Parliament on the basis that Camillo compromised them and without admitting that Camillo would have had to be positive."
In a Facebook post Wednesday morning, the finance minister said that he was "fine" and "totally asymptomatic".
"Not a cough, sniffle, headache, breathing problem, nothing. Only thing I'm feeling is bored, lol. If not for the actual test result I wouldn't believe I have COVID. I am grateful for the protection of the vaccine (big up AstraZeneca!) and grateful beyond measure that my family is fine," he said.
He said he knows that too many people have experienced terrible symptoms and even died from COVID-19 "so I give thanks for my good health. I pray it continues."
The finance minister said he had tested negative on Friday, Dec. 31, 2021, and again on Saturday, Jan. 8, 2021 before testing positive on the rapid test on Tuesday, Jan. 11.
"Big up the CMO and Madame Speaker Rochelle Forde for implementing the strict testing protocols for those entering the Parliamentary workplace. Let's all keep fighting COVID together. We can't hide from it, we have to live with it: vaccinate, wear your masks (properly), follow the protocols. Stay safe!" Gonsalves said in the social media post.
Leacock told iWitness News that the opposition had planned to insist Wednesday afternoon that "our members should not be penalised and if they can't participate any further in the exercise, we were going to withdraw from the Budget Debate altogether.
"We were not going to get involved in any long talk with them, we were just gonna make our case. So, actually we had Bramble and Terrance there to show up in Parliament to deal with it head on. But all that got overtaken by Jimmy's positive testing.
"So we just refused to enter the chamber altogether and get involved in anything PCR testing or anything of the sort.  We just withdraw. So we will have no further part in the debate, period. You can accept that to be the position," he said.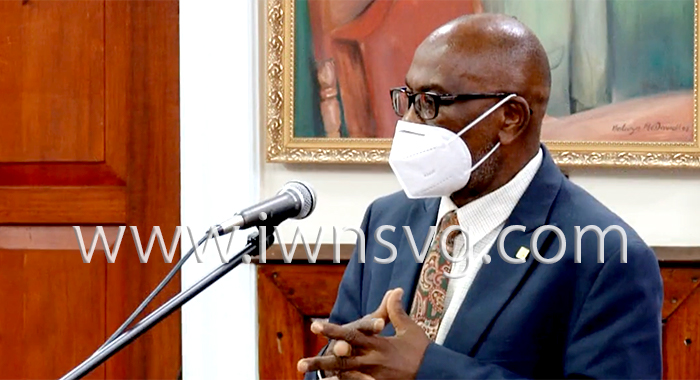 Leacocksaid that Senator Israel Bruce and another opposition MP might make presentations Thursday night on the party's radio programme and others might use the party's programme on Friday to comment on the budget.
"But there will be no further participation in the budget by us," he said.
Asked what information he might have gathered, politically, about the sources of the infections among government lawmakers, Leacock said he could not speak authoritatively to that.
"But something must have been wrong for all this contamination to have taken place, since they were not all down in Palm Island."
There had been speculation that the MPs might have been affected at the wedding of Minister of Tourism Carlos James, on Saturday, in Palm Island, a private island in the southern Grenadines.
Leacock, however, noted that the prime minister had said that only four lawmakers — the prime minister, James, King, and Caesar — were at the wedding.
"So where they get this? The Cabinet Room or lack of discipline among cabinet ministers?" Leacock said.
He noted that Francis had said in the last meeting of Parliament that he had been taking extraordinary steps not to be in crowds and activities that would increase his chances of contracting the virus.
"But the same argument that he had this morning that Parliament cannot be postponed because there was an urgency, he has now ended up back in that situation."
Leacock said that another issue is whether the government can constitute a quorum on Friday morning to approve the budget.
On Monday, ahead of the commencement of the Budget Address, the prime minister Gonsalves proposed that lawmakers who are absent be allowed to vote remotely.
However, Friday rejected the proposal as premature and against the rules.
Gonsalves, however, threatened to bring COVID-19-infected MPs to the assembly chamber in order to ensure that the budget is passed.
On Wednesday, the prime minister appeared to be attempt to walk back those comments, saying, "… immediately prior to the Honourable Minister of Finance delivering his Budget Address, I had a foreboding. 
"I have learned over the years as a leader, when a particular factual situation develops, or I see it's arising on the horizon, I look very far down the road, and I look down the road in relation to our work here in Parliament."