A 19-year-old student to whom a High Court judge last October gave the "key" to a prison cell, telling him that for three years, he can decide if to lock himself inside or out of it, decided last week Thursday to spend the time behind bars.
Ozem Oliver, of Glen, made the decision by having in his possession, at Glen, a firearm and six rounds of ammunition without a licence.
In making that decision, the Community College student forced the Serious Offences Court to automatically activate the three-year prison term that Justice Brian Cottle had suspended for three years on the condition that he commits no crime punishable by more than six months in prison.
And, on Wednesday, Chief Magistrate Rechanne Browne jailed Oliver for an additional three years and seven months, taking to six years and seven months the entire sentence he would have to serve.
In handing down her sentence, the chief magistrate quoted what Justice Cottle had told Oliver and his two robbery co-defendants — Andreas Bruce, 21, and D'Andre Peters, 20 —  when he gave them a chance on Oct. 25, 2021, to make something of their lives.
"Gentlemen, you have the keys to the prison in your hands. If you behave yourself for the next three years, that will be the end of that," the judge had said.
Justice Cottle told the men that should any of them breach the terms of the suspension of the jail sentences, he would go to prison immediately for the robbery, in addition to whatever sentence is handed down for the additional crime.
The men were sentenced , having pleaded guilty to a charge that on Aug. 10, 2018, at Glen, being armed with a gun, they robbed Denise Baptiste, of Glen, of one gold J7 Prime Samsung Galaxy cellular phone, value at EC$1,100, and at the time of so doing, put Baptiste in fear of being then and there subjected to force.
The trio, who were all students and teenagers at the time of their crime, further pleaded guilty to possession of an imitation firearm.
Meanwhile, at the sentencing hearing on Wednesday, Browne asked Oliver if he remembered and understood the judge's admonition and he responded in the affirmative to both questions.
She asked him if he was sure, and Oliver, again, said yes.
The chief magistrate then read the judge's comments to him again.
"I wanted to start the sentence with that so that you have a clear picture and I reinforce the fact that you were under no illusion as to the terms of your sentence," Browne said.
She said she knows that the judge, in arriving at his sentence, had paid significant attention to the age of the accused men.
"This is Jan. 19, 2022. You are here for possession of three rounds of 9mm, three rounds of .38 ammunition and and a firearm, make and serial number unknown," she said, referring to the charges to which Oliver had pleaded guilty.
On Tuesday, Oliver entered a guilty plea at the Serious Offences Court, one day after he pleaded not guilty to the charges at the Kingstown Magistrate's Court.
His sentencing was adjourned to Wednesday so as to allow the court to verify his criminal record.
Police discovered the firearm arm and ammunition as they conducted a search at Oliver's house in connection to his alleged taking of a conveyance.
He is to be tried on charges that between Jan. 9-10, at Gomea, he took motor bike PH-91 without the consent of the owner or any lawful authority at Gomea, the property of Kenmore Horne of Gomea.
He is also awaiting trial on a charge that on Jan. 1 and 13, 2022, at Glen, knowing or believing one black Razor 150cc scooter, registration number PH-91 to be stolen goods, dishonestly received same for own benefit.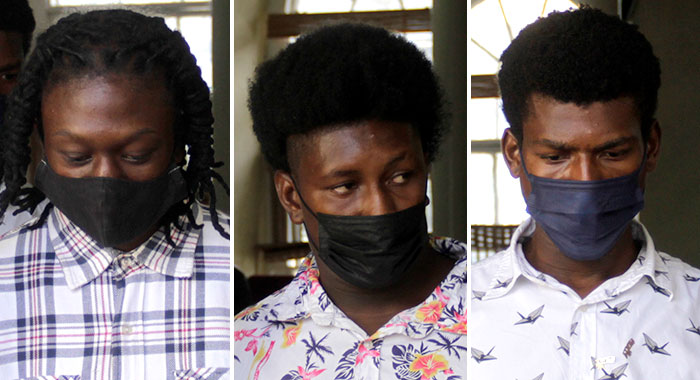 No 'Nancy story' 
In his representation on sentencing, the prosecutor, Sergeant Renrick Cato, noted Oliver's age, but pointed out that last October, he pleaded guilty to robbery and possession of an imitation firearm.
The prosecutor said that in addition to seeing the conviction sheet, he had read an article on social media that reported on "that lecture that was given to the defendant.
"He was given a sentence of three years suspended for three years and Justice Cottle told him I am giving you the key for you to send yourself to prison if you choose to. He was to walk the straight and narrow for three years."
The prosecutor, however said that based on what Oliver had told the court on Tuesday, he had the firearm when the judge was speaking to him last October,
"The defendant admitted to the court yesterday that he had the gun for a couple years. So while in the dock he had knowledge that he had the gun in his possession.
"He knew at that point in time, after that long nice lecture by Justice Cottle that he had this weapon in his possession," Cato siad.
He said that even after the judge's "lecture", Oliver decided to keep the firearm.
The prosecutor noted that Oliver was in custody for taking of conveyance and it was when investigators executed a search warrant at his house in respect of this that they found the firearm, fully loaded, and ammunition in two other places in the house.
"The defendant, in my opinion, has no level of respect for the sentence handed down by Justice Cottle," the prosecutor said, and reiterated that he believed that the judge had sentenced Oliver as he did, because of his age.
He said that firearm offences are so common that every week, there is at least one case of a firearm offence before the Serious Offences Court.
He told the court that it has a duty to put a stop to this, and asked the court to send a strong message to firearm offenders.
After the prosecutor's comments, Oliver, who was unrepresented and mitigated on his behalf on Tuesday, told the court that he was not going about "doing any wrongdoings. I stayed focused and was in college".
The chief magistrate told Oliver that as she had told him the previous day, he should not come with that "Nancy story" as he had other charges pending before the court.
She said that what is being counted are the matters since the suspended sentence was handed down last October.
"Based on the type of sentence, that is why he is saying you have no regard for the court," the chief magistrate told the defendant, referring to the prosecutor's comments.
The chief magistrate gave the defendant a step-by step-explanation of how she had arrived at the sentence of three years and seven months for possession of the firearm.
She imposed a sentence of eight months for possession of the ammunition, to run concurrently as that for the firearm.
"I would like to go back to my opening sentences where I quoted Justice Cottle. 'Should you commit yourself hereafter, you will go to prison immediately…'" the chief magistrate said, adding, "As a result the suspended sentence is activated."
She explained to Oliver that he would serve the three-year sentence for robbery and then three years and seven months for firearm and ammunition possession, and informed him of his right to appeal.
"I pray that … when you are behind bars, you will use that as a period of reflection and see how you can rehabilitate yourself so that when you come out, God willing, should you make it out, you will be a different person."