While much attention was focused on the EC$2.08 billion public debt in St. Vincent and the Grenadines during last week's Budget Debate, Prime Minister Ralph Gonsalves has flagged the issue of private debt.
"I want to talk about the matter of private debt. Because people focus on public debt but in 2008, the financial crisis in the United States, in New York City, was not generated by public debt but by private debt and, particularly, fancy derivatives, completely divorced from assets — real things happening," Gonsalves said.
"We have problems in all banks after 2008 also, where a lot of assets were overvalued and the central bank is tightening up on those things.
The prime minister noted the size of the public debt, noting it includes monies owned by the central government as well as other state entities.
"The private debt at Bank of SVG, First Caribbean, Republic Bank/RBBT, St. Vincent Co-Operative Bank, Building & Loan, GECCU, KCCU and the St. Vincent Teachers Co-operative Credit Union, less government loans, is $1.659 billion.
"But then you have other debts, which you have to add on. There are some smaller financial institutions; then there are hire purchase agreements. And the actual debt here, private sector debt would have been higher but for the fact that several institutions have resolved a large portion of their non-performing loans.
"So, in discussing the economy, we have to also discuss that issue, and which deals with regulations, and which deal with the issue of the banks assisting, but at the same time, be prudent while they're lending," Gonsalves said.
In his Budget Address, Minister of Finance Camillo Gonsalves addressed the issue of debt sustainability and fiscal responsibility, saying debt to GDP ratios worsened across the Caribbean as economies contracted and governments borrowed money to lessen the impact of the COVID pandemic.
"Within the Eastern Caribbean Currency Union, every independent member state experienced a deteriorating debt ratio between 2019 and 2020, with the sub-region's overall debt-to-GDP moving from 66% to 88%. Our own debt increase during this period was well below the regional average.
He said that the eruption of La Soufriere last year necessitated further emergency borrowing and drawdowns of set-aside catastrophe resources.
"We are proud that we remained disciplined in our borrowing during the disaster, only accessing highly concessionary loans that were low-interest, with a long repayment window and a generous grace period. 
"Indeed, over $228 million of the $251 million in increased debt was attributed to World Bank and IDA loans, which has a zero or very low interest charge, and repayments can extend over 30 to 40 years, including a 5- to 10-year grace period'," the finance minister said.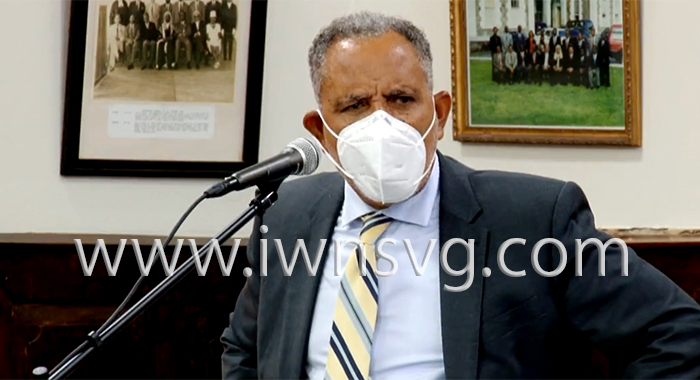 However, responding to the Budget, Leader of the Opposition, Godwin Friday said the government is finally showing some concern about the public debt.
He noted that in the budget, the government described the country as "debt ridden" and "burdened by debt".
He said that previously, the government had dismissed concerns about the national debt by saying that the money was being borrowed to help poor people.
"So the constant borrowing is risky, because the debt soon becomes unsustainable. And the poor, who they always champion to say, 'Well, this is who it's for', they're the ones who can be hardest hit."
The opposition leader noted that the public debt has grown from $1.6 billion in 2017 to $2 billion in 2022.
He further pointed out that the Eastern Caribbean Central Bank has set a debt-to-GDP ratio of 60% as a prudent target for its member governments.
"… the government has not been clear and they have not given us an honest picture about what the debt situation is. We now have a debt to GDP ratio … of 98.1% now.
"Grenada, by comparison, they said that the debt has increased considerably … It jumped 13 percentage points thereabouts to about 70%."
Friday noted that Grenada has a citizenship by investment (CBI) programme.
"And they use money that they earned during that programme to pay down on the debt to lower the debt to keep it below the level that they see ECCB recommends. Whereas, of course, this government, they don't want that money. They want to look elsewhere. … Our national debt now is roughly the size of the economy, at 98.1% of GDP."
The opposition leader said that the finance minister hadnot been forthright about the debt in his presentation.
"… he's acknowledged that we're debt ridden, but he tries to give the impression in the presentation of his budget that we are doing better than the sub region.
"He glosses over a number of critical pieces of information that should be provided," Friday said, noting that the finance minister said that the debt-to-GDP ratio in the OECS countries have all worsened between 2019 and 2020, with the overall debt to GDP ratio, moving from 66%, to 88%.
"And then here is where he says — there's a sleight of hand — our own, he didn't say what ours is now; he says our own debt increase during that period was well below the regional average.
"What is that supposed to convey? Are we doing better than the other countries? In fact, this year, our debt is projected to be 98% of GDP."
Friday said that Grenada's national debt is projected to be 69%.
"And even if theirs deteriorated more rapidly during that period, it tells you that they had more resilience built into their economy. So that even if it increased because of their response to COVID, they were still able to absorb that and maintain a manageable debt load.
"Ours now has gone to about the size of the economy and the minister is wringing his hands, and saying that we now have very limited fiscal space; that the country is debt-ridden."
The opposition leader acknowledged that a lot of the money that was borrowed might have been concessional loans and long term loans.
He, however, said that a problem, which the opposition has highlighted repeatedly, is that a lot of the money comes from high-priced borrowing when the government abuses the overdraft account and converts a part of the overdraft into a permanent loan at high interest rates.
"That is costing us money, constraining the space that the government has and it's really, ultimately, mismanagement of our financial situation in the country," he said.