The body of businessman Theophilus Omroy Mayers, 76, better known as "OT The Little Man", has gone on public viewing at O.T. Car Park in Kingstown, ahead of his burial at 2 p.m., in Lowmans Leeward today (Saturday).
In keeping with his wishes, Mayers' coffin is a simple one, made of blue mahoe and mahogany — two of more common local woods used in his furniture trade.
The coffin has been placed in a standing position and the entire lid removed to reveal Mayers' body dressed in a white suit and blue necktie.
His hands are outside the coffin and he is barefoot, as he used to be for years as he conducted business at Finishing and Furnishing, his furniture and appliance store in Kingstown.
The store was dubbed "Arwe Store" because of the payment terms he often offered to accommodate his customers' income.
When the company, Finishing and Furnishing, known for its affordable furniture, began producing coffins and caskets some years ago, Mayers dubbed them "underground furniture".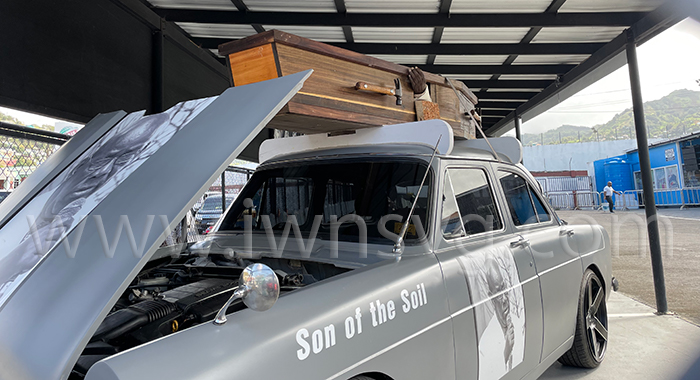 In a radio advertisement promoting the line, he said that when he produces a dining set, it stays in a family for generations.
However, each piece of "underground furniture", Mayers said, is only used by the person buried in it.
Mayers' coffin has four handles — rather than the traditional six — made of claw hammers that were used in his furniture trade.
It has a jack plane and a hand saw fitted to the cover and rather than fabric lining, has wood chips glued to the inside.
For about two hours before Mayers' body went on display, the coffin was in the car park on top of a grey Ford Zodiac car, with Mayers' hand protruding from the coffin, to the surprise of many.
Presumably, this was to show that he was taking nothing with him on his final journey.
The car was emblazoned with Mayers' photo and slogans associated with him, such as "Son of the Soil".
The text of Psalm 90:10 is imprinted on the trunk of the car.
The car transported Mayers' body from Indian Bay to the carpark in Kingstown and it is believed that it will also transport the coffin to the cemetery in Lowmans Leeward.
Ahead of the commencement of the viewing, passers-by took photographs of the coffin mounted on top of the car which was parked at OT Car Park.
Around 9:30 a.m. seven men, including Mayers' sons and some of his employees, removed the coffin from the roof of the car and took it inside Finishing and Furnishing, which adjoins the car park.
There will be no traditional funeral service as part of the final rites.
Mayers, of Indian Bay, originally of Lowmans Leeward, is being buried more than six years after "what could be considered his funeral service".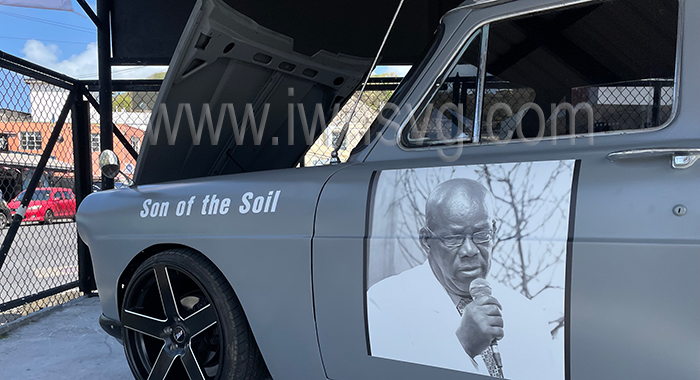 On Oct. 18, 2015, Mayers celebrated his 70th birthday and invited those who wished to pay tribute to him to do so then.
He died at his home in Indian Bay on April 9.
A death announcement said:
"Mr. O.T. Mayers was a simple and down-to-earth son of the soil. He left his wishes concerning his burial, informing his boys not to spend any money."OT had what could be considered his funeral service on the occasion of his 70th birthday on Sunday 18th October 2015, when he invited all who wished to pay tribute to him to do so."Hence, there will be no funeral service."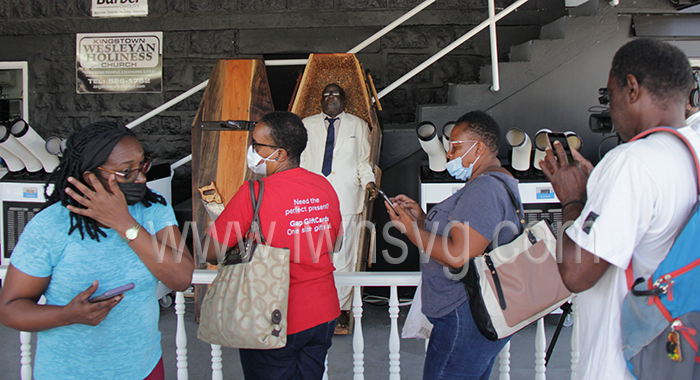 At the funeral service, videos were played of Mayers, a former preacher, at what appeared to be a religious event.
One woman, commenting at the car park commented that when Mayers said at his 70th birthday how he would like to be buried she did not believe that that is the way he would actually be buried.
The public viewing of the body ends at 1 p.m. ahead of the burial at 2 p.m. 

"O.T. say, 'Nah buy no pretty flowers fuh goat eat; save aryo money'," the death announcement said. 
Mayers is survived by his "queen" — his widow, Lenora Mayers, 10 children, the mothers of his children, two daughters-in-law, seven grandchildren, one great grandchild, two sisters, two brothers, one aunt, two brothers-in-law, two sisters-in-law, many nieces, nephews and cousins.
He is also survived by his extended family — the staff of O.T. Group of Companies, members of "Indian Bay Beach University" and many other special friends.The death announcement quoted Psalm 90:10: "The days of our years are threescore years and ten; and if by reason of strength they be fourscore years, yet is their strength labour and sorrow; for it is soon cut off, and we fly away."