The man who last year stole from teachers' workbags while pretending to be a BRAGSA technician has been jailed for similar crimes, this time sneaking into offices, in Kingstown, and stealing cash and a cell phone.
Jason Delplesche, 24, who racked up his first criminal record for dishonesty while he was a teenager, told Senior Magistrate Rickie Burnett at the Kingstown Magistrate's Court, on Monday, that while he wants to change, he struggles with the stigma of his past.
He said that he has spent more than a year out of prison — the longest period ever since he was first incarcerated.
He even had a job as a security guard at Subway but quit two weeks ago because people questioned the management of the restaurant about why they had hired him, Delplesche said.
The Barrouallie resident pleaded guilty to a charge that on April 13, in New Montrose, he stole $80 in cash, the property of Andine Jordon of Clare Valley.
He also pleaded guilty to a charge that on April 19, in Kingstown, he stole one Samsung Galaxy Neo cellular phone, valued at US$150, the property of Shanique Richards, of Belmont.
He gave police a statement detailing the theft of the cellular phone and his failed attempt to cash a cheque on which he had filled in EC$4,000 after someone delivered it to the office while he was stealing the cell phone.
According to the facts, read by Corporal 38 Devon Bute, Jordon is a YES Programme employee attached to the SVG Centre of Arts in Montrose.
On April 13, about 2:30 p.m., she was at work when she received a telephone call.
She went outside the building to get connected to the Wi-Fi. On her return to her office, Jordan discovered that her workbag was tampered with.
Her checks revealed that $80 was missing from her bag.
The matter was reported to the police and video footage handed over to them.
On April 24, about 9 p.m., a police constable saw Delplesche in Stony Ground and took him to the Criminal Investigation Department.
Delplesche gave s statement admitting to the offence.
He told the police that he was at New Montrose, having gone to pay a water bill when he saw a lady seemingly selling something but the lady could not see him as he had walked to the back of the building.
Delplesche told he went through a fence and into a small office in the building.
He said he took out a purse and removed the money, which including $5 bills and coin, but he could not recall the amount.
He told the police that he then left the building and walked out the road but the woman did not see him because she was in her phone looking for Wi-Fi.
Bute told his court that to his mind, Delplesche should have been charged with burglary.
Regarding the theft of the phone, Bute told the court that Richards is an employee at a customs brokers on Sharpes Street, Kingstown.
On April 19, about 12:45 p.m., she went for lunch leaving her cell phone charging at her workstation.
She went back and discovered her phone missing, with only the charger remaining.
Richards made checks but did not find the phone and telephoned the manager and informed him.
She rang the cell phone several times but got no one answer.
The matter was reported to the police and PC 492 Jack investigated.
After Delplesche was taken into custody, he was informed of the investigation, and admitted to the offence, telling the officer that the phone was at his brother's home in Fairbairn Pasture.
Phone, blank cheque stolen
PC Jack read the caution statement in which Delphic told police that he went into the building peeped into the office and saw no one inside.
He went through other doors, reaching an office where he saw a phone on the first table plugged in charging. He unplugged it and placed it in his pocket.
About that same time, he heard a knock on the door, he opened it and a man asked him where the lady was.
"I told him she gone away to come back," Delplesche said in the caution statement, adding that he told the man that the woman was his aunt.
Delplesche told police that the man gave him a cheque in a white envelope and told him it was from someone whose name the defendant could not recall.
He said after the man left, he picked the envelope and left and opened it across RBTT and said that it was signed by "Mark Boyea".
"I put 4000 in figures and letters on the cheque," Delplesche said, adding that he saw "Bank of St. Vincent and the Grenadines" on the cheque so he went to the Reigate Branch and joined the queue.
He said the teller called her supervisor, saying that the cheque was not written up properly.
"The supervisor called Mark Boyea and told him he would rectify it. I knew this because he told her this in front of me and took the cheque from the teller.
"He then came back and told me Mark said to bring the cheque and he would correct it the next day," Delplesche told police.
He said the teller gave him back the cheque and he went in the area of CW Prescott Primary School and ripped the cheque in half and threw it away.
The defendant told police that he took the phone and removed the SIM card and reset it to factory settings.
However, when the devise restarted, it required a Google bypass email so Delplesche took it to his brother to unlock, telling him that the phone belonged to his girlfriend.
Bute then told the court that Delplesche has convictions, but the prosecution and court staff was checking to see if he had paid compensation to his previous victims as the court had ordered.
Richards told the court that the memory card and two SIM cards were missing from the phone.
The magistrate, however told her that he could only sentence Delplesche on the charges before him.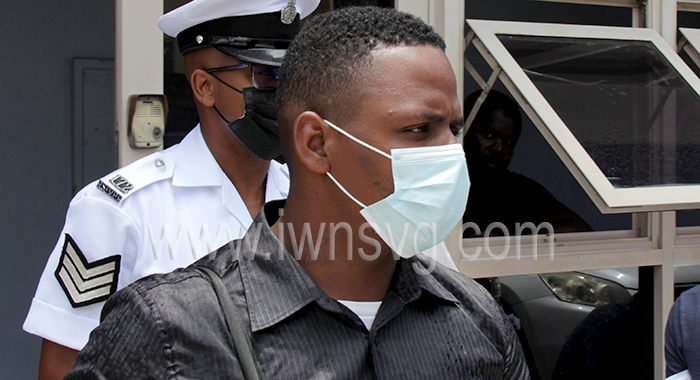 'Oh, this is the guy who was from BRAGSA?"'
In mitigation, Delplesche said he had quit his job at Subway two weeks earlier "because of certain circumstances".
He said he dropped out of St. Martin's Secondary School at form 3 because he "followed friends".
"But there are friends that got to form 5, why you didn't follow those?" Burnet asked.
The defendant told the court that he quit school around 2013 and since them, most of the time was "getting myself in trouble".
Burnett read over Delplesche conviction sheet, noting that in 2017 he was charged with handling stolen goods, and sentenced to 18 months in prison.
That same year, he was also given a two-year sentence for theft, four years for burglary, and two years for theft,.
"Seems that soon as he came out of prison you were back in the court it seems and you were charged for — oh, this is the guy who was from BRAGSA?" Burnett asked.
Delplesche confirmed this was the case.
The magistrate mentioned some of the schools Delplesche had gone to and stolen teachers' money while pretending to be an electrician.
"You really did a good job on these people. Did you pay this compensation?" Burnett said.
"Yes. I worked and I pay them," Delplesche said.
He went on to tell the court that this has been the longest period he has been out of court — "close to a year and some.
"Sometimes society don't accept we," Delplesche said, adding that some ex-prisoners try to change.
'stigma and rumours'
He said he was working at Subway and people would ask why they had hired him.
Sometimes people would look at him and think that he doesn't want to change, Delplesche said.
"Sometimes is stigma and rumours. That is why I quit the job, because people come and complain to the boss."
He said he worked in construction and same thing happened.
"It is just pressure, boss. I try my best."
"Clearly, based on what you are saying, you likely to do this again," Burnett said. "Society is not going to change and the circumstances that exist with you are not likely to change."
Delplesche responded:
"Your honour right now, you have the power to do what you want. I already expressed myself to you and how I feel. I already do the crime. I admitted to everything… Is not something I really want to do."
"But look at the cheque what you were about to do…" Burnett said. "When I hear these things it baffles the rational mind. The lady is working on the YES Programme, the assistance they give her on the YES Programme can't be much —$400 and you have taken $80 from it.
Bute said that while the court could not speculate, one could only imagine what Delplesche would have done had me met more money and cell phones.
The magistrate wondered if there was any connection between the call that Jordon received and Delplesche theft of her money.
"I am trying to reconcile what that was about," Burnett said.
The magistrate noted that while Delplesche had compensated the teachers, as the court ordered, he was also given three 12-month sentences suspended for 12 months and one six-month sentence, suspended for six months.
That order was given on July 5, 2021.
Burnett invited the complainant to retake the stand and told Jordon that he had "some not-so-good news" for her.
"If you have to get that $80 from him, it will be after he comes out of prison, which might be in 20-something months."
He told Richards that unfortunately, Delplesche was only charged with theft of the phone and not the cards and memory chip.
Burnett told the complainant that Delplesche was on his way to prison and would get a few additional months for his crime against her.
Burnet told Delplesche:
"Well, boy, I don't know. You seem to be suggesting to me that society appears to have given up on you. That's what you are saying because you have been in prison for a long time. Young man at age 24 and you went into prison maybe as a teenager…
"While you may have be of the view that society has given up on you, you are not conducting yourself well."
But Delplesche said that if he was not conducting himself he would not have been out of prison for so long.
"I am not the worst," he told the court.
"I not saying you are the worst," Burnett told Delplesche.The magistrate sentenced him to two months on each of the charges, to run consecutive to each other.
The court also activated the two 12-month sentences that were applicable, as the third was a concurrent sentence.
This means that Delplesche will spend 28 months in prison.