Colonarie Magistrate Bertie Pompey has decried senseless violence in St. Vincent and the Grenadines.
"This could be avoided; it ain't call for one violence. It wasn't called for and it was unprovoked… We have too much of this in society; too much," he told Mt Grennan resident Corey Ince after finding him guilty of wounding.
"You can go out and enjoy yourself without getting into anything," the magistrate said.
He ordered Ince to pay a fine of EC$500 or spend six months in prison for wounding his neighbour, Jeremiah Jackson.
Ince had to pay EC$250 forthwith or spend three months behind bars. If he fails to pay the balance in one month, he will serve a further three months.
Additionally, Ince has to compensate Jackson EC$700 by the end of May or spend four months in prison.
Ince was found guilty of wounding after a trial at the Colonarie Magistrate's Court, sitting at Georgetown.
The incident occurred around 9 p.m., on Dec.18, at Mt Grennan.
Jackson, a driver, said he was at Big Bob's supermarket at Mt. Grennan when he saw one "Deckie" and confronted him about videos Deckie was sending to his (Jackson's) friend.
Jackson said Deckie got upset, broke a bottle and said, "Is war I want."
He told the court that "Links", one of Deckie's cousins, approached, broke a bottle, "pushed me and said he's going to murder me tonight".
He said that while he was leaving to go home, he saw Ince across the road.
"He pelt a bottle at me which broke into pieces after it hit me on my left elbow. Me and my brother Hezekiah then went home," Jackson told the court.
Hezekiah Jackson, who appeared as a witness, corroborated his brother's evidence.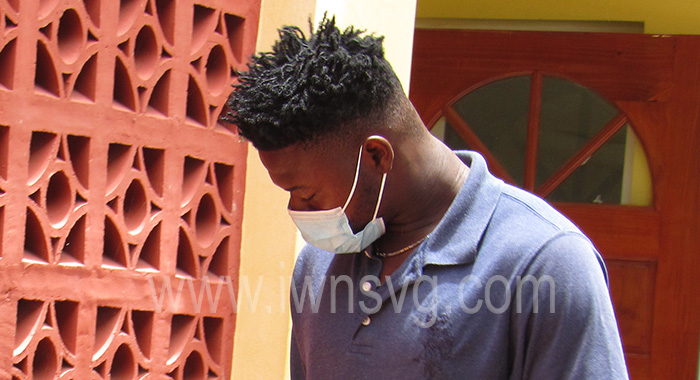 When police prosecutor Corporal Delando Charles crossed examined the virtual complainant, he said he recognised Ince, as they are lifelong neighbours.
The arresting officer, PC 982 Lewis, told the court that the area where the incident occurred is open and well lit from a street light.
He said further the bar, disco and mini-mart also had lights on the outside.
Lewis said Ince gave no statement to the police when he was cautioned and interviewed. He was subsequently arrested and charged.
In his defence, Ince told the court that he was under a building when Jeremiah and Hezekiah attacked his uncle and pointed their hand in Deckie's face.
"I was just looking at them and they started to fight, so I went home," Ince said.
During cross examination, Ince said he was not drunk and there was a streetlight in the area.
"So you want this court to believe that Jeremiah and Hezekiah and your uncle and Links were fighting and you didn't get involved," the prosecutor asked.
"Yes," Ince responded.
"Listen, you coming with your cockamamie story. You were there, present and you're not going to be wasting anymore time," the prosecutor said as he took his seat.
"I find you guilty," Pompey told Ince. "You came here with some lame, lame excuse."