The first cannabis consumption lounge in St. Vincent and the Grenadines opened Friday night at Coconut Grove, with people obtaining permits to buy cannabis products for a year, after an onsite consultation with a physician.
"Today, we're launching Greenhouse Café, which is a cannabis consumption lounge, the first of its of its kind in St. Vincent and in the Eastern Caribbean," Marie-Helene Tremblay, general manager of Medicinal, a medical marijuana company in SVG, told iWitness News at the launch at Canash Bay,
Tremblay, who holds a doctorate in organic chemistry from Georgia Institute of Technology, said that her company decided to conduct a clinic during the launch "so that we give access to cannabis and easier access to cannabis".
Therefore, the company invited, Dr. Roger Duncan, who is also medical officer of health, Dr. Jose Davy, the government's infectious disease specialist and Dr. Francois Truchot, one of the nation's leading dentists, to do consultation with patients.
"Once the patient has a prescription for medicinal cannabis, they then can go see the Medicinal Cannabis Authority to obtain their cannabis ID card that is valid for a year in St. Vincent," Tremblay said, referring to the state agency that regulates the medicinal cannabis in SVG.
"Once they have their ID card, they can come and purchase their products here directly at our dispensary and consume as well here while enjoying the night in front of the beach," she said.
At the dispensary, patients can purchase products ranging from an EC$15 "THC pre-roll" to a 1,500 ml HTC Tincture for EC$200. Other products include CDB Heal Lotion, CDB Vape ("Lift", "Calm" and "Taste").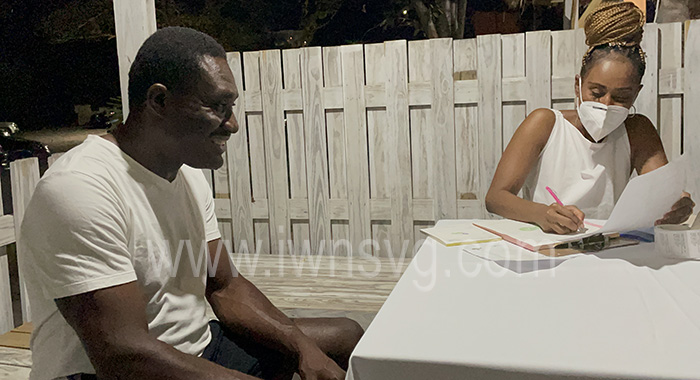 Davy told iWitness News that most of the patients she saw at the event had complained of chronic pain.
She said that chronic pain generally, mainly arthritis, tops the list of complaints among people for whom medical marijuana is prescribed.
Davy said she would consider medical marijuana for patients who had tried classic medicines and they didn't work for them.
Or the patient may have these underlying conditions such as stomach issues, which could result in stomach bleeding if they take a lot of painkillers.
And there's generally a lot of people out there now who want to move away from the route of pill-popping and having something a bit more closer to nature. So it's those things that we keep in mind when we're prescribing," Davy told iWitness News.
"I know that when people hear medicinal cannabis, the cannabis and the marijuana is still in their head, they're just thinking about smoking, but that is not the only form of getting the properties of cannabis."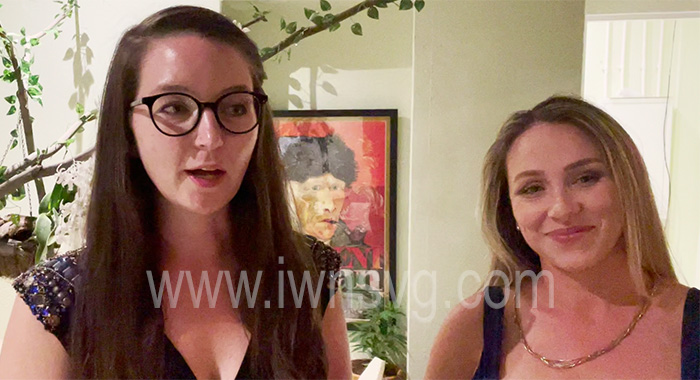 Tessa Glass, manager of K Group, which owns Coconut Grove, told iWitness News the beachfront development was "a whirlwind project", which was originally conceived last November with cruise ships in mind as there was a demand for bubble facility as the COVID-19 pandemic restricted regular access to beaches for cruise ship passengers.
"So we thought that would have been the target market but we quickly realised that the locals loved it more or loved it just as much. So we opened it up to the locals and were really happy that we did that," Glass said.
"It's a very all inclusive type of environment. And then the addition of this lounge, we thought, would have been wonderful to kind of give people a friendly place to access cannabis, medicinal cannabis in a safe environment prescribed by doctors who are trustworthy."
She noted that people could complete the whole process of accessing medicinal cannabis at Coconut Grove.
"So we tried to simplify the process as much as we could for the public, so that you can get your prescription from a doctor here, meet with a doctor in the privacy of one of the cabanas out there. And then you can buy your prescription here and actually consume it in here. And you can also access your cannabis card from the medicinal authority."
She said that one of the aims is to remove the "stigma" from cannabis.
"I think that cannabis sometimes maybe people think that it's only something that you can smoke but … there are a lot of different products including lotion, tinctures and other things. It's not just the place where you can come to smoke, but also use other products," Glass said.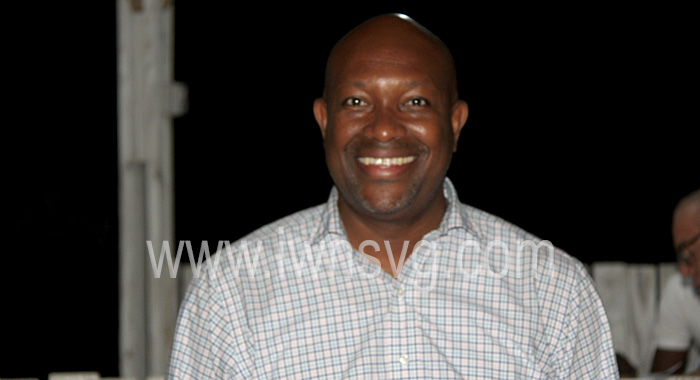 Among the people at the launch was Minister of Agriculture and Industry, Saboto Caesar who emphasised that he was there "purely, as an observer, not a participant".
He said he was happy to see that the law was being adhered to.
"I also witnessed that the Medicinal Cannabis Authority are here in their numbers," he said adding the MCA "can ask that certain things be tweaked if they think that they have fallen outside of the legal framework".
He spoke of the "principle of non-diversion — that nothing is supposed to be diverted from here into the illicit market".
The minister noted that some people have called for the decriminalisation of marijuana for recreational use.
"… as a government, we saw it possible to maintain a modern medicinal wellness industry in St. Vincent and the Grenadines and not break international law because international law says that cannabis should only be used for medicinal purposes and scientific research and development".
He said he was happy that people seeking medical treatment now have the option of a consultation at Coconut Grove.
The minister said employment is being created "because I am certain that the doctor has a busy practice.
"So you may be seeing other doctors and I heard that there are three booths here. And so there are several doctors who will be on shift here. So in case anything goes wrong, there's a medical doctor there as well.
"It's definitely an opportunity for local investors outside of this setup, to model this, of course with the engagement of the medicinal cannabis authority…
"I'm happy to also know that the product, I'm advised, is produced locally and it is tested by a world class lab that is in St. Vincent and Grenadines."
He said that probably by the end of the year, there will be legislation for a psychedelics industry.
"That's to deal with persons who have a lot of addiction issues and want different forms of treatments and you're going to see investors locally, regionally, internationally coming here."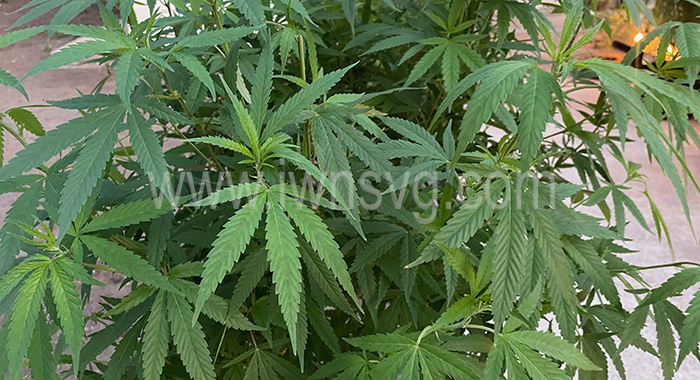 And, Dr. Jerrol Thompson, chief executive of the MCA, told iWitness News that the International Narcotics Control Board sanctioned the consumption lounge concept, since about 2015, 2016.
"Well, I think that this is an important start," he said of Greenhouse Café, adding that the MCA has issued licenses for a number of dispensaries.
Thompson, an infectious disease specialist, said that depending on their location, most consumption lounges would need extraction fan or air purifiers "to make sure that nobody else is then exposed".
He said that the MCA approved Greenhouse Café as a consumption lounge because of its location.
"… this is another alternative to having something that is indoor, closed off, with air conditioning, extraction fans and so forth so that persons outside would not be affected in any way by whatever smells and odours, aromas so that might come from that particular centre".
Thompson was satisfied that what he saw Friday night was in keeping with the dictates of the MCA
"Yes, very, very much, very much. We view this as conservative," he said, noting that across the world there has been significant movement with respect to cannabis.
Thompson noted that some countries have legalised cannabis for recreational purposes.
"But we've also found that smaller countries that want to export and our industry is primarily export oriented. You are going to have trouble if you legalise recreationally. You will not be able to really find the right pathway for markets.
"The setup of a consumption lounge doesn't infringe on the international narcotic controls rulings and so it's still allowed. And so we were pleased that this is taking place."
He said that the MCA expects some other dispensaries to open in SVG.
"And the reason for it is that patients can now have legal access. I know there are patients with chronic pain — I'm talking about neuropathic pain, people, ulcerative colitis — people we know people with glaucoma and so forth, of course, but there are a host of conditions now, here in St. Vincent, 20 conditions in which persons can have medicinal cannabis for.
"We want to make sure that you're not getting the wrong variety of cannabis or the wrong dosage of the cannabinoids, because different doses of cannabinoids are best for certain conditions, while certain other doses and concentrations are good for others," Thompson said.