The clean up of Kingstown, focused largely on the removal of vendors from sidewalks, will begin on July 31, says Minister of Urban Development, Senator Julian Francis.
"I want to say to you that there will be a Kingstown cleanup this year, as long as COVID remains at the level that it's at," Francis said on radio.
Francis said his ministry has been doing "a lot of inside work on preparing to clean up the vending situation in Kingstown. It is bad. It is terrible."
He said that people are taking to the city to sell items they receive in barrels from overseas, as well as fruits and vegetables.
"Everybody wants to do what he or she thinks is right. In other words, things are slow with me. I have some stuff to sell … so we just put them in a suitcase, jump in a van, come to town, set up a stall, set up a table," Francis said on Star FM, his party's radio station.
The minister said he has been accumulating photographs of the situation in the city.
"We have not had Carnival for two years. And the decision has been taken by the planners, which really [is] my ministry that we will let carnival go as is. But I want to say that immediately following carnival, there will be significant changes."
He said the government records show 750 to 900 vendors in Kingstown, some of whom sell on weekends only while others sell daily.
The minister said the Kingstown Town Board, which falls under his ministry, has the name of all registered vendors.
"We know their names, where they sell, where they're from, what they sell and how they sell. And that information is being assessed to be able to divide and manage."
Francis said there is too much cluttering in particular areas of Kingstown and parking has deteriorated significantly.
He said a lot of vendors have vehicles "but some bring their goods to their stalls and their tents, unload them, and then still look for a parking elsewhere from where they're vending".
He said only a few store owners in Middle Street are able to park in front of the stores.
"Vendors have occupied all of it. And they themselves look for parking elsewhere," Francis said, adding that the parking lots in the city are expensive.
"… we have to do something about it," he said of the vending situation. "And basically I'm putting on notice St. Vincent and the Grenadines — well, St. Vincent, Kingstown, that immediately after carnival, we will be moving to clean up."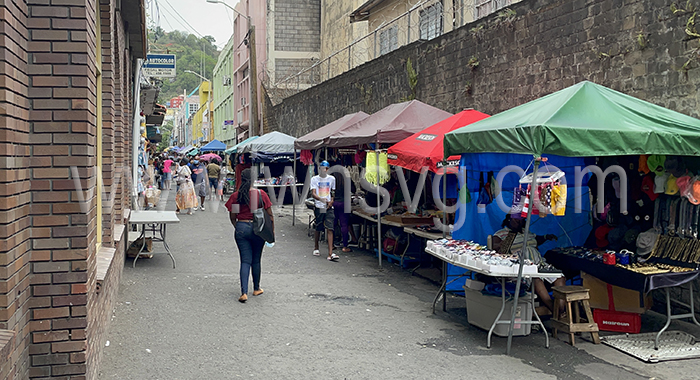 He said the information so far says there are about 40 vehicles from which people vend "in critical locations".
The minister mentioned that there are between six and nine Noah minivans from which people vend outside the central market, adding that some vendors pay the dues and others do not.
"There's an intrusion almost daily. I know that times are hard and everybody trying to make a living, … 'eat a food', as they say is the popular term.
"But if we allow this thing to continue, we will not have a city and things will deteriorate."
Some stalls are 'basically a dry goods store'
He said the three areas the government has identified for vending — the former Customs warehouse building, and two buildings in China Town (across from the Cenotaph) — are about 95% complete.
"We did a walkthrough two or three weeks ago and there are little things that may cost us about $100,000, that were not completed on the BRAGSA programme."
He said the former vegetable market in China Town is "going to be a vendor's market for mainly agricultural produce, etc."
The stalls are not for dry good vendors.
"There are some persons in the market square that have tables — about four tables, eight foot tables, 32 feet — and they're basically a dry goods store. The stock is kept in their vehicles and not only that, a lot of them have stalls in the market but those stalls are for storage at night time."
The minister said 100 vendors occupy 222 of the 320 stalls inside the central market.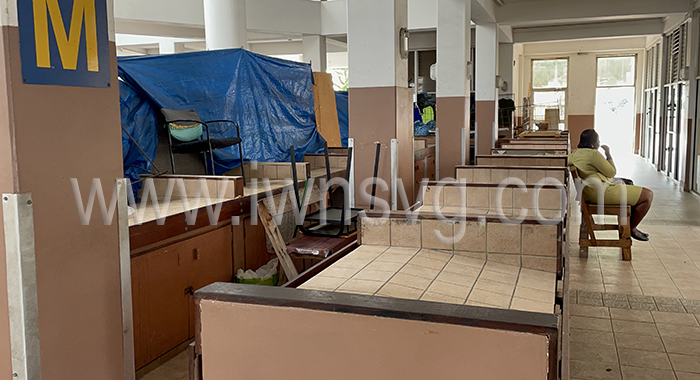 Francis said his ministry has photos showing many of these stalls are empty during the day.
"Because the persons who rent these stalls basically use them for storage. And they move out on mornings, set up their tents and tables in very tight locations. And at four o'clock you see the steady stream going back in. So the stalls are being kept for storage at very, very low rates."
Francis said the government has to "put some management to this.
"Stalls in the market have to be made available for persons who are selling in the market, they are not to be used for storage when night comes. That's not the intention of the market…
"I'm giving you all this to show you that we are preparing to get this matter in place come the end of Carnival."
He said that the three new vending areas have 270 stalls.
"So if we occupy all these stalls in the market, we will definitely reduce the congestion on the sidewalks and on the streets. … If you create the demand in a location, if the goods that you're selling are concentrated in a particular area, customers will find you," Francis said.
"The inconvenience that is provided to the general public and users of the facilities of Kingstown and the roads and the sidewalks, we have to cut that out. And we will be having discussions with vendors in categories immediately following carnival. I'm not going to upset the applecart for Carnival. As I say we ain't got Carnival for two years. Enjoy it while Carnival lasts."
He said that new vendors who come into the city for carnival would be expected to leave after.
"I will tell you that about 15 or 16 trailers throughout St. Vincent and Grenadines just parked and some of them the only time they use them as carnival time," he said, adding that the government has denied permission for more trailers in the city.
"There is on-going discussion and planning to clean it up. Enemies will be created, cussing will be done. All sorts of names and all sorts of statements will be made. But the greater majority of Vincentians expect the government to clean up the city. It is too ugly," Francis said.