The transition at the helm of the ruling Unity Labour Party, slated to take place at the end of July, is distracting the party from its leadership of the country.
Further, Leader of the Opposition, Godwin Friday says that important matters are not being attended to amidst the "'intense navel-gazing "within the party.
"… this ULP government, they talk so much about the things that they were going to do. Right now they are in a process of intense navel gazing, I call it, because what they're doing, they're looking internally trying to figure out how they're going to go ahead beyond and after Ralph Gonsalves," Friday said Monday on his weekly radio programme.
"Who is going to lead the party? Is it going to be a democratic institution, such as we have in the New Democratic Party where you have free elections?" said Friday, who, in 2017, became the third leader of the NDP, which was founded in 1975.
"Or are we're going to see that what you have there is a dynasty where, essentially, the thing is handed down from one family member to the other, like a piece of furniture? That is what we will see. And they're having this crisis within their organisation because they can't resolve that fundamental principle."
Gonsalves, who has been leader of the ULP for the past two decades, has said that there will be no confusion amidst the leadership transition.
He has further said that there is no vacancy in the leadership of the ULP and in the office of the prime minister, and has suggested his willingness to continue in both posts, if need be.
Political observers have said that the leadership race is between Agriculture Minister Saboto Caesar, who is into his third term as MP for South Central Windward, and his parliamentary junior, Finance Minister Camillo Gonsalves, the prime minister's son, who is into his second term as MP for East St. George.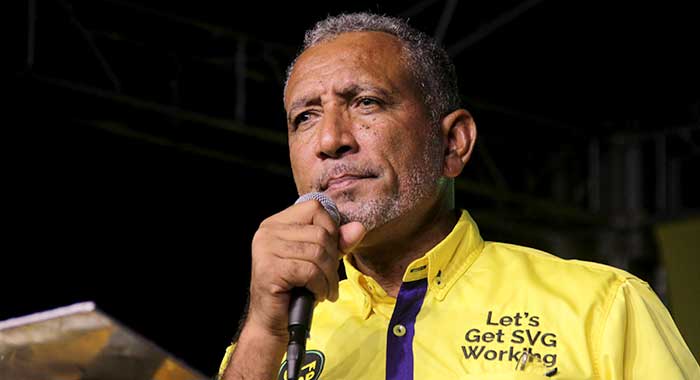 Friday said that because of the NDP's "democratic process", some people have accused the party of being weak.
"That is strength when you say that you can listen to people and give them a choice in forming and building their institutions. That is how the country is governed. And if you can't abide by that in your own organisation, then it means that in government, you will have a tendency to restrict those impulses, those democratic impulses as well," the opposition leader said.
"So while they are there trying to resolve this for themselves and trying to decide amongst themselves, you can't hold the country at ransom, we can't all be sitting there waiting for them to cast their eye somewhere else to say, well, okay, the people in the country are suffering. Leh we go and look on governing the country now rather than looking internally, at their own dilemmas that they have brought upon themselves.
"The country has to be governed. For too long now, this country has been in a state of — it's not even paralysis, it's not even where we say that they are on autopilot. We've gone beyond that now."
Friday said that the country is "sliding further behind".
He said that the ULP, which has been in office for over 21 years, was elected on a promise to be tough on crime and its causes.
"Did you see that this government delivered anything with respect to dealing with crime in this country, when crime in St. Vincent and the Grenadines has grown worse, that some of the most heinous crimes ever committed in this country have been done while this government is in office?
"You have homicides, murders have gone up," he said, adding that 2022 is on course to be the worst year as regards the number of homicides in SVG.
"Where have they delivered to say that they're tough on crime and the causes of crime? All this language is just talk, sweet talk. And that's why I said at the beginning, they are good at all this sweet talk and mamaguy and fancy language and talking big words and seeing how people are so impressed because they don't understand what the hell you're saying."
The opposition leader said that people need the government to be honest with them by saying, "Listen, these are the challenges we face. We are a poor, small country. We need to work together. But we have to set realistic goals and figure out how we're going to get there, which means you have to have a plan to do it."
He said that in the agricultural sector, there must be a plan rather than merely announcing the shipment of a container of produce to New York one week, not knowing what to do the following week.
"And right now the conditions here are such that this government, they don't seem to have any idea as to where to go," the opposition leader said.