Statement by The Cuba SVG Friendship Society
The Cuban nation is presently commemorating the 26 of July, one of the most historic dates in its recent history with three days of nationwide vacation. The date marks what is considered the beginning of the process, which led to the eventual rise to power of the Revolution which finally triumphed on Jan. 1, 1959.
On July 26, 1953, a group of young patriotic men and women, led by a lawyer, Fidel Castro Ruz, stormed the Moncada Barracks in Santiago de Cuba in a bold move that signalled a new stage in the protest against the then military dictator Fulgencio Batista. This action resulted in the death of many of the young assailants and the arrest and subsequent trial of Castro and the surviving members of the rebel movement who then assumed the name the 26 of July Movement (M-26-J)
It was during the trial of this group that Fidel Castro laid out the manifesto for the future in his sterling defence statement called "History Will Absolve Me". Jailed, later released and sent into exile in Mexico, the group later returned and after a period of armed struggle in the mountains and cities across Cuba, finally rode triumphantly into Havana on Jan. 1, 1959.
These three days of reflections and celebrations come at a time when the Cuban nation continues to suffer the worst effects of an economic and commercial embargo imposed since 1962 by the United States, until then their closest and most powerful trading partner. Inflation has hit an all time high, even medical services are deeply affected with difficulties in securing medicines for the population.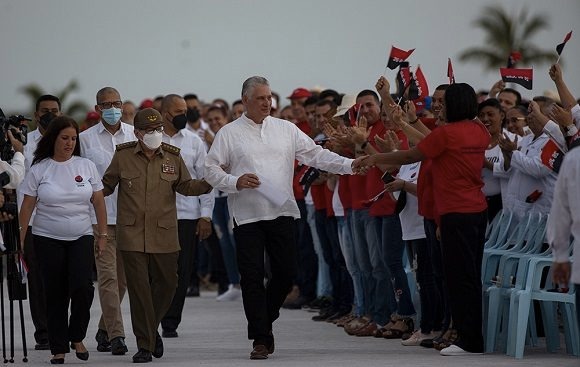 The United Nations has on 29 successive occasions voted in overwhelming majority for the removal of this embargo, which has caused untold suffering for the ordinary Cuban citizen, forcing many to take the dangerous route of migration. In fact, after the re-establishment of diplomatic relations by the Obama Administration and loosening of travel restrictions which finally allowed US citizens to freely visit Cuba, the embargo was further tightened by the Trump presidency and consular services closed at the US Embassy in Havana.
Notwithstanding the dire shortages created by the existence of this embargo, Cuba has, at great sacrifice, made much progress in education, culture, sports and science. The revolutionary government has shared these successes with CARICOM nations and with nations of Latin America, Asia and Africa, where thousands of professionals have travelled to in order to assist with healthcare, coaching in sports, in agriculture and in science, with the most notable being the development of four vaccines against the COVID 19 pandemic.
On occasion of July 26, the Cuba SVG Friendship Society salutes and says thanks to the Cuban people for their demonstrated sacrifice, friendship and sterling contributions toward St. Vincent and the Grenadines even before the formal establishment of diplomatic relations 30 years ago.