The US$44 million five-year Volcanic Eruption Emergency Project (VEEP), which aimed to support St. Vincent and the Grenadines (SVG) to provide short-term income support, improve the capacity of the government to prepare for and respond to emergencies, and build back better critical services in the aftermath of the La Soufriere volcano eruptions, has been launched.
"This project targets the communities mainly affected by the La Soufriere volcanic eruptions, especially in the northern part of the island in the Red, Orange and Yellow Volcanic Hazard Zones," Roxanne John, interim project coordinator for VEEP, told the launch ceremony in Kingstown, on Thursday.
"At the end of this project, approximately 4,000 households impacted by the volcanic eruption and climate-related events are expected to benefit from short-term income support. Approximately 15,000 persons will benefit from improved utility infrastructure, services, roads and bridges rehabilitation," she said.
John said that the government is expected to have improved command and control systems in place to better prepare for and respond to emergencies, such as volcanic eruptions, as well as climate change-related disasters, such as hurricanes.
The water supply system will be rehabilitated and/or augmented in accordance with climate and disaster resilience improvements and practices with operational capacity restored.
The multi-sectorial project was designed to respond to the challenges to agriculture, the supply of potable water, social protection, infrastructure development, early preparation for natural hazards, and to address capacity limitations at the National Emergency management Organisation (NEMO) in response to emergencies.
"… we have designed a project that will build back better critical services with a duration of five years, with resources of US$42 million from the World Bank as a soft loan, and 2 million from the EU as a grant," Director of Economic Planning, Ricardo Frederick told the launch ceremony.
"Today, we gather here to recognise the importance of this project to the recovery process, its significance to lives and livelihoods, and the tremendous benefits it will bring to our country," he said.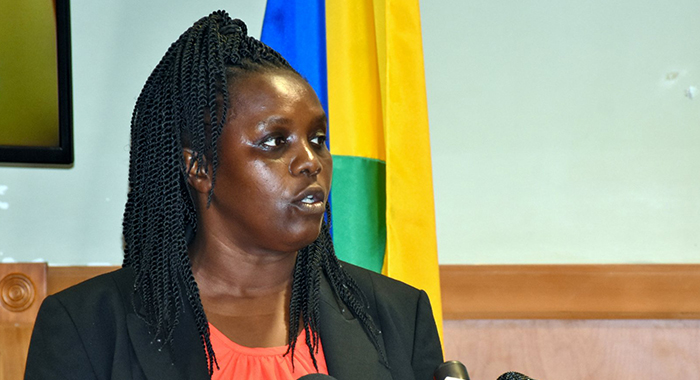 Meanwhile, John said the project development objective will be achieved through three components, including early recovery income support to which US$$7.5 million will be allocated, under two sub-components, temporary cash transfers and social support services programme and the Labour-Intensive Temporary Employment Programme (LITE).
Component two is the US$29.9 million restoration and building back better of critical services and strengthening of emergency preparedness and response capacity.
This includes an estimated US$2 million from the European Union.
It has three sub components, namely, support to reconstruction that incorporates climate change considerations; the restoration and reconstruction of critical infrastructure services; and, strengthening of the emergency preparedness and response systems and capacity.
The third component is project management support, to which US$3.5 million is allocated.
John said the key agencies involved in the project are the Ministry of Finance, Economic Planning and Information Technology, as implementing agency; Ministry of Transport Works Land Surveys and Physical Planning; Ministry of National Mobilisation, Social Development, Family, Gender Affairs, Youth, Housing and Informal Human Settlement; Ministry Of Agriculture, Forestry Fisheries, Rural Transformation, Industry and Labour; Ministry Of National Security through NEMO; the Roads, Buildings and General Services Authority (BRAGSA); Central Water and Sewage Authority; and, the Bank of St. Vincent and the Grenadines.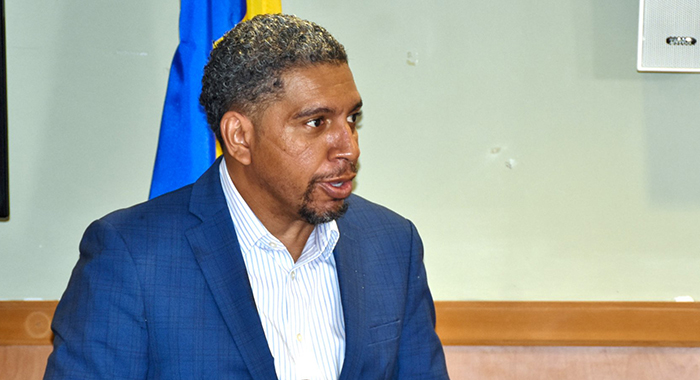 And, Minister of Finance, Camillo Gonsalves told the launch that the financial and social impact of the eruption was "absolutely massive" and the loss and damage, initially estimated to be around $635 million, would be higher if the assessment were done now.
"And what we initially thought were 400 destroyed homes became 700 destroyed homes," he said.
The minister said that some farmers have not earned any money from farming since the eruption, as they lost the crop that they had at the time of the eruption and was unable to cultivate their farms for the remainder of 2021.
"So, if you do your math, six months in a shelter, two months cleaning up — three months probably, nine months for you to harvest, that's 18 months that elapsed before you can earn a single dollar," the finance minister said, using banana farmers as an example.
"The social fabric of St. Vincent and the Grenadines was rendered asunder by this volcano. And people still today haven't earned their first dollar since the volcano erupted in April. And people still today don't have a roof over their head that they can call their own since the volcano erupted in April. That's the magnitude of what we're talking about," the finance minister said.
He said the 2021 eruption was 10 times larger than in 1979 "and the impact in many ways was probably 10 times greater.
"So tremendous displacement took place. And, immediately, we had to reach out to our partners to see what could be done to help us fill this $635 million hole that was created by the volcanic eruptions. And I want to pause here and thank, sincerely, the European Union and the World Bank for being ready and nimble and available to assist the people of St. Vincent and the Grenadines throughout this crisis," Gonsalves said.