A former executive member of the St. Vincent and the Grenadines Teachers Union says teachers dismissed over the COVID-19 vaccine mandate "must not be fooled" by the government's offer of re-employment.
Prime Minister Ralph Gonsalves has said that his government is willing to re-employ unvaccinated teachers if they agreed to certain conditions.
The teachers were fired last December as the government's vaccine mandate came into effect. Their union, as well as the Public Service Union, has sued the government, challenging the dismissals.
The trial is set for November, and Gonsalves has said that if the government simply reinstates the teachers, it would be saying that the mandate was illegal.
However, Nekeisha Williams, a former general secretary of the union, says she will not reapply although she has depleted her savings and has to make many sacrifices "to keep my head above water."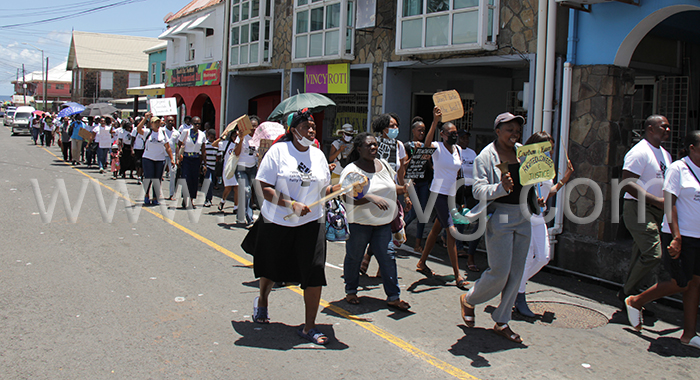 Speaking to iWitness News on Thursday at a protest organised by the union in Kingstown, Williams urged teachers "not to take the bait" despite the urgings of the prime minister that they reapply for employment.
"We continue to see the prime minister pleading with teachers, which means we have made a stand and the stand that we have made is very impactful. Don't take the bait, they have to reinstate us, don't bother with him. His word has proven to be untrue time and time and time again. We must not be fooled; we must not fall short," Williams said.
"If anything, we must remain resolute that this is what we have decided and this is what we're going to see through 'til the very end. We will suffer now but we will dance later on and that's that," said Williams, who said she had been using social media to rally teachers.
She said she regards as "bait" the prime minister's encouragement to reapply "because we know what he said before.
"There is always a hidden something in what he says. We cannot trust the man. The man, by his own admission, says he may lie sometimes. By that admission alone, we cannot trust anything you say because we never know when you're actually lying or telling the truth. We will not be fooled; we will not be fooled at all."
Williams said that since being fired she has "used up all of my savings. I have found myself doing chores and whatever to try to make ends meet. And I'm not ashamed of that.
"If anything, I am very proud of the sacrifices I am able to make to keep my head above water and that sacrifice is going to have to continue to the end of the year until judgment is given, I am prepared to do it."
The trial is slated for Nov. 29 through Dec. 1, and the prime minister hinted last week that the matter may end up before the London-based Privy Council, the nation's highest court.
iWitness News further noted to Williams that in previous matters the government has demonstrated an unwillingness to comply with the orders of the court when it loses lawsuits brought against it.
"Well, I cannot speak for the union but I am hoping as a fraternity the teachers we will come together as we have done here right now," she said, referring to the protest.
"I am hoping that at that time, what drastic measures were intended will be executed at that time," Williams said.
Asked what she meant by "drastic measures", Williams said, "By any means necessary. We will get our justice."
"You mean by any legal means necessary?" iWitness News asked Williams.
"Yes, that, too," she responded.