By Kenton X. Chance
While the situation and players across the Taiwan Strait are different from those in the Russia-Ukraine war, with the tensions between China and Taiwan, "if the stakeholders do not carefully manage the situation, you will have a serious implication all over the world".
Peter Sha-Li Lan, Taiwan's ambassador to St. Vincent and the Grenadines, further said that Vincentians, like everyone around the world, should care about what is taking place between Beijing and Taipei.
"… the thing is the ambition of China and we can safely say its aggressiveness and economic and military expansionism," Lan told iWitness News in an interview.
"Such kind of ambition has long been beyond Taiwan. So, it's not just an issue between China and Taiwan," he said.
The diplomat, who has been stationed in St. Vincent for just over a year, spoke of "Made in China 2025", which he said was abolished because of the attention it attracted.
The 10-year Made in China 2025 plan, which was released in 2015, was a state-led plan to update China's manufacturing base by rapidly developing 10 high-tech industries.
The aim was to use government subsidies, mobilise state-owned enterprises, and pursue intellectual property acquisition to catch up with—and then surpass—Western technological prowess in advanced industries, according to the Council on Foreign Relations
"The implication of their slogan is China positioning themselves to be the next manufacturer of the whole world, meaning that they want to surpass all other industrialised countries to become the sole supplier of the whole world," Lan said.
He said this was followed by the "Chinese Dream".
"And it's always associated with the so-called great rejuvenation of the Chinese nation," Lan said.
Noting the Mandarin Chinese version of the slogan, the diplomat said:
"It's very ambitious. But again, the goal is to envision that eventually China will be sitting on top of the whole world. So, it was carefully crafted, and carefully planned in every of the five-year economic plans of the Chinese government. So, they are carefully putting every piece together to achieve that goal."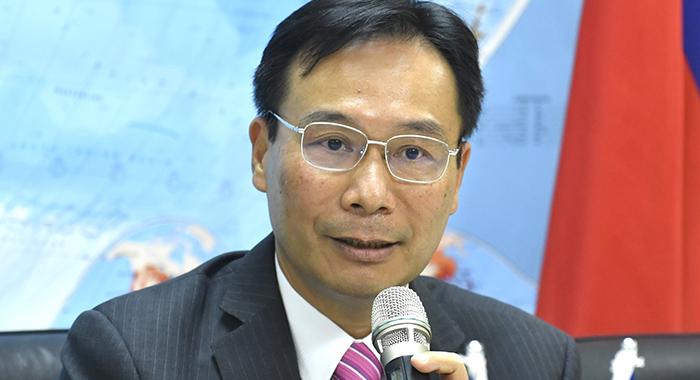 Increasingly like the Mao Zedong era
Lan said some people might say that the second largest economy in the world having such an ambition is normal.
"But if you think about the political system in China, it's now becoming more and more like the era of Mao Zedong, more centralised power. It's almost reached this stage of autocracy," he said, referring to the leader of China's communist revolution.
"Then you coupled this political system with such an ambition, you're going to create a lot of unpredictable scenarios all over the world. Today, it might be the Taiwan Strait. Tomorrow, it might be somewhere else."
Lan said that the possibility of conflict between China and other countries is not far-fetched, noting its ongoing border conflict with India and Beijing's treatment of Uyghurs in Xinjiang.
The diplomat also spoke of Beijing's handling of Hong Kong, one of China's most important economic engines.
He noted that when the United Kingdom returned Hong Kong to Chinese rule in 1997, it was under an agreement that there would be no change to the economic or political system in 50 years.
"And we are only reaching half of it and look at what happened in Hong Kong. Everything has been changed since they approved the national security bill. Now, you look at Hong Kong, the whole system is totally different from the past," Lan said.
He said that in the South China Sea, Beijing has ignored Southeast Asian countries' call to stop building artificial islands and deploying weapons in the area.
"In the East China Sea, they keep sending fighter jets to patrol over there, despite all the claims from the neighbouring countries, including us," Lan said.
"Having the economy blossom is one thing. But having, at the same time, the ambition of military, technologically, and everything else with that kind of political system would be a challenge for not only the neighbouring countries, the whole region, Indo Pacific region, but also the world," he told iWitness News.
"So, we believe that unless the whole world comes together, finds a solution, and finds a way to have a reasonable dialogue with China, telling them to follow the rule-based international norm, to not use the military to threaten others, you'll keep seeing these kinds of conflicts growing and growing. Now, Taiwan might be at the front line at this moment. But there's no guarantee that others won't be the next."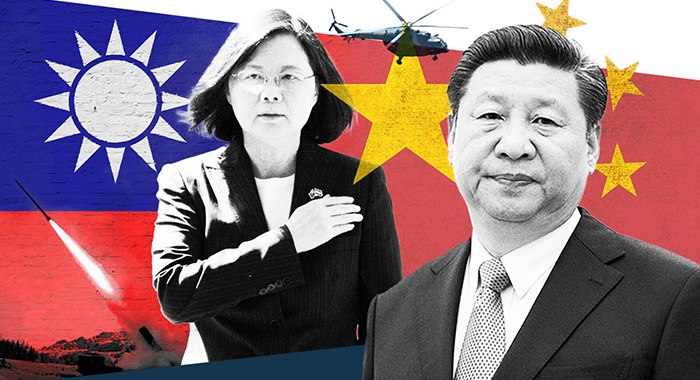 'different political expressions under one civilisation'
Lan said that like Prime Minister of St. Vincent and the Grenadines, Ralph Gonsalves has stated, China and Taiwan are "different political expressions under one civilisation".
China and Taiwan split amidst a civil war in 1949 and China claims that Taiwan, a self-ruled island, is part of its territory to be reunited with the rest of China and has threatened to use force if Taiwan declares independence.
Lan said that in the long run, China and Taiwan will need to face the historical issues that led to "the different political expressions under one civilisation".
"… but in the short term …, we need to find a more practical way of working together, starting with peaceful dialogue across the strait, and at the same time, letting Taiwan work with other international partners to contribute. We think that's a more practical way."
He said that Taiwan has an important role to play in specialised agencies of the United Nations, such as the World Health Organization and the International Civil Aviation Organization.
Lan said Taipei is asking China that "without preconditions, on equal footing, that we get back to a peaceful dialogue without insisting on political slogans".
The diplomat said that by insisting on political slogans, including past consensus allegedly reached by both sides, "you're setting up all kinds of preconditions which are literally blocking that opportunity for future dialogues".
Taiwan a convenient distraction for China?
While many countries complain about China's "expansionism" and its human rights violation, they still maintain diplomatic ties with Beijing, with only 13 United Nations member countries and the Holy See recognising Taipei as a state independent of Beijing.
"I think a lot of countries are looking at China with its own population, and economy. They think there will always be business opportunities, but we got to understand that the nature of the system doesn't always work that way."
He spoke of the Hambantota port which was meant to be a commercial contract for China to construct a port for Sri Lanka, but Colombo ended up in "a deep financial trap" and had to lease the port to China for 100 years.
Lan said a similar situation is developing in Myanmar, adding, "So, China was able to use that kind of size advantage to convince a lot of countries but not always end up with their own interest."
He continued:
"What we are saying here is we welcome a big economy, which will follow the rule-based international norm, which will always seek for a peaceful resolution in terms of their dispute with others, not a regime that always tries to use their military might to threaten others.
"And this is exactly what China is doing to Taiwan right now. So, with international support, especially from like-minded countries and diplomatic allies, like St. Vincent and the Grenadines, we think all these forces put together, we'll be able to convince China to go back to an international norm."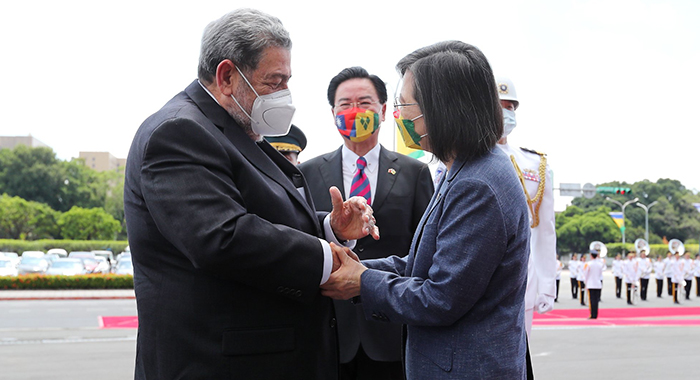 In August, tensions across the Taiwan Strait were at their worst in decades, as Beijing conducted live-fire military exercises near Taiwan in protest over the visit to Taipei of US House Speaker Nancy Pelosi.
Lan said that for Beijing, Taiwan is always a convenient target to hype nationalism and distract from domestic issues.
He, however, said that with the five-yearly national congress of Chinese Communist Congress slated for this month, "all the Chinese government is looking for is a temporary stability for their leaders to seek for an unprecedented third term.
"So, we probably will see a very short period of pullback in terms of rhetoric, or actions. But you can see, China is still sending their fighter jets flying over our ADIZ (air defence identification zone), still sending military vessels circulating our water territories, so you know that they are not going to stop their ambition.
"So, as I said, Taiwan is lobbying countries and we'd like to work with our international partners, in terms of finding a peaceful way, having China follow the international norm, not using economic or military threats against Taiwan," Lan told iWitness News.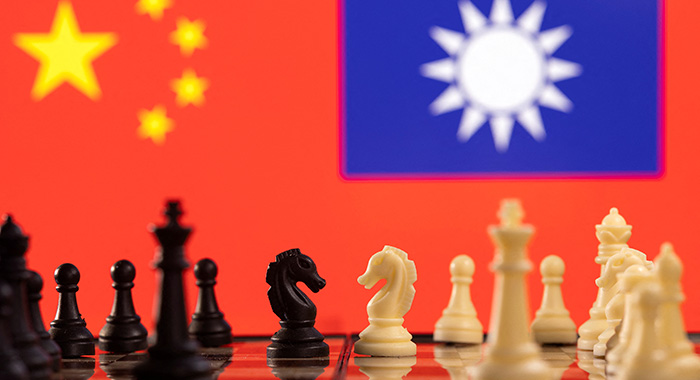 'competition between different political and social systems'
Regarding the ultimate resolution of the situation across the Taiwan Strait, Lan said, "… the real question lies at a competition between different political and social systems.
"It's a choice of the people, what kind of lifestyle you want, what kind of political system you want to choose."
He said that because each side has a different view, before engaging in dialogue, "… we shouldn't have any side saying that we're not going to have a talk like that, because I simply have a superior military power or economic power, and I don't want to listen to the other side of the team.
"That is what we are trying to avoid. But for Taiwan to say that, nowadays it looks like it's not good enough."
The diplomat said this is why the United States, European Union, Japan and other countries trying to step in, and "collectively send a message to China saying, 'Well, if for the collective good of this global village, you need to be reasonable, you need to be peaceful, let's sit down and talk about a solution.'
"But unfortunately, we're not getting into that stage. Because nowadays, China because of confidence, it becomes too assertive, and aggressive in every aspect, and not going to be easy for everybody," Lan told iWitness News.