By Kenton X. Chance
LUANDA, Angola — I spent six nights in Angola — a Portuguese-speaking, southern African country — in December on a journalism assignment. The entire trip was 10 nights — three of which were spent in flight and the fourth was a layover in London on the return leg.
It was my fourth trip to Africa. I had visited Senegal, Niger, and Kenya before. I am increasingly less inclined to pack a checked bag on my travels, but this was a 10-night trip that would see me passing through three European cities during winter while travelling from one warm weather destination to another. Further, any trip to Africa could be an opportunity to purchase African outfits and craft, of which I am a major fan. Therefore, I decided to check my suitcase.
I departed from Argyle International Airport in St. Vincent on Dec. 4 on the first of three flights that would take me to my final destination — Luanda, Angola's capital. When I checked in, the agent inquired about my final destination, then told me that my bag would be transferred from London to Madrid, Spain, where I would have to retrieve it before flying on to Luanda.
I arrived in London and had an eight-hour layover.
I had work to do and checked in very early with the airline with which I was travelling to Madrid. This airline was different from the one on which I had flown from St. Vincent, and from the one that would take me from Madrid to Luanda.
"You are very early," the agent in London said after looking at the computer screen. He printed and handed me the boarding passes for the two other flights on the outbound leg.
The connection time between the Madrid and Luanda flights was a mere 75 minutes and the baggage receipt I was given when I checked in said that the bag was checked to Madrid. I asked the agent in London about the status of my checked bag. He said that I would pick it up in Luanda. "Are you sure?" I asked. He seemed to key into the computer in front of him some information from the boarding passes. He returned them to me and informed me, yet again, that I will pick up the bag in Luanda.
That done, the eight-hour layover in London passed so quickly that I had to run to the gate, not realising that the time had gone by so quickly.
The flight to Madrid had been slightly delayed and having  landed, I quickly ran  to the gate, convinced that I would miss boarding for Luanda. However, when I arrived, the agent told me that the flight to Luanda was delayed because the flight from London was late. (I later learnt that another flight from another European capital was also late.)  We left Madrid for Luanda about two hours later than scheduled. My bag was out of sight but on my mind.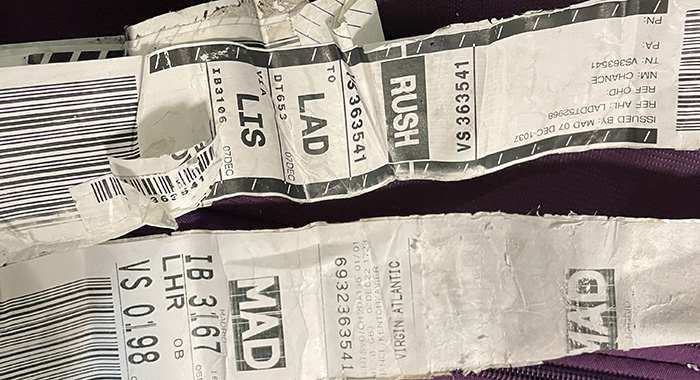 On arrival in Luanda, I was among the last passengers to go over to the baggage claim section, despite a protocol officer assisting with the immigration procedures, which included obtaining a visa-on-arrival. My heart began to sink when I realised that my bag was not among the few that were still on the carousel.
"Are these the last of the bags?" I asked. A baggage handler answered in the affirmative. I then had to file a missing bag report with the airline, which informed me that they would try to locate the bag and have it sent to Angola as soon as possible. They, however, informed me that I would have to return to the airport to collect it.
So, here I was, arriving in Angola, with my only clothes being the suit on my back — jeans, a t-shirt, hiking boots and my underwear and socks.
My "troubles" were just beginning.
The protocol officer escorted me to a vehicle and asked to which hotel I was headed.
"Continental," I replied.
"'Continental' or 'Intercontinental'?" he asked.
I checked WhatsApp and then Facebook, looking at a picture that a colleague who had checked in earlier had sent.
I replied: "Continental."
He said something to the driver in Portuguese and we set out.
After I exited the hotel, I saw "Intercontinental" prominently displayed on the building. I went back to the driver (who appeared not to speak English), showed him the photograph and asked him if that was the hotel.
He took a brief look and nodded in the affirmative.
Reassured that I was in the right place, I walked up to the desk only to be told that there was no reservation there for me and I was in the wrong hotel. I waited there for about an hour for the media liaison to come by and pick me up and take me to a market to buy some clothes.
By this time, I had not had a shower in almost two days and I was very conscious of that fact.
The next stop was at a supermarket, where I bought toiletries and fruits, fruit juice and cake to keep in my hotel room. Then, with much relief, I checked into Continental, the correct hotel. and the bell person escorted me to my room.
He inserted the key card and opened the door, only to reveal someone else's belonging on the bed. The room was occupied. He apologised to me, saying that the hotel was pretty full and asked me to wait, while he spoke with someone on a cell phone. Soon after, I was taken to another room on the same floor.
I was extremely happy that I would finally be able to take a shower and change my clothes. Except that when I got to the room, I realised that I had taken out of the vehicle the toiletries and the food but not the clothes. I would have to wait yet a while more to change my clothes and shower.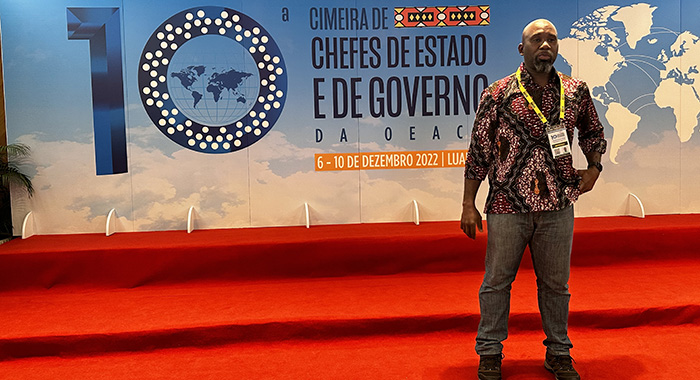 To cut a long story short, I made a trip back to the airport on Wednesday, but the bag was not in the luggage hall. The agent assured me that the bag had arrived. It was there in his system, he said. So convinced was he, apparently, that he even took me to the warehouse nearby where the airline keeps unclaimed or misplaced luggage.
"Knock yourself out," he said in invitation to me to look. (I took no offence at this because as a speaker — with limited competency — of a second and third language, I know how easy it is to misuse an expression.) Alas, the bag was not there. He took me back to the desk, and invited me to view on his computer screen the report that had been filed about the bag, the actions that had been taken, and the status at that time — that it had been delivered to Luanda.
He said he would send another email to remind his colleague in Madrid to put the bag on an overnight flight scheduled to arrive shortly after 7 the following morning. I was to return on Thursday — three days and two nights after I arrived in Angola.
However, on Thursday, to my greatest surprise and dismay, the bag had not arrived either. Instead of being sent to Luanda, it was sent to Lisbon, Portugal. By this time, I was extremely displeased. I sat there seething as I stared blankly at the wall.
Yet again, I was assured that the bag would be on the flight the next day. The agent said they would send an email asking his colleagues to explain why the bag had not arrived in Angola.
Then, finally, on Friday — four days and three nights after I arrived in Luanda and three days and two nights before I was scheduled to depart, the bag arrived, with everything intact.
There are many lessons that I learned from this experience, including how willing people are to tell you to accept the minimum. After all, as one person put in a comment on a Facebook post I made during my stay in Angola, you are to "give God thanks that u are on the land of the living" — nothing said, of course, about the quality of life, and the actors contributing to it, while on the land of the living.
I was reporting on an international conference. I was expected to look the part. I had packed clothes to help me to do so. Some of the equipment needed for me to do so was in my checked bag. There was nothing wrong with wanting to feel comfortable, being dressed appropriately and having the equipment necessary to do my job.
I also was reminded of how quickly clothes dry when left in an air-conditioned room and the dehydrating impact of air-conditioning on the human body. (If you spend a lot of time in an air-conditioned environment, drink a lot of water.) Hydration is critical to well-being.
But, the most powerful lesson from this experience was how decisions made in one place affect people in another. In this case, my suitcase and the impact on me was a metaphor for how decisions made in Europe centuries and decades ago and even today, continue to affect people in Africa and other places in the developing world.
A decision made in London, the capital that colonised my home country, St. Vincent and the Grenadines, resulted in me not receiving my suitcase in Africa. As a result of this, I had to make unplanned spending on clothing — monies that could have been used to do other things.
And, when the suitcase should have been sent to me, it was sent to Portugal instead, affecting my confidence, mood, and productivity. Does this remind you of anything from Europe's colonising past?
This post could have easily been another Africa-bashing post. However, sometimes, we simply have to stop and think — not merely about the symptoms, but the process and the deep-rooted causes.